Filters
The New Irish Girl and other folk songs and ballads to the lute
The New Irish Girl and other folk songs and ballads to the lute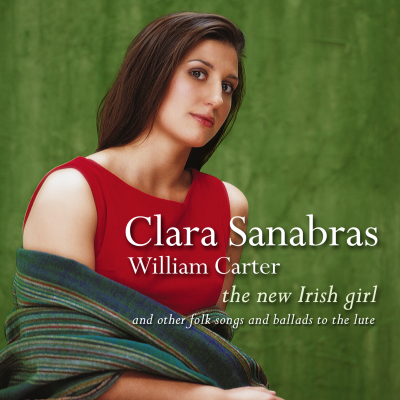 She Moved through the fair

She Moved through the fair

$1.80

The Scoulding Woman

$1.80

The Green Fields of Gaothdobhair

The Green Fields of Gaothdobhair

$1.80

Slan chun Carraig an Eide

Slan chun Carraig an Eide

$1.80

My Lord of Deliam's Lamentation

My Lord of Deliam's Lamentation

$1.80

I must live all alone

$1.80

Bonny Swete Boy / Robin

$1.80

The good ship Planet / Blackbirds and Thrushes

The good ship Planet / Blackbirds and Thrushes

$1.80
Total running time: 63 minutes.
Album information

A selection of famous and lesser known folk songs, joyfully performed by Clara Sanabras and friends. 

Clara Sanabras is  joined by some old friends from Palladians: Susanne Heinrich - viola da gamba, Pamela Thorby - recorders and William Carter - lute, baroque guitar, plus the jazz group Field of Blue: Jaqueline Dankworth - voice and Harvey Brough - voice.

William Carter writes: "English folk music and the lute have been intimately bound up for as far back as anyone can determine and while solo lute music is filled with settings (some intricate, some simple) of folksongs and ballad tunes there are very few old vocal settings. There is a strong modern tradition (started by Alfred Deller) of performing folksongs to the lute in falsetto voice but why should countertenors have all the fun? Our idea was to look back to the 17th century when Charles II mistress Moll Davis' performance of "My lodging is on the cold ground" "raised her resting place from the cold ground to the royal bed" and Arabella Hunt sang Scots ballads with lute accompaniment to Queen Mary.

We've made our own version of each song and in general have tried to keep the harmonies simple although some are more elaborate than others and sometimes the simplest harmonies have led to interesting results.

The songs recorded here have come from a great variety of sources and we want to thank the staff at Cecil Sharp house (headquarters of the English Folksong Society) for their unfailing generosity and help. While some of the tunes came from crumbling library books others were learned in that most authentic folk method: off the radio and recordings. One song (I won't say which) was learned in a pub. But at the end of the day it doesn't much matter where exactly these songs are from; they come from everyone and belong to everyone as well. We only hope you will enjoy the listening as much as we did the recording."
Related Artists
Reviews