Filters
Artist
Daishin Kashimoto
Aurélien Pascal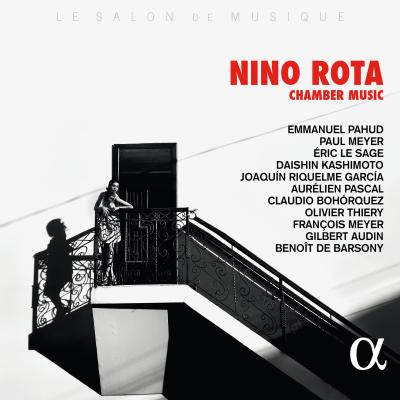 Inlay available for download
Booklet available for download
Trio for Flute, Violin and Piano: I. Allegro ma non troppo

Artist(s)

Daishin Kashimoto

Emmanuel Pahud

Éric Le Sage

Trio for Flute, Violin and Piano: I. Allegro ma non troppo

$2.30

Trio for Flute, Violin and Piano: II. Andante sostenuto

Artist(s)

Daishin Kashimoto

Emmanuel Pahud

Éric Le Sage

Trio for Flute, Violin and Piano: II. Andante sostenuto

$2.30

Trio for Flute, Violin and Piano: III. Allegro vivace con spirito

Artist(s)

Daishin Kashimoto

Emmanuel Pahud

Éric Le Sage

Trio for Flute, Violin and Piano: III. Allegro vivace con spirito

$2.30

Valzer sul nome Bach: No. 1, Circus-Valzer

Artist(s)

Daishin Kashimoto

Emmanuel Pahud

Éric Le Sage

Valzer sul nome Bach: No. 1, Circus-Valzer

$2.30

Valzer sul nome Bach: No. 2, Valzer-Carillon

Artist(s)

Daishin Kashimoto

Emmanuel Pahud

Éric Le Sage

Valzer sul nome Bach: No. 2, Valzer-Carillon

$2.30

Piccola offerta musicale

Artist(s)

Paul Meyer

Benoît de Barsony

Emmanuel Pahud

François Meyer

Gilbert Audin

Piccola offerta musicale

$2.30

Nonetto: I. Allegro

Artist(s)

Paul Meyer

Daishin Kashimoto

Emmanuel Pahud

François Meyer

Gilbert Audin

Nonetto: I. Allegro

$2.30

Nonetto: II. Andante

Artist(s)

Paul Meyer

Daishin Kashimoto

Emmanuel Pahud

François Meyer

Gilbert Audin

Nonetto: II. Andante

$2.30

Nonetto: III. Allegro con spirito

Artist(s)

Paul Meyer

Daishin Kashimoto

Emmanuel Pahud

François Meyer

Gilbert Audin

Nonetto: III. Allegro con spirito

$2.30

Nonetto: IV. Canzone con variazioni, allegretto calmo

Artist(s)

Paul Meyer

Daishin Kashimoto

Emmanuel Pahud

François Meyer

Gilbert Audin

Nonetto: IV. Canzone con variazioni, allegretto calmo

$3.40

Nonetto: V. Vivacissimo

Artist(s)

Paul Meyer

Daishin Kashimoto

Emmanuel Pahud

François Meyer

Gilbert Audin

Nonetto: V. Vivacissimo

$2.30

Trio for Cello, Clarinet and Piano: I. Allegro quasi in 1

Artist(s)

Paul Meyer

Aurélien Pascal

Éric Le Sage

Trio for Cello, Clarinet and Piano: I. Allegro quasi in 1

$2.30

Trio for Cello, Clarinet and Piano: II. Andante

Artist(s)

Paul Meyer

Aurélien Pascal

Éric Le Sage

Trio for Cello, Clarinet and Piano: II. Andante

$2.30

Trio for Cello, Clarinet and Piano: III. Allegrissimo

Artist(s)

Paul Meyer

Aurélien Pascal

Éric Le Sage

Trio for Cello, Clarinet and Piano: III. Allegrissimo

$2.30

Prelude XIII. Andante cantabile

Prelude XIII. Andante cantabile

$2.30

Prelude II. Allegro, ma espressivo e delicato

Prelude II. Allegro, ma espressivo e delicato

$2.30
Total running time: 61 minutes.



Album information

Primarily known for his film music, Rota's lesser-known chamber works are presented here; demanding great virtuosity and synergy they span four decades demonstrating Rota's rise from child prodigy to one of the great composers of the twentieth-century.

Rota studied in America with Fritz Reiner, crossed paths with Toscanini, Igor Stravinsky and many others and wrote film scores for Fellini (La strada etc), René Clément and King Vidor. Éric Le Sage, Emmanuel Pahud, Paul Meyer, Daishin Kashimoto, Aurélien Pascal and their partners from the Salon de Provence festival pay tribute to his music with the Piccola Offerta Musicale (Little Musical Offering), composed in 1943 at the age of twenty-two, alongside a Nonet and a Trio for flute, violin and piano, both written in the late 1950s. The Trio for clarinet, cello and piano (1973) comes from Rota's last creative period and has all the characteristics of his mature works.
Related Artists
Reviews