Filters
Notes from a Hebridean Island
Notes from a Hebridean Island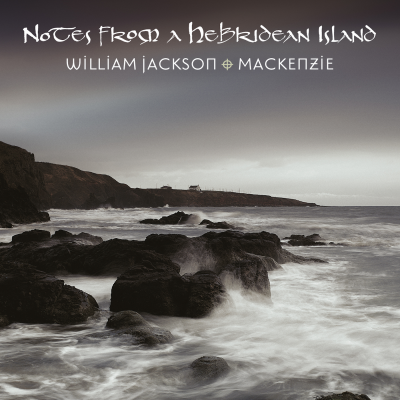 Inlay available for download
Booklet available for download
St Kilda's Wedding / A St Kilda's Dance

Composer(s)

Traditional

Ian Lowthian

Artist(s)

William Jackson, Aidan O'Rourke, Tony McManus, James McIntosh and Calum Malcolm

Mackenzie

St Kilda's Wedding / A St Kilda's Dance

$1.70

Anna Bheag (Wee Anna) (Arr. William Jackson and Mackenzie)

Artist(s)

William Jackson, Mackenzie, Aidan O'Rourke, James McIntosh and Ian Lowthian

Anna Bheag (Wee Anna) (Arr. William Jackson and Mackenzie)

$1.70

MacPhee's Reel / Marion & Donald / Tall Toddle

Artist(s)

William Jackson, Iain MacInnes, James McIntosh and Tony McManus

Mackenzie

MacPhee's Reel / Marion & Donald / Tall Toddle

$1.70

Ba Mo Leanabh (O My Baby) (Arr. William Jackson and Mackenzie)

Artist(s)

William Jackson, Mackenzie and Ian Lowthian

Ba Mo Leanabh (O My Baby) (Arr. William Jackson and Mackenzie)

$1.70

Barbara's Jig (Arr. Duncan Johnstone) / Kenny MacDonald's Jig (Arr. Norman MacDonald) / Joseph MacDonald's Jig

Artist(s)

William Jackson, Iain MacInnes, Aidan O'Rourke, James McIntosh, Ian Lowthian and Tony McManus

Mackenzie

Barbara's Jig (Arr. Duncan Johnstone) / Kenny MacDonald's Jig (Arr. Norman MacDonald) / Joseph MacDonald's Jig

$1.70

A Fisherman's Song For Attracting Seals

Artist(s)

William Jackson

Mackenzie

A Fisherman's Song For Attracting Seals

$1.70

Blue Ribbon, Scottish Measure

Artist(s)

William Jackson, Aidan O'Rourke, Tony McManus, James McIntosh and Ian Lowthian

Mackenzie

Blue Ribbon, Scottish Measure

$1.70

The Battle Of Waterloo (Arr. Donald Macleod) / The Wee Highland Laddie (Arr. Donald Macleod)

Artist(s)

Aidan O'Rourke, Tony McManus and Ian Lowthian

Mackenzie

The Battle Of Waterloo (Arr. Donald Macleod) / The Wee Highland Laddie (Arr. Donald Macleod)

$1.70

Skye Dance / Harris Dance

Artist(s)

William Jackson, Aidan O'Rourke, Tony McManus and James McIntosh

Mackenzie

Skye Dance / Harris Dance

$1.70

The Mermaid's Song

Artist(s)

William Jackson and Iain MacInnes

Mackenzie

The Mermaid's Song

$1.70

Chaidh Mi'n Traigh A Deanamh Maoraich / Co Bheir Mi Leam

Artist(s)

William Jackson, Mackenzie, James McIntosh and Ian Lowthian

Chaidh Mi'n Traigh A Deanamh Maoraich / Co Bheir Mi Leam

$1.70

Rory Dall's Sister's Lament

Composer(s)

Rory Dall Morrison

Traditional

Artist(s)

William Jackson

Mackenzie

Rory Dall's Sister's Lament

$1.70

Tuireadh Iain Ruiadh (Iain Ruaidh's Lament)

Artist(s)

Iain MacInnes and Ian Lowthian

Mackenzie

Tuireadh Iain Ruiadh (Iain Ruaidh's Lament)

$1.70

Looking South Over the Border

Composer(s)

Ian Lowthian

Traditional

Artist(s)

William Jackson, Mackenzie, Ian Lowthian and James McIntosh

Looking South Over the Border

$1.70
Total running time: 46 minutes.
Album information

Notes From A Hebridean Island features the very best Scottish and Gaelic singing and instrumental music played by some of the best exponents of the art.

Produced by Calum Malcolm (The Blue Nile), Notes From A Hebridean Island features the vocal and instrumental talents of William Jackson and the Mackenzie sisters accompanied by Scotland's finest traditional musicians: James McIntosh (pipes), Tony McManus (guitars), Aidan O'Rourke (fiddle) and Ian Lowthian (accordion).

Compositions are taken from all over Scotland - from the remote Atlantic archipelago of St. Kilda to the Isle of Skye and the Highlands. Closing the album is Looking South Over The Border, an original composition by Ian Lowthian.

The performers' affinity with the music is evident as they breathe fresh life into these traditional compositions.
Related Artists
Reviews