Filters
Artist
Münchner Rundfunkorchester
Laurent Campellone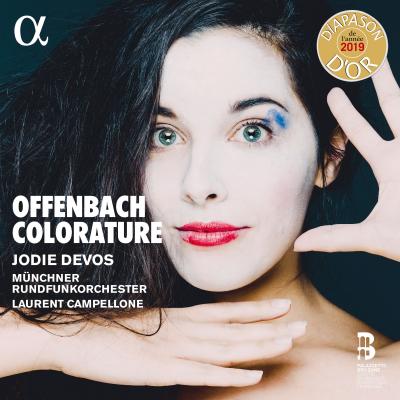 Inlay available for download
Booklet available for download
Boule de neige, Acte I Scène 2: Couplet de la dompteuse "Je suis du pays vermeil"

Composer(s)

Jacques Offenbach

Artist(s)

Laurent Campellone

Jodie Devos

Münchner Rundfunkorchester

Boule de neige, Acte I Scène 2: Couplet de la dompteuse "Je suis du pays vermeil"

$2.30

Vert-Vert, Acte II Scènes 7B & C: Air de la Corilla "Les plus beaux vers sont toujours fades"

Composer(s)

Jacques Offenbach

Artist(s)

Laurent Campellone

Jodie Devos

Münchner Rundfunkorchester

Vert-Vert, Acte II Scènes 7B & C: Air de la Corilla "Les plus beaux vers sont toujours fades"

$2.30

Orphée aux Enfers: Invocation à la mort "La mort m'apparaît souriante"

Composer(s)

Jacques Offenbach

Artist(s)

Laurent Campellone

Jodie Devos

Münchner Rundfunkorchester

Orphée aux Enfers: Invocation à la mort "La mort m'apparaît souriante"

$2.30

Un mari à la porte: Valse tyrolienne de Rosita "J'entends ma belle"

Composer(s)

Jacques Offenbach

Artist(s)

Laurent Campellone

Jodie Devos

Münchner Rundfunkorchester

Un mari à la porte: Valse tyrolienne de Rosita "J'entends ma belle"

$2.30

Fantasio: Air d'Elsbeth "Cachons l'ennui de mon âme"

Composer(s)

Jacques Offenbach

Artist(s)

Laurent Campellone

Jodie Devos

Münchner Rundfunkorchester

Fantasio: Air d'Elsbeth "Cachons l'ennui de mon âme"

$2.30

Les Bavards, Acte I Scène 3: Air d'Inès "Ce sont détranges personnages"

Composer(s)

Jacques Offenbach

Artist(s)

Laurent Campellone

Jodie Devos

Münchner Rundfunkorchester

Les Bavards, Acte I Scène 3: Air d'Inès "Ce sont détranges personnages"

$2.30

Mesdames de la halle: Rondo de Ciboulette "Quel bruit et quel tapage"

Composer(s)

Jacques Offenbach

Artist(s)

Laurent Campellone

Jodie Devos

Münchner Rundfunkorchester

Mesdames de la halle: Rondo de Ciboulette "Quel bruit et quel tapage"

$2.30

Le Roi Carotte: Romance des Fleurs "Le voilà c'est bien lui"

Composer(s)

Jacques Offenbach

Artist(s)

Laurent Campellone

Jodie Devos

Münchner Rundfunkorchester

Le Roi Carotte: Romance des Fleurs "Le voilà c'est bien lui"

$2.30

Les Bergers: Ouverture

Composer(s)

Jacques Offenbach

Artist(s)

Laurent Campellone

Münchner Rundfunkorchester

Les Bergers: Ouverture

$2.30

Fantasio: Romance d'Elsbeth "Voilà toute la ville en fête"

Composer(s)

Jacques Offenbach

Artist(s)

Laurent Campellone

Jodie Devos

Münchner Rundfunkorchester

Fantasio: Romance d'Elsbeth "Voilà toute la ville en fête"

$2.30

Les Contes d'Hoffmann: Couplets de la poupée "Les oiseaux dans la charmille"

Composer(s)

Jacques Offenbach

Artist(s)

Laurent Campellone

Jodie Devos

Münchner Rundfunkorchester

Les Contes d'Hoffmann: Couplets de la poupée "Les oiseaux dans la charmille"

$2.30

Robinson Crusoë, Acte II, 2ème tableau, Scène 14C: Valse d'Edwige "Conduisez-moi vers celui que j'adore"

Composer(s)

Jacques Offenbach

Artist(s)

Laurent Campellone

Jodie Devos

Münchner Rundfunkorchester

Robinson Crusoë, Acte II, 2ème tableau, Scène 14C: Valse d'Edwige "Conduisez-moi vers celui que j'adore"

$2.30

Boule de Neige, Acte I Scène 3: Romance des souvenirs d'Olga "Souvenance"

Composer(s)

Jacques Offenbach

Artist(s)

Laurent Campellone

Jodie Devos

Münchner Rundfunkorchester

Boule de Neige, Acte I Scène 3: Romance des souvenirs d'Olga "Souvenance"

$2.30

Boule de Neige, Acte II Scène 14: Chanson d'Olga "Allons, couchez"

Composer(s)

Jacques Offenbach

Artist(s)

Laurent Campellone

Jodie Devos

Münchner Rundfunkorchester

Boule de Neige, Acte II Scène 14: Chanson d'Olga "Allons, couchez"

$2.30

Les Contes d'Hoffmann: Prélude & Barcarolle "Belle nuit, Ô nuit d'amour"

Composer(s)

Jacques Offenbach

Artist(s)

Laurent Campellone

Jodie Devos

Münchner Rundfunkorchester

Adèle Charvet

Les Contes d'Hoffmann: Prélude & Barcarolle "Belle nuit, Ô nuit d'amour"

$2.30

Le voyage dans la lune, Acte III Scène 21: Ariette de Fantasia "Je suis nerveuse"

Composer(s)

Jacques Offenbach

Artist(s)

Laurent Campellone

Jodie Devos

Münchner Rundfunkorchester

Le voyage dans la lune, Acte III Scène 21: Ariette de Fantasia "Je suis nerveuse"

$2.30
Total running time: 60 minutes.








Album information

Soprano Jodie Devos here pays homage to Offenbach, whose bicentenary of his birth was celebrated in 2019. This album was nominated for a Gramophone award and an ICMA award and won a Diapason d'Or de l'année.

This programme shows Offenbach's fascination with the vocal fireworks of coloratura divas. This kind of 'lyric coloratura' or 'soprano leggero' voice runs like a thread through most of the composer's oeuvre, from his first pieces for two or three soloists to those grand frescoes of his maturity, La Vie parisienne, Robinson Crusoé, and Orphée aux Enfers.

The coloratura soprano also adorns Offenbach's less frivolous operettas (such as Fantasio), as well as his only serious opera – Les Contes d'Hoffmann – in which the role of the doll (with only one aria, but what an aria!) is among the most famous in the entire French repertoire. Concocted collaboratively with Alexandre Dratwicki and the Palazzetto Bru Zane, this recorded programme – tailor-made for Jodie Devos – presents innumerable rarities from Mesdames de la Halle, Boule-de-Neige,Un mari à la porte, Le Roi Carotte, Le Voyage dans la lune, and Vert-Vert. In the famous Barcarolle "Belle nuit, Ô nuit d'amour", she is joined by up-and-coming mezzo-soprano Adèle Charvet.
Related Artists
Reviews