Filters
Richard Strauss and the Viennese Trumpet
Richard Strauss and the Viennese Trumpet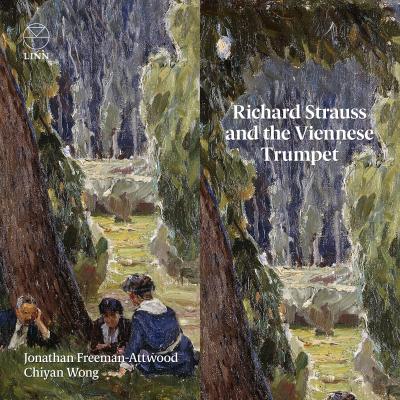 Inlay available for download
Booklet available for download
A Sonata for Trumpet and Piano "After Richard Strauss": I. Allegro energico

Composer(s)

Richard Strauss

Artist(s)

Jonathan Freeman-Attwood

Chiyan Wong

A Sonata for Trumpet and Piano "After Richard Strauss": I. Allegro energico

$3.40

A Sonata for Trumpet and Piano "After Richard Strauss": II. Andante cantabile

Composer(s)

Richard Strauss

Artist(s)

Jonathan Freeman-Attwood

Chiyan Wong

A Sonata for Trumpet and Piano "After Richard Strauss": II. Andante cantabile

$3.40

A Sonata for Trumpet and Piano "After Richard Strauss": III. Rondo

Composer(s)

Richard Strauss

Artist(s)

Jonathan Freeman-Attwood

Chiyan Wong

A Sonata for Trumpet and Piano "After Richard Strauss": III. Rondo

$2.30

Sonata, K. 347 K. 367: I. Grave

Composer(s)

Johann Joseph Fux

Artist(s)

Jonathan Freeman-Attwood

Chiyan Wong

Sonata, K. 347 K. 367: I. Grave

$2.30

Sonata, K. 347 K. 367: II. Allegro

Composer(s)

Johann Joseph Fux

Artist(s)

Jonathan Freeman-Attwood

Chiyan Wong

Sonata, K. 347 K. 367: II. Allegro

$2.30

Sonata, K. 347 K. 367: III. Adagio

Composer(s)

Johann Joseph Fux

Artist(s)

Jonathan Freeman-Attwood

Chiyan Wong

Sonata, K. 347 K. 367: III. Adagio

$2.30

Sonata, K. 347 K. 367: IV. Allegro

Composer(s)

Johann Joseph Fux

Artist(s)

Jonathan Freeman-Attwood

Chiyan Wong

Sonata, K. 347 K. 367: IV. Allegro

$2.30

Sonata in G Minor, D. 408: I. Allegro giusto

Composer(s)

Franz Schubert

Artist(s)

Jonathan Freeman-Attwood

Chiyan Wong

Sonata in G Minor, D. 408: I. Allegro giusto

$2.30

Sonata in G Minor, D. 408: II. Andante

Composer(s)

Franz Schubert

Artist(s)

Jonathan Freeman-Attwood

Chiyan Wong

Sonata in G Minor, D. 408: II. Andante

$2.30

Sonata in G Minor, D. 408: III. Menuetto – Trio

Composer(s)

Franz Schubert

Artist(s)

Jonathan Freeman-Attwood

Chiyan Wong

Sonata in G Minor, D. 408: III. Menuetto – Trio

$2.30

Sonata in G Minor, D. 408: IV. Allegro moderato

Composer(s)

Franz Schubert

Artist(s)

Jonathan Freeman-Attwood

Chiyan Wong

Sonata in G Minor, D. 408: IV. Allegro moderato

$2.30

Ave Maria III

Composer(s)

Anton Bruckner

Artist(s)

Jonathan Freeman-Attwood

Chiyan Wong

Ave Maria III

$2.30

Six Songs After Poems by Maurice Maeterlinck, Op. 13: III. Lied der Jungfrau

Composer(s)

Alexander Zemlinsky

Artist(s)

Jonathan Freeman-Attwood

Chiyan Wong

Six Songs After Poems by Maurice Maeterlinck, Op. 13: III. Lied der Jungfrau

$2.30

Des Knaben Wunderhorn: XI. Urlicht

Composer(s)

Gustav Mahler

Artist(s)

Jonathan Freeman-Attwood

Chiyan Wong

Des Knaben Wunderhorn: XI. Urlicht

$2.30

Two Pieces: I. G Major: Langsam

Artist(s)

Jonathan Freeman-Attwood

Chiyan Wong

Two Pieces: I. G Major: Langsam

$2.30

Seven Variations on 'God Save the King', WoO78

Composer(s)

Ludwig van Beethoven

Artist(s)

Jonathan Freeman-Attwood

Chiyan Wong

Seven Variations on 'God Save the King', WoO78

$2.30
Total running time: 60 minutes.
Album information

Works by Fux, Beethoven, Schubert, Mahler, Bruckner, Webern and Zemlinsky alongside a newly imagined Strauss trumpet sonata. 

Building on his highly successful transcriptions of sonatas by Fauré, Grieg, Mendelssohn and Schumann, Freeman-Attwood pushes the boundaries further delivering a fully realised trumpet sonata which Strauss did not write. This innovative approach embraces various levels of transcription, transformation, realignment and composition to create a significant new contribution to the trumpet repertoire, full of the gloriously idiomatic writing for which Strauss is renowned. The material is variously drawn from the first movement of Strauss's Violin Sonata Op. 18, a combination of both light and very significant arrangements of miscellaneous music, newly composed music, and development or transitions based on existing material within the Sonata itself.

Accompanying Freeman-Attwood is pianist Chiyan Wong, who was awarded the prestigious 40th Grand Prix du Disque by the Franz Liszt Society.
Related Artists
Reviews