Filters
Rossi: Il Mantovano Hebreo
Rossi: Il Mantovano Hebreo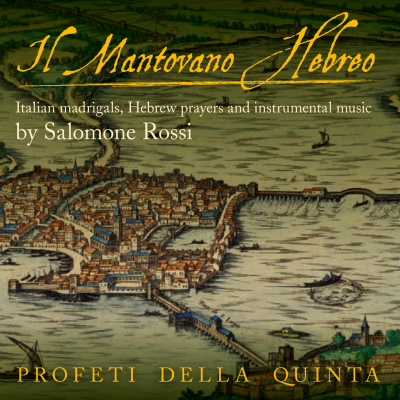 Inlay available for download
Booklet available for download
Psalm 128: Shir hamma'alot, ashrei kol yere Adonai

Composer(s)

Salomone Rossi

Artist(s)

Profeti della Quinta

Psalm 128: Shir hamma'alot, ashrei kol yere Adonai

$2.30

Sinfonia prima a 5 e a 3 si placet

Composer(s)

Salomone Rossi

Artist(s)

Profeti della Quinta

Sinfonia prima a 5 e a 3 si placet

$2.30

Sfogava con le stelle

Composer(s)

Salomone Rossi

Artist(s)

Profeti della Quinta

Sfogava con le stelle

$2.30

Sinfonia prima

Composer(s)

Salomone Rossi

Artist(s)

Profeti della Quinta

Sinfonia prima

$2.30

Tu parti, ahi lasso

Composer(s)

Salomone Rossi

Artist(s)

Profeti della Quinta

Tu parti, ahi lasso

$2.30

Cor mio, deh non languire

Composer(s)

Salomone Rossi

Artist(s)

Profeti della Quinta

Cor mio, deh non languire

$2.30

Sinfonia undecima

Composer(s)

Salomone Rossi

Artist(s)

Profeti della Quinta

Sinfonia undecima

$2.30

Udite, lacrimosi spirti d'averno

Composer(s)

Salomone Rossi

Artist(s)

Profeti della Quinta

Udite, lacrimosi spirti d'averno

$2.30

Sinfonia seconda, detta la Emiglia

Composer(s)

Salomone Rossi

Artist(s)

Profeti della Quinta

Sinfonia seconda, detta la Emiglia

$2.30

Gagliarda a 5 e a 3 si placet, detta Narciso

Composer(s)

Salomone Rossi

Artist(s)

Profeti della Quinta

Gagliarda a 5 e a 3 si placet, detta Narciso

$2.30

Correnta terza

Composer(s)

Salomone Rossi

Artist(s)

Profeti della Quinta

Correnta terza

$2.30

Brando secondo

Composer(s)

Salomone Rossi

Artist(s)

Profeti della Quinta

Brando secondo

$2.30

Tirsi mio, caro Tirsi

Composer(s)

Salomone Rossi

Artist(s)

Profeti della Quinta

Tirsi mio, caro Tirsi

$2.30

Sinfonia quinta

Composer(s)

Salomone Rossi

Artist(s)

Profeti della Quinta

Sinfonia quinta

$2.30

Rimanti in pace

Composer(s)

Salomone Rossi

Artist(s)

Profeti della Quinta

Rimanti in pace

$2.30

Sinfonia decima

Composer(s)

Salomone Rossi

Artist(s)

Profeti della Quinta

Sinfonia decima

$2.30

Psalm 100: Mizmor letoda

Composer(s)

Salomone Rossi

Artist(s)

Profeti della Quinta

Psalm 100: Mizmor letoda

$2.30

Gagliarda disperata

Composer(s)

Salomone Rossi

Artist(s)

Profeti della Quinta

Gagliarda disperata

$2.30

Correnta sesta

Composer(s)

Salomone Rossi

Artist(s)

Profeti della Quinta

Correnta sesta

$2.30

Psalm 146: Haleluyah

Composer(s)

Salomone Rossi

Artist(s)

Profeti della Quinta

Psalm 146: Haleluyah

$2.30

Vedro 'l mio sol

Composer(s)

Salomone Rossi

Artist(s)

Profeti della Quinta

Vedro 'l mio sol

$2.30

Sinfonia duodecima

Composer(s)

Salomone Rossi

Artist(s)

Profeti della Quinta

Sinfonia duodecima

$2.30

In dolci lacci

Composer(s)

Salomone Rossi

Artist(s)

Profeti della Quinta

In dolci lacci

$2.30

Sonata Ottava sopra l'Aria E tanto tempo hormai

Composer(s)

Salomone Rossi

Artist(s)

Profeti della Quinta

Sonata Ottava sopra l'Aria E tanto tempo hormai

$2.30

Ohime se tanto amate

Composer(s)

Salomone Rossi

Artist(s)

Profeti della Quinta

Ohime se tanto amate

$2.30

Messaggier di speranza

Composer(s)

Salomone Rossi

Artist(s)

Profeti della Quinta

Messaggier di speranza

$2.30

Corrente settima

Composer(s)

Salomone Rossi

Artist(s)

Profeti della Quinta

Corrente settima

$2.30

Gagliarda a 5 e a 3 si placet, detta la Zambalina

Composer(s)

Salomone Rossi

Artist(s)

Profeti della Quinta

Gagliarda a 5 e a 3 si placet, detta la Zambalina

$2.30

Pargoletta, che non sai

Composer(s)

Salomone Rossi

Artist(s)

Profeti della Quinta

Pargoletta, che non sai

$2.30

Psalm 126: Shir hamma'alot, beshuv adonai

Composer(s)

Salomone Rossi

Artist(s)

Profeti della Quinta

Psalm 126: Shir hamma'alot, beshuv adonai

$2.30
Total running time: 61 minutes.
Album information

Profeti della Quinta makes its Linn debut with a unique programme of Italian madrigals, instrumental pieces and Hebrew prayers by Salomone Rossi (c.1570-c.1630).

The programme encompasses Rossi's many-faceted talents both as a court composer in the service of the Gonzaga family and as a unique innovator of devotional music for the synagogue.  The award-winning a-cappella ensemble, comprising five core male singers, is joined for this recording by Katya Polin and Eva Saladin (violin) and Ori Harmelin and Ryosuke Sakamoto (theorbo). The native Hebrew speaking singers specialize in the music of the Italian Baroque and have an immediate connection to Rossi as a Jewish Italian composer.

In naming Profeti della Quinta winners of the 2011 York Early Music Young Artists Competition, producer and judge Philip Hobbs commented: 'Profeti della Quinta's stunning authentic performance practice and quality of execution was truly magnificent.' The ensemble has recorded an accompanying documentary about Salomone Rossi, filmed in Mantua (Hebreo: The Search for Salomone Rossi by Joseph Rochlitz in 2012).

This recording was named a '2013 Hidden Gem' in The Observer.
Related Artists
Reviews