Filters
Saint-Saëns: Le carnaval des animaux - Poulenc: Double Concerto
Saint-Saëns: Le carnaval des animaux - Poulenc: Double Concerto
Artist
Alex Vizorek
Duo Jatekok
Lucie Leguay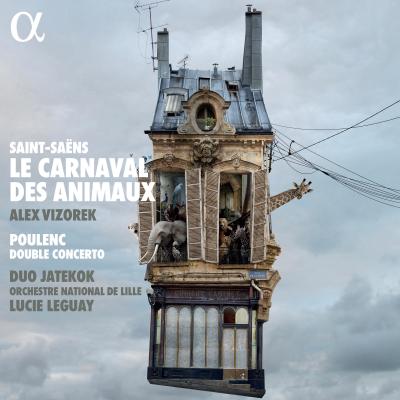 Inlay available for download
Booklet available for download
Le Carnaval des animaux, R.125: Introduction (Récit)

Composer(s)

Camille Saint-Saëns

Artist(s)

Lucie Leguay

Alex Vizorek

Orchestre national de Lille

Duo Jatekok

Le Carnaval des animaux, R.125: Introduction (Récit)

$2.30

Le Carnaval des animaux, R.125: Introduction

Composer(s)

Camille Saint-Saëns

Artist(s)

Lucie Leguay

Orchestre national de Lille

Duo Jatekok

Le Carnaval des animaux, R.125: Introduction

$2.30

Le Carnaval des animaux, R.125: Marche royale du lion (Récit)

Composer(s)

Camille Saint-Saëns

Artist(s)

Lucie Leguay

Alex Vizorek

Orchestre national de Lille

Duo Jatekok

Le Carnaval des animaux, R.125: Marche royale du lion (Récit)

$2.30

Le Carnaval des animaux, R.125: Marche royale du lion

Composer(s)

Camille Saint-Saëns

Artist(s)

Lucie Leguay

Orchestre national de Lille

Duo Jatekok

Le Carnaval des animaux, R.125: Marche royale du lion

$2.30

Le Carnaval des animaux, R.125: Poules et coqs (Récit)

Composer(s)

Camille Saint-Saëns

Artist(s)

Lucie Leguay

Alex Vizorek

Orchestre national de Lille

Duo Jatekok

Le Carnaval des animaux, R.125: Poules et coqs (Récit)

$2.30

Le Carnaval des animaux, R.125: Poules et coqs

Composer(s)

Camille Saint-Saëns

Artist(s)

Lucie Leguay

Orchestre national de Lille

Duo Jatekok

Le Carnaval des animaux, R.125: Poules et coqs

$2.30

Le Carnaval des animaux, R.125: Hémiones (animaux véloces) (Récit)

Composer(s)

Camille Saint-Saëns

Artist(s)

Lucie Leguay

Alex Vizorek

Orchestre national de Lille

Duo Jatekok

Le Carnaval des animaux, R.125: Hémiones (animaux véloces) (Récit)

$2.30

Le Carnaval des animaux, R.125: Hémiones (animaux véloces)

Composer(s)

Camille Saint-Saëns

Artist(s)

Lucie Leguay

Orchestre national de Lille

Duo Jatekok

Le Carnaval des animaux, R.125: Hémiones (animaux véloces)

$2.30

Le Carnaval des animaux, R.125: Tortues (Récit)

Composer(s)

Camille Saint-Saëns

Artist(s)

Lucie Leguay

Alex Vizorek

Orchestre national de Lille

Duo Jatekok

Le Carnaval des animaux, R.125: Tortues (Récit)

$2.30

Le Carnaval des animaux, R.125: Tortues

Composer(s)

Camille Saint-Saëns

Artist(s)

Lucie Leguay

Orchestre national de Lille

Duo Jatekok

Le Carnaval des animaux, R.125: Tortues

$2.30

Le Carnaval des animaux, R.125: L'éléphant (Récit)

Composer(s)

Camille Saint-Saëns

Artist(s)

Lucie Leguay

Alex Vizorek

Orchestre national de Lille

Duo Jatekok

Le Carnaval des animaux, R.125: L'éléphant (Récit)

$2.30

Le Carnaval des animaux, R.125: L'éléphant

Composer(s)

Camille Saint-Saëns

Artist(s)

Lucie Leguay

Orchestre national de Lille

Duo Jatekok

Le Carnaval des animaux, R.125: L'éléphant

$2.30

Le Carnaval des animaux, R.125: Kangourous (Récit)

Composer(s)

Camille Saint-Saëns

Artist(s)

Lucie Leguay

Alex Vizorek

Orchestre national de Lille

Duo Jatekok

Le Carnaval des animaux, R.125: Kangourous (Récit)

$2.30

Le Carnaval des animaux, R.125: Kangourous

Composer(s)

Camille Saint-Saëns

Artist(s)

Lucie Leguay

Orchestre national de Lille

Duo Jatekok

Le Carnaval des animaux, R.125: Kangourous

$2.30

Le Carnaval des animaux, R.125: Aquarium (Récit)

Composer(s)

Camille Saint-Saëns

Artist(s)

Lucie Leguay

Alex Vizorek

Orchestre national de Lille

Duo Jatekok

Le Carnaval des animaux, R.125: Aquarium (Récit)

$2.30

Le Carnaval des animaux, R.125: Aquarium

Composer(s)

Camille Saint-Saëns

Artist(s)

Lucie Leguay

Orchestre national de Lille

Duo Jatekok

Le Carnaval des animaux, R.125: Aquarium

$2.30

Le Carnaval des animaux, R.125: Personnages à longues oreilles (Récit)

Composer(s)

Camille Saint-Saëns

Artist(s)

Lucie Leguay

Alex Vizorek

Orchestre national de Lille

Duo Jatekok

Le Carnaval des animaux, R.125: Personnages à longues oreilles (Récit)

$2.30

Le Carnaval des animaux, R.125: Personnages à longues oreilles

Composer(s)

Camille Saint-Saëns

Artist(s)

Lucie Leguay

Orchestre national de Lille

Duo Jatekok

Le Carnaval des animaux, R.125: Personnages à longues oreilles

$2.30

Le Carnaval des animaux, R.125: Le coucou au fond des bois (Récit)

Composer(s)

Camille Saint-Saëns

Artist(s)

Lucie Leguay

Alex Vizorek

Orchestre national de Lille

Duo Jatekok

Le Carnaval des animaux, R.125: Le coucou au fond des bois (Récit)

$2.30

Le Carnaval des animaux, R.125: Le coucou au fond des bois

Composer(s)

Camille Saint-Saëns

Artist(s)

Lucie Leguay

Orchestre national de Lille

Duo Jatekok

Le Carnaval des animaux, R.125: Le coucou au fond des bois

$2.30

Le Carnaval des animaux, R.125: Volière (Récit)

Composer(s)

Camille Saint-Saëns

Artist(s)

Lucie Leguay

Alex Vizorek

Orchestre national de Lille

Duo Jatekok

Le Carnaval des animaux, R.125: Volière (Récit)

$2.30

Le Carnaval des animaux, R.125: Volière

Composer(s)

Camille Saint-Saëns

Artist(s)

Lucie Leguay

Orchestre national de Lille

Duo Jatekok

Le Carnaval des animaux, R.125: Volière

$2.30

Le Carnaval des animaux, R.125: Pianistes (Récit)

Composer(s)

Camille Saint-Saëns

Artist(s)

Lucie Leguay

Alex Vizorek

Orchestre national de Lille

Duo Jatekok

Le Carnaval des animaux, R.125: Pianistes (Récit)

$2.30

Le Carnaval des animaux, R.125: Pianistes

Composer(s)

Camille Saint-Saëns

Artist(s)

Lucie Leguay

Orchestre national de Lille

Duo Jatekok

Le Carnaval des animaux, R.125: Pianistes

$2.30

Le Carnaval des animaux, R.125: Fossiles (Récit)

Composer(s)

Camille Saint-Saëns

Artist(s)

Lucie Leguay

Alex Vizorek

Orchestre national de Lille

Duo Jatekok

Le Carnaval des animaux, R.125: Fossiles (Récit)

$2.30

Le Carnaval des animaux, R.125: Fossiles

Composer(s)

Camille Saint-Saëns

Artist(s)

Lucie Leguay

Orchestre national de Lille

Duo Jatekok

Le Carnaval des animaux, R.125: Fossiles

$2.30

Le Carnaval des animaux, R.125: Le Cygne (Récit)

Composer(s)

Camille Saint-Saëns

Artist(s)

Lucie Leguay

Alex Vizorek

Orchestre national de Lille

Duo Jatekok

Le Carnaval des animaux, R.125: Le Cygne (Récit)

$2.30

Le Carnaval des animaux, R.125: Le Cygne

Composer(s)

Camille Saint-Saëns

Artist(s)

Lucie Leguay

Orchestre national de Lille

Duo Jatekok

Le Carnaval des animaux, R.125: Le Cygne

$2.30

Le Carnaval des animaux, R.125: Finale (Récit)

Composer(s)

Camille Saint-Saëns

Artist(s)

Lucie Leguay

Alex Vizorek

Orchestre national de Lille

Duo Jatekok

Le Carnaval des animaux, R.125: Finale (Récit)

$2.30

Le Carnaval des animaux, R.125: Finale

Composer(s)

Camille Saint-Saëns

Artist(s)

Lucie Leguay

Orchestre national de Lille

Duo Jatekok

Le Carnaval des animaux, R.125: Finale

$2.30

Concerto for Two Pianos and Orchestra in D Minor, FP 61: I. Allegro ma non troppo

Composer(s)

Francis Poulenc

Artist(s)

Lucie Leguay

Orchestre national de Lille

Duo Jatekok

Concerto for Two Pianos and Orchestra in D Minor, FP 61: I. Allegro ma non troppo

$3.40

Concerto for Two Pianos and Orchestra in D Minor, FP 61: II. Larghetto

Composer(s)

Francis Poulenc

Artist(s)

Lucie Leguay

Orchestre national de Lille

Duo Jatekok

Concerto for Two Pianos and Orchestra in D Minor, FP 61: II. Larghetto

$2.30

Concerto for Two Pianos and Orchestra in D Minor, FP 61: III. Allegro molto

Composer(s)

Francis Poulenc

Artist(s)

Lucie Leguay

Orchestre national de Lille

Duo Jatekok

Concerto for Two Pianos and Orchestra in D Minor, FP 61: III. Allegro molto

$2.30

Danse macabre, Op. 40: Introduction sur un poème de Henri Cazalis

Composer(s)

Camille Saint-Saëns

Artist(s)

Lucie Leguay

Alex Vizorek

Orchestre national de Lille

Duo Jatekok

Danse macabre, Op. 40: Introduction sur un poème de Henri Cazalis

$2.30

Danse macabre, Op. 40

Composer(s)

Camille Saint-Saëns

Artist(s)

Lucie Leguay

Orchestre national de Lille

Duo Jatekok

Danse macabre, Op. 40

$3.40
Total running time: 65 minutes.
Album information

To mark the centenary of Saint-Saëns's death his famous 'grand zoological fantasy', The Carnival of the Animals, is presented here by Duo Jatekok and the Orchestre National de Lille under the direction of Lucie Leguay with narration by the Belgian comedian and actor Alex Vizorek.

The French composer never imagined that his bestiary would become one of the most famous works in musical history, a staple repertory piece on a par with Prokofiev's Peter and the Wolf. 'When human beings keep their distance, animals are happy', concludes Alex Vizorek, who has rewritten the text of this 'grand zoological fantasy'. The work's 'crazy and poetic drollery' takes in the 'Royal March of the Lion', the 'Hens and Cocks', the mysterious 'Hemiones', the motley procession of 'Turtles', 'Elephant' and 'Kangaroos', the famous 'Aquarium' which gave the Cannes Festival its signature tune, and of course the celebrated 'Swan'. 

To celebrate the centenary of Saint-Saëns's death in 1921, Duo Jatekok also presents another of his biggest hits, the Danse macabre, in its version for four hands. Naïri Badal and Adélaïde Panaget, the orchestra and Lucie Leguay bring this colourful parade to a close with Poulenc's flamboyant Concerto for Two Pianos, premiered at the Tenth Venice Biennale in 1932.
Related Artists
Reviews