Filters
Soirée parisienne: The Royal Academy of Music Bicentenary Series
Soirée parisienne: The Royal Academy of Music Bicentenary Series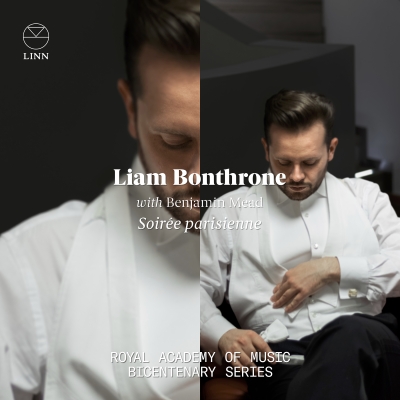 Inlay available for download
Booklet available for download
Soirées musicales: No. 4, L'orgia "Amiamo, cantiamo"

Composer(s)

Gioachino Rossini

Artist(s)

Liam Bonthrone

Benjamin Mead

Soirées musicales: No. 4, L'orgia "Amiamo, cantiamo"

$2.30

Grands oiseaux blancs

Composer(s)

Pauline Viardot

Artist(s)

Liam Bonthrone

Benjamin Mead

Grands oiseaux blancs

$2.30

Oh! quand je dors, S. 282

Artist(s)

Liam Bonthrone

Benjamin Mead

Oh! quand je dors, S. 282

$2.30

Nine Songs, D. 8: No. 5, Lied. "Avec ces traits harmonieux, pareils"

Composer(s)

Emmanuel Chabrier

Artist(s)

Liam Bonthrone

Benjamin Mead

Nine Songs, D. 8: No. 5, Lied. "Avec ces traits harmonieux, pareils"

$2.30

Madrigal "Tes doux baisers sont des oiseaux"

Composer(s)

Cécile Chaminade

Artist(s)

Liam Bonthrone

Benjamin Mead

Madrigal "Tes doux baisers sont des oiseaux"

$2.30

Cinq mélodies, Op. 58: No. 5, C'est l'extase langoureuse

Composer(s)

Gabriel Fauré

Artist(s)

Liam Bonthrone

Benjamin Mead

Cinq mélodies, Op. 58: No. 5, C'est l'extase langoureuse

$3.40

2 Poems by Paul Verlaine, Op. 9, K011: No. 2, La lune blanche

Composer(s)

Igor Stravinsky

Artist(s)

Liam Bonthrone

Benjamin Mead

2 Poems by Paul Verlaine, Op. 9, K011: No. 2, La lune blanche

$2.30

Clairières dans le ciel: No. 1, Elle était descendue au bas de la prairie

Composer(s)

Lili Boulanger

Artist(s)

Liam Bonthrone

Benjamin Mead

Clairières dans le ciel: No. 1, Elle était descendue au bas de la prairie

$2.30

O schwöre nicht und küsse nur

Composer(s)

Nadia Boulanger

Artist(s)

Liam Bonthrone

Benjamin Mead

O schwöre nicht und küsse nur

$2.30

Was will die einsame Träne?

Composer(s)

Nadia Boulanger

Artist(s)

Liam Bonthrone

Benjamin Mead

Was will die einsame Träne?

$2.30

Ach, die Augen sind es wieder

Composer(s)

Nadia Boulanger

Artist(s)

Liam Bonthrone

Benjamin Mead

Ach, die Augen sind es wieder

$2.30

La libellule

Composer(s)

Camille Saint-Saëns

Artist(s)

Liam Bonthrone

Benjamin Mead

La libellule

$2.30

You Do Something to Me

Artist(s)

Liam Bonthrone

Benjamin Mead

You Do Something to Me

$2.30
Total running time: 46 minutes.

Album information

The Royal Academy of Music Bicentenary Series sees tenor Liam Bonthrone make his recording debut. Soirée parisienne takes us on a journey into the fascinating world of Parisian salons, which were the epicentre of the cultural scene in nineteenth-century France. 

These social gatherings provided a platform for new and established composers to showcase their works to a discerning audience and introduce new musical styles and trends. Accompanied by pianist Benjamin Mead, Liam Bonthrone highlights the contributions of three of the most influential salonnières of their time: Pauline Viardot, Comtesse Élisabeth Greffulhe and Winnaretta Singer, Princesse de Polignac. Liam Bonthrone is one of the exceptional artists, including Xiaowen Shang (piano), Cassandra Wright (soprano) and Anna Im (violin), who are the recent recipients of the Academy's Bicentenary Scholarships scheme.
Related Artists
Reviews