Filters
Shostakovich: String Quartets & Piano Quintet
Shostakovich: String Quartets & Piano Quintet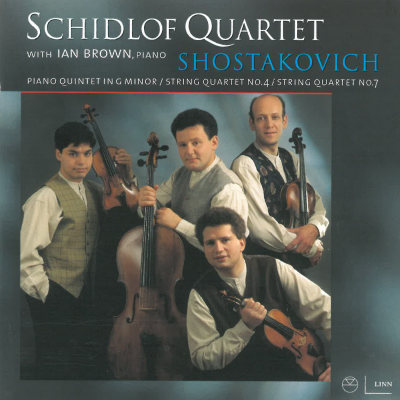 String Quartet No.7 Op. 108 <i>Allegretto</i>

Composer(s)

Dmitri Shostakovich

String Quartet No.7 Op. 108 Allegretto

$1.80

String Quartet No.7 Op. 108 <i>Lento</i>

Composer(s)

Dmitri Shostakovich

String Quartet No.7 Op. 108 Lento

$1.80

String Quartet No.7 Op. 108 <i>Allegro</i>

Composer(s)

Dmitri Shostakovich

String Quartet No.7 Op. 108 Allegro

$1.80

String Quartet No.4 Op.83 Allegretto

$1.80

String Quartet No.4 Op.83 <i>Andantino</i>

Composer(s)

Dmitri Shostakovich

String Quartet No.4 Op.83 Andantino

$2.70

String Quartet No.4 Op.83 Allegretto

$1.80

String Quartet No.4 Op.83 Allegretto

$2.70

Piano Quintet In G Minor Op.57 <i>Prelude</i>

Composer(s)

Dmitri Shostakovich

Artist(s)

Ian Brown - piano

Piano Quintet In G Minor Op.57 Prelude

$1.80

Piano Quintet In G Minor Op.57 <i>Fugue</i>

Composer(s)

Dmitri Shostakovich

Artist(s)

Ian Brown - piano

Piano Quintet In G Minor Op.57 Fugue

$2.70

Piano Quintet In G Minor Op.57 <i>Scherzo</i>

Composer(s)

Dmitri Shostakovich

Artist(s)

Ian Brown - piano

Piano Quintet In G Minor Op.57 Scherzo

$1.80

Piano Quintet In G Minor Op.57 <i>Intermezzo</i>

Composer(s)

Dmitri Shostakovich

Artist(s)

Ian Brown - piano

Piano Quintet In G Minor Op.57 Intermezzo

$1.80

Piano Quintet In G Minor Op.57 <i>Finale</i>

Composer(s)

Dmitri Shostakovich

Artist(s)

Ian Brown - piano

Piano Quintet In G Minor Op.57 Finale

$2.70
Total running time: 69 minutes.
Album information

With this album of three Shostakovich pieces, the ensemble further enhance their exciting reputation.

Pianist Ian Brown joins the acclaimed Schidlof Quartet for this recording of Shostakovich's Piano Quintet in G minor. In addition the programme includes  String Quartet No. 7 and String Quartet No. 4.

This recording received outstanding critical acclaim and was chosen as Critic's Choice in The Sunday Times, The Sunday Telegraph and BBC Music Magazine.
Related Artists
Reviews