Filters
Songs of Ecstasy and Devotion
Songs of Ecstasy and Devotion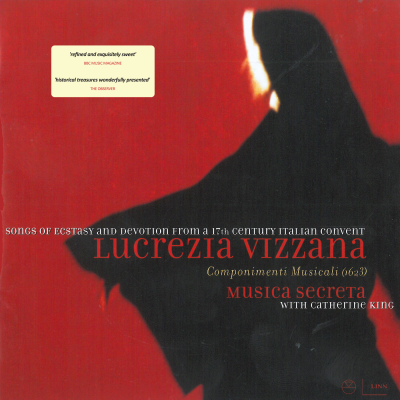 Inlay available for download
Componimenti Musicali: Filii Syon exultate

Composer(s)

Lucrezia Vizzana

Componimenti Musicali: Filii Syon exultate

$1.80

Componimenti Musicali: Veni dulcissime Domine

Composer(s)

Lucrezia Vizzana

Componimenti Musicali: Veni dulcissime Domine

$1.80

Componimenti Musicali: Paratum cor meum

Composer(s)

Lucrezia Vizzana

Artist(s)

Catherine King

Musica Secreta

Componimenti Musicali: Paratum cor meum

$1.80

Componimenti Musicali: Protector Noster

Composer(s)

Lucrezia Vizzana

Artist(s)

Catherine King

Musica Secreta

Componimenti Musicali: Protector Noster

$1.80

Componimenti Musicali: Ave stella matutina

Composer(s)

Lucrezia Vizzana

Componimenti Musicali: Ave stella matutina

$1.80

Componimenti Musicali: Usquequo oblivisceris me infinem?

Composer(s)

Lucrezia Vizzana

Artist(s)

Catherine King

Musica Secreta

Componimenti Musicali: Usquequo oblivisceris me infinem?

$1.80

Componimenti Musicali: Domine, quid multiplicati sunt

Composer(s)

Lucrezia Vizzana

Componimenti Musicali: Domine, quid multiplicati sunt

$1.80

Componimenti Musicali: Praebe mihi

Composer(s)

Lucrezia Vizzana

Componimenti Musicali: Praebe mihi

$1.80

Componimenti Musicali: O invictissima Christi martyr

Composer(s)

Lucrezia Vizzana

Artist(s)

Catherine King

Musica Secreta

Componimenti Musicali: O invictissima Christi martyr

$1.80

Componimenti Musicali: Sonet vox tua

Composer(s)

Lucrezia Vizzana

Artist(s)

Catherine King

Musica Secreta

Componimenti Musicali: Sonet vox tua

$1.80

Componimenti Musicali: Omnes gentes, cantate Domino

Composer(s)

Lucrezia Vizzana

Artist(s)

Catherine King

Musica Secreta

Componimenti Musicali: Omnes gentes, cantate Domino

$1.80

Componimenti Musicali: Confiteantur tibi

Composer(s)

Lucrezia Vizzana

Componimenti Musicali: Confiteantur tibi

$1.80

Componimenti Musicali: Amo Christum, in cuius thalamum introibo

Composer(s)

Lucrezia Vizzana

Componimenti Musicali: Amo Christum, in cuius thalamum introibo

$1.80

Componimenti Musicali: O si sciret stultus mundus

Composer(s)

Lucrezia Vizzana

Componimenti Musicali: O si sciret stultus mundus

$1.80

Componimenti Musicali: Ornaverunt faciem templi coronis aureis

Composer(s)

Lucrezia Vizzana

Artist(s)

Catherine King

Musica Secreta

Componimenti Musicali: Ornaverunt faciem templi coronis aureis

$1.80

Componimenti Musicali: O magnum mysterium

Composer(s)

Lucrezia Vizzana

Componimenti Musicali: O magnum mysterium

$1.80

Componimenti Musicali: Domine, Dominus noster, quam admirabile

Composer(s)

Lucrezia Vizzana

Componimenti Musicali: Domine, Dominus noster, quam admirabile

$1.80

Componimenti Musicali: Domine, ne in furore

Composer(s)

Lucrezia Vizzana

Componimenti Musicali: Domine, ne in furore

$1.80

Componimenti Musicali: Exsurgat Deus et dissipentur

Composer(s)

Lucrezia Vizzana

Componimenti Musicali: Exsurgat Deus et dissipentur

$1.80

Componimenti Musicali: Omnes gentes plaudite manibus

Composer(s)

Lucrezia Vizzana

Componimenti Musicali: Omnes gentes plaudite manibus

$1.80
Total running time: 59 minutes.
Album information

Songs of Ecstasy and Devotion celebrates the Italian composer Lucrezia Vizzana, whose musical accomplishments have been overlooked due to her gender.

Musica Secreta, an ensemble dedicated to discovering and performing repertoire by women composers, create an exquisite sound with a performance that provides a fascinating musical insight.

This recording features Vizzana's complete surviving works: twenty finely crafted motets which are both sensual and spiritual. Vizzana learnt her craft from the Italian masters of Bologna, often in secret, creating works reminiscent of Monteverdi. The publication of Vizzana's Componimenti Musicali in 1623 was a remarkable achievement having overcome the confines of both her gender and the convent to achieve renown as a composer.

Nearly four hundred years later women composers are still massively underrepresented throughout musical history, but Songs of Ecstasy and Devotion demonstrates why their voices should be more widely heard.
Related Artists
Reviews