Filters
Stamitz: Six Trios, Op. 14
Stamitz: Six Trios, Op. 14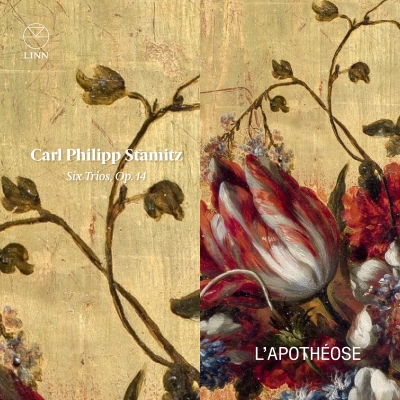 Inlay available for download
Booklet available for download
Trio in G Major, Op. 14 No. 1: I. Moderato

Composer(s)

Carl Philipp Stamitz

Trio in G Major, Op. 14 No. 1: I. Moderato

$2.30

Trio in G Major, Op. 14 No. 1: II. Andante. Moderato

Composer(s)

Carl Philipp Stamitz

Trio in G Major, Op. 14 No. 1: II. Andante. Moderato

$2.30

Trio in G Major, Op. 14 No. 1: III. Rondo. Allegretto

Composer(s)

Carl Philipp Stamitz

Trio in G Major, Op. 14 No. 1: III. Rondo. Allegretto

$2.30

Trio in C Major, Op. 14 No. 2: I. Moderato

Composer(s)

Carl Philipp Stamitz

Trio in C Major, Op. 14 No. 2: I. Moderato

$2.30

Trio in C Major, Op. 14 No. 2: II. Tempo di Menuetto. Moderato

Composer(s)

Carl Philipp Stamitz

Trio in C Major, Op. 14 No. 2: II. Tempo di Menuetto. Moderato

$2.30

Trio in F Major, Op. 14 No. 3: I. Andantino

Composer(s)

Carl Philipp Stamitz

Trio in F Major, Op. 14 No. 3: I. Andantino

$2.30

Trio in F Major, Op. 14 No. 3: II. Rondo. Allegro

Composer(s)

Carl Philipp Stamitz

Trio in F Major, Op. 14 No. 3: II. Rondo. Allegro

$2.30

Trio in G Minor, Op. 14 No. 4: I. Allegro

Composer(s)

Carl Philipp Stamitz

Trio in G Minor, Op. 14 No. 4: I. Allegro

$3.40

Trio in G Minor, Op. 14 No. 4: II. Rondo. Allegretto

Composer(s)

Carl Philipp Stamitz

Trio in G Minor, Op. 14 No. 4: II. Rondo. Allegretto

$2.30

Trio in F Major, Op. 14 No. 5: I. Allegro non molto

Composer(s)

Carl Philipp Stamitz

Trio in F Major, Op. 14 No. 5: I. Allegro non molto

$3.40

Trio in F Major, Op. 14 No. 5: II. Andante grazioso

Composer(s)

Carl Philipp Stamitz

Trio in F Major, Op. 14 No. 5: II. Andante grazioso

$2.30

Trio in F Major, Op. 14 No. 5: III. Tempo di Menuetto

Composer(s)

Carl Philipp Stamitz

Trio in F Major, Op. 14 No. 5: III. Tempo di Menuetto

$2.30

Trio in A Major, Op. 14 No. 6: I. Allegro gustoso

Composer(s)

Carl Philipp Stamitz

Trio in A Major, Op. 14 No. 6: I. Allegro gustoso

$3.40

Trio in A Major, Op. 14 No. 6: II. Rondo. Allegretto

Composer(s)

Carl Philipp Stamitz

Trio in A Major, Op. 14 No. 6: II. Rondo. Allegretto

$2.30
Total running time: 69 minutes.
Album information

Formed in 2016, the Spanish Baroque ensemble L'Apothéose has quickly established itself as a key player on the historically informed music scene.

The multi awarded group (winner of the York Early Music International Young Artists Competition in 2019, Second Prize at the Internationaal Van Wassenaer Competition in 2018, First Prize at the Göttingen Händel Competition in 2017, Second Prize at the Concours International de Musique Ancienne du Val de Loire in 2017) makes its debut for Linn with a programme of music by Carl Philipp Stamitz (1745–1801).

The eldest son of the celebrated Mannheim school founder Johann Stamitz, Carl Philipp was a well-travelled virtuoso and a composer in his own right. Published around 1780 during his stay in London, the rarely recorded Six Trios à une flute ou deux violons et violoncello obligé, Op. 14, showcases the expertise of L'Apothéose's musicians.
Related Artists
Reviews