Filters
Tastes of Europe: Telemann Trios & Quartets
Tastes of Europe: Telemann Trios & Quartets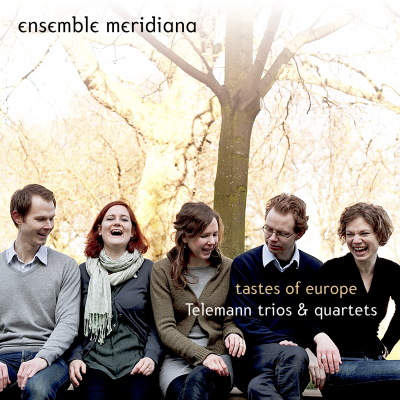 Inlay available for download
Booklet available for download
Concerto in G Major for recorder, oboe, violin and basso continuo, TWV. 43:G6 - Allegro

Composer(s)

Georg Philipp Telemann (1681-1767)

Artist(s)

Ensemble Meridiana

Concerto in G Major for recorder, oboe, violin and basso continuo, TWV. 43:G6 - Allegro

$2.30

Concerto in G Major for recorder, oboe, violin and basso continuo, TWV. 43:G6 - Grave

Composer(s)

Georg Philipp Telemann (1681-1767)

Artist(s)

Ensemble Meridiana

Concerto in G Major for recorder, oboe, violin and basso continuo, TWV. 43:G6 - Grave

$2.30

Concerto in G Major for recorder, oboe, violin and basso continuo, TWV. 43:G6 - Allegro

Composer(s)

Georg Philipp Telemann (1681-1767)

Artist(s)

Ensemble Meridiana

Concerto in G Major for recorder, oboe, violin and basso continuo, TWV. 43:G6 - Allegro

$2.30

Trio in E minor for two "dessus" and basso continuo, TWV. 42:e11 - Tendrement

Composer(s)

Georg Philipp Telemann (1681-1767)

Artist(s)

Ensemble Meridiana

Trio in E minor for two "dessus" and basso continuo, TWV. 42:e11 - Tendrement

$2.30

Trio in E minor for two "dessus" and basso continuo, TWV. 42:e11 - Viste Gay

Composer(s)

Georg Philipp Telemann (1681-1767)

Artist(s)

Ensemble Meridiana

Trio in E minor for two "dessus" and basso continuo, TWV. 42:e11 - Viste Gay

$2.30

Trio in E minor for two "dessus" and basso continuo, TWV. 42:e11 - Grave

Composer(s)

Georg Philipp Telemann (1681-1767)

Artist(s)

Ensemble Meridiana

Trio in E minor for two "dessus" and basso continuo, TWV. 42:e11 - Grave

$2.30

Trio in E minor for two "dessus" and basso continuo, TWV. 42:e11 - Allegrement

Composer(s)

Georg Philipp Telemann (1681-1767)

Artist(s)

Ensemble Meridiana

Trio in E minor for two "dessus" and basso continuo, TWV. 42:e11 - Allegrement

$2.30

Trio 3 in G minor for oboe, violin and basso continuo, TWV. 42:g5 - Mesto

Composer(s)

Georg Philipp Telemann (1681-1767)

Artist(s)

Ensemble Meridiana

Trio 3 in G minor for oboe, violin and basso continuo, TWV. 42:g5 - Mesto

$2.30

Trio 3 in G minor for oboe, violin and basso continuo, TWV. 42:g5 - Allegro

Composer(s)

Georg Philipp Telemann (1681-1767)

Artist(s)

Ensemble Meridiana

Trio 3 in G minor for oboe, violin and basso continuo, TWV. 42:g5 - Allegro

$2.30

Trio 3 in G minor for oboe, violin and basso continuo, TWV. 42:g5 - Andante

Composer(s)

Georg Philipp Telemann (1681-1767)

Artist(s)

Ensemble Meridiana

Trio 3 in G minor for oboe, violin and basso continuo, TWV. 42:g5 - Andante

$2.30

Trio 3 in G minor for oboe, violin and basso continuo, TWV. 42:g5 - Vivace

Composer(s)

Georg Philipp Telemann (1681-1767)

Artist(s)

Ensemble Meridiana

Trio 3 in G minor for oboe, violin and basso continuo, TWV. 42:g5 - Vivace

$2.30

Trio 7 in F Major for recorder, viola da gamba and basso continuo, TWV. 42:F3 - Vivace

Composer(s)

Georg Philipp Telemann (1681-1767)

Artist(s)

Ensemble Meridiana

Trio 7 in F Major for recorder, viola da gamba and basso continuo, TWV. 42:F3 - Vivace

$2.30

Trio 7 in F Major for recorder, viola da gamba and basso continuo, TWV. 42:F3 - Mesto

Composer(s)

Georg Philipp Telemann (1681-1767)

Artist(s)

Ensemble Meridiana

Trio 7 in F Major for recorder, viola da gamba and basso continuo, TWV. 42:F3 - Mesto

$2.30

Trio 7 in F Major for recorder, viola da gamba and basso continuo, TWV. 42:F3 - Allegro

Composer(s)

Georg Philipp Telemann (1681-1767)

Artist(s)

Ensemble Meridiana

Trio 7 in F Major for recorder, viola da gamba and basso continuo, TWV. 42:F3 - Allegro

$2.30

Concerto in A minor for recorder, oboe, violin and basso continuo, TWV. 43:a3 - Adagio

Composer(s)

Georg Philipp Telemann (1681-1767)

Artist(s)

Ensemble Meridiana

Concerto in A minor for recorder, oboe, violin and basso continuo, TWV. 43:a3 - Adagio

$2.30

Concerto in A minor for recorder, oboe, violin and basso continuo, TWV. 43:a3 - Allegro

Composer(s)

Georg Philipp Telemann (1681-1767)

Artist(s)

Ensemble Meridiana

Concerto in A minor for recorder, oboe, violin and basso continuo, TWV. 43:a3 - Allegro

$2.30

Concerto in A minor for recorder, oboe, violin and basso continuo, TWV. 43:a3 - Adagio

Composer(s)

Georg Philipp Telemann (1681-1767)

Artist(s)

Ensemble Meridiana

Concerto in A minor for recorder, oboe, violin and basso continuo, TWV. 43:a3 - Adagio

$2.30

Concerto in A minor for recorder, oboe, violin and basso continuo, TWV. 43:a3 - Vivace

Composer(s)

Georg Philipp Telemann (1681-1767)

Artist(s)

Ensemble Meridiana

Concerto in A minor for recorder, oboe, violin and basso continuo, TWV. 43:a3 - Vivace

$2.30

Trio in B minor for violin, viola da gamba and basso continuo, TWV. 42:h6 - Largo

Composer(s)

Georg Philipp Telemann (1681-1767)

Artist(s)

Ensemble Meridiana

Trio in B minor for violin, viola da gamba and basso continuo, TWV. 42:h6 - Largo

$2.30

Trio in D minor for recorder, violin and basso continuo - Allegro

Composer(s)

Pierre Prowo (1697-1757)

Artist(s)

Ensemble Meridiana

Trio in D minor for recorder, violin and basso continuo - Allegro

$2.30

Trio in D minor for recorder, violin and basso continuo - Adagio

Composer(s)

Pierre Prowo (1697-1757)

Artist(s)

Ensemble Meridiana

Trio in D minor for recorder, violin and basso continuo - Adagio

$2.30

Trio in D minor for recorder, violin and basso continuo - Allegro

Composer(s)

Pierre Prowo (1697-1757)

Artist(s)

Ensemble Meridiana

Trio in D minor for recorder, violin and basso continuo - Allegro

$2.30

Trio in D minor for recorder, violin and basso continuo - Presto

Composer(s)

Pierre Prowo (1697-1757)

Artist(s)

Ensemble Meridiana

Trio in D minor for recorder, violin and basso continuo - Presto

$2.30
Total running time: 60 minutes.
Album information

The debut recording by Ensemble Meridiana, winners of the biennial York Early Music International Young Artists Competition. A scintillating programme of Telemann leading the listener on a musical jouney through Europe in the Baroque period.

On this beautiful recording, Ensemble Meridiana explores a variety of Georg Philipp Telemann's chamber music. 

The pieces chosen highlight the mastery of Telemann's 'mixed taste' writing style and are a perfect display of Baroque influences from France, Germany, Italy and Poland.

The ensemble's playing is energetic, vibrant and displays a soft touch which is ideal for interweaving the various mixed tastes within these compositions.

Also featured on this album is a recording only recently discovered not to have been composed by Telemann, but by Pierre Prowo!
Related Artists
Reviews