Filters
Tchaikovsky: Symphony No. 5 & Francesca da Rimini
Tchaikovsky: Symphony No. 5 & Francesca da Rimini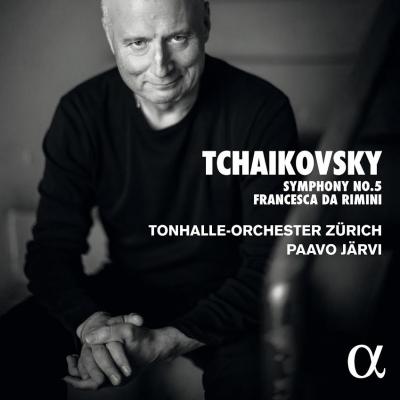 Inlay available for download
Booklet available for download
Symphony No. 5 in E Minor, Op. 64: I. Andante – Allegro con anima

Composer(s)

Pyotr Ilyich Tchaikovsky

Artist(s)

Paavo Järvi

Tonhalle-Orchester Zürich

Symphony No. 5 in E Minor, Op. 64: I. Andante – Allegro con anima

$5.75

Symphony No. 5 in E Minor, Op. 64: II. Andante cantabile con alcuna licenza

Composer(s)

Pyotr Ilyich Tchaikovsky

Artist(s)

Paavo Järvi

Tonhalle-Orchester Zürich

Symphony No. 5 in E Minor, Op. 64: II. Andante cantabile con alcuna licenza

$4.60

Symphony No. 5 in E Minor, Op. 64: III. Valse: Allegro moderato

Composer(s)

Pyotr Ilyich Tchaikovsky

Artist(s)

Paavo Järvi

Tonhalle-Orchester Zürich

Symphony No. 5 in E Minor, Op. 64: III. Valse: Allegro moderato

$2.30

Symphony No. 5 in E Minor, Op. 64: IV. Finale: Andante maestoso – Allegro vivace

Composer(s)

Pyotr Ilyich Tchaikovsky

Artist(s)

Paavo Järvi

Tonhalle-Orchester Zürich

Symphony No. 5 in E Minor, Op. 64: IV. Finale: Andante maestoso – Allegro vivace

$4.60

Francesca da Rimini, Fantasy for Orchestra, Op. 32: I. Andante lugubre

Composer(s)

Pyotr Ilyich Tchaikovsky

Artist(s)

Paavo Järvi

Tonhalle-Orchester Zürich

Francesca da Rimini, Fantasy for Orchestra, Op. 32: I. Andante lugubre

$2.30

Francesca da Rimini, Fantasy for Orchestra, Op. 32: II. Allegro vivo

Composer(s)

Pyotr Ilyich Tchaikovsky

Artist(s)

Paavo Järvi

Tonhalle-Orchester Zürich

Francesca da Rimini, Fantasy for Orchestra, Op. 32: II. Allegro vivo

$2.30

Francesca da Rimini, Fantasy for Orchestra, Op. 32: III. Andante cantabile non troppo

Composer(s)

Pyotr Ilyich Tchaikovsky

Artist(s)

Paavo Järvi

Tonhalle-Orchester Zürich

Francesca da Rimini, Fantasy for Orchestra, Op. 32: III. Andante cantabile non troppo

$4.60

Francesca da Rimini, Fantasy for Orchestra, Op. 32: IV. Allegro vivo

Composer(s)

Pyotr Ilyich Tchaikovsky

Artist(s)

Paavo Järvi

Tonhalle-Orchester Zürich

Francesca da Rimini, Fantasy for Orchestra, Op. 32: IV. Allegro vivo

$2.30
Total running time: 73 minutes.




Album information

Paavo Järvi, Principal Conductor and Music Director of the Tonhalle-Orchester Zürich since October 2019, launches a complete recording of Tchaikovsky's symphonies, the first in both his rich discography and that of the Swiss orchestra.

Jarvi writes: 'When I think of the Fifth Symphony, I think of vulnerability and hope. It looks directly into our soul. It is perhaps the finest of his symphonies. The famous horn solo moves me and enriches me every time I hear it . . . Unlike the Sixth, the Fifth still holds out hope for life.'

The symphonic poem Francesca da Rimini Op. 32 completes this programme. This dark and violent 'symphonic fantasy after Dante', a drama of jealousy, was premiered in 1877, at the same time as Swan Lake.
Related Artists
Reviews