Filters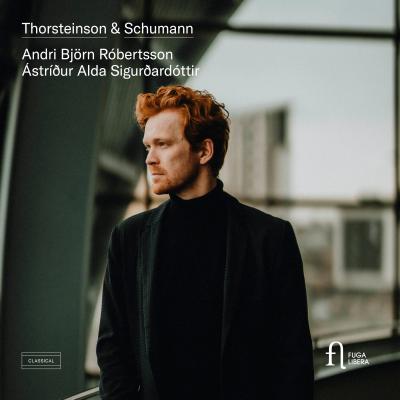 Inlay available for download
Booklet available for download
Liederkreis Op. 24: I. Morgens steh' ich auf und frage

Composer(s)

Robert Schumann

Artist(s)

Andri Björn Róbertsson

Ástríður Alda Sigurðardóttir

Liederkreis Op. 24: I. Morgens steh' ich auf und frage

$2.30

Liederkreis Op. 24: II. Es treibt mich hin

Composer(s)

Robert Schumann

Artist(s)

Andri Björn Róbertsson

Ástríður Alda Sigurðardóttir

Liederkreis Op. 24: II. Es treibt mich hin

$2.30

Liederkreis Op. 24: III. Ich wandelte unter den Bäumen

Composer(s)

Robert Schumann

Artist(s)

Andri Björn Róbertsson

Ástríður Alda Sigurðardóttir

Liederkreis Op. 24: III. Ich wandelte unter den Bäumen

$2.30

Liederkreis Op. 24: IV. Lieb' Liebchen, leg's Händchen

Composer(s)

Robert Schumann

Artist(s)

Andri Björn Róbertsson

Ástríður Alda Sigurðardóttir

Liederkreis Op. 24: IV. Lieb' Liebchen, leg's Händchen

$2.30

Liederkreis Op. 24: V. Schöne Wiege meiner Leiden

Composer(s)

Robert Schumann

Artist(s)

Andri Björn Róbertsson

Ástríður Alda Sigurðardóttir

Liederkreis Op. 24: V. Schöne Wiege meiner Leiden

$2.30

Liederkreis Op. 24: VI. Warte, warte wilder Schiffmann

Composer(s)

Robert Schumann

Artist(s)

Andri Björn Róbertsson

Ástríður Alda Sigurðardóttir

Liederkreis Op. 24: VI. Warte, warte wilder Schiffmann

$2.30

Liederkreis Op. 24: VII. Berg' und Burgen schau'n herunter

Composer(s)

Robert Schumann

Artist(s)

Andri Björn Róbertsson

Ástríður Alda Sigurðardóttir

Liederkreis Op. 24: VII. Berg' und Burgen schau'n herunter

$2.30

Liederkreis Op. 24: VIII. Anfangs wollt' ich fast verzagen

Composer(s)

Robert Schumann

Artist(s)

Andri Björn Róbertsson

Ástríður Alda Sigurðardóttir

Liederkreis Op. 24: VIII. Anfangs wollt' ich fast verzagen

$2.30

Liederkreis Op. 24: IX. Mit Myrten und Rosen

Composer(s)

Robert Schumann

Artist(s)

Andri Björn Róbertsson

Ástríður Alda Sigurðardóttir

Liederkreis Op. 24: IX. Mit Myrten und Rosen

$2.30

Þess bera menn sár

Composer(s)

Árni Thorsteinson

Artist(s)

Andri Björn Róbertsson

Ástríður Alda Sigurðardóttir

Þess bera menn sár

$2.30

Kirkjuhvoll

Composer(s)

Árni Thorsteinson

Artist(s)

Andri Björn Róbertsson

Ástríður Alda Sigurðardóttir

Kirkjuhvoll

$2.30

Vorgyðjan kemur

Composer(s)

Árni Thorsteinson

Artist(s)

Andri Björn Róbertsson

Ástríður Alda Sigurðardóttir

Vorgyðjan kemur

$2.30

Friður á jörðu

Composer(s)

Árni Thorsteinson

Artist(s)

Andri Björn Róbertsson

Ástríður Alda Sigurðardóttir

Friður á jörðu

$2.30

Rósin

Composer(s)

Árni Thorsteinson

Artist(s)

Andri Björn Róbertsson

Ástríður Alda Sigurðardóttir

Rósin

$2.30

Fögur sem forðum

Composer(s)

Árni Thorsteinson

Artist(s)

Andri Björn Róbertsson

Ástríður Alda Sigurðardóttir

Fögur sem forðum

$2.30

Nótt

Composer(s)

Árni Thorsteinson

Artist(s)

Andri Björn Róbertsson

Ástríður Alda Sigurðardóttir

Nótt

$2.30

Liederkreis Op. 39: I. In der Fremde

Composer(s)

Robert Schumann

Artist(s)

Andri Björn Róbertsson

Ástríður Alda Sigurðardóttir

Liederkreis Op. 39: I. In der Fremde

$2.30

Liederkreis Op. 39: II. Intermezzo

Composer(s)

Robert Schumann

Artist(s)

Andri Björn Róbertsson

Ástríður Alda Sigurðardóttir

Liederkreis Op. 39: II. Intermezzo

$2.30

Liederkreis Op. 39: III. Waldesgespräch

Composer(s)

Robert Schumann

Artist(s)

Andri Björn Róbertsson

Ástríður Alda Sigurðardóttir

Liederkreis Op. 39: III. Waldesgespräch

$2.30

Liederkreis Op. 39: IV. Die Stille

Composer(s)

Robert Schumann

Artist(s)

Andri Björn Róbertsson

Ástríður Alda Sigurðardóttir

Liederkreis Op. 39: IV. Die Stille

$2.30

Liederkreis Op. 39: V. Mondnacht

Composer(s)

Robert Schumann

Artist(s)

Andri Björn Róbertsson

Ástríður Alda Sigurðardóttir

Liederkreis Op. 39: V. Mondnacht

$2.30

Liederkreis Op. 39: VI. Schöne Fremde

Composer(s)

Robert Schumann

Artist(s)

Andri Björn Róbertsson

Ástríður Alda Sigurðardóttir

Liederkreis Op. 39: VI. Schöne Fremde

$2.30

Liederkreis Op. 39: VII. Auf einer Burg

Composer(s)

Robert Schumann

Artist(s)

Andri Björn Róbertsson

Ástríður Alda Sigurðardóttir

Liederkreis Op. 39: VII. Auf einer Burg

$2.30

Liederkreis Op. 39: VIII. In der Fremde

Composer(s)

Robert Schumann

Artist(s)

Andri Björn Róbertsson

Ástríður Alda Sigurðardóttir

Liederkreis Op. 39: VIII. In der Fremde

$2.30

Liederkreis Op. 39: IX. Wehmut

Composer(s)

Robert Schumann

Artist(s)

Andri Björn Róbertsson

Ástríður Alda Sigurðardóttir

Liederkreis Op. 39: IX. Wehmut

$2.30

Liederkreis Op. 39: X. Zwielicht

Composer(s)

Robert Schumann

Artist(s)

Andri Björn Róbertsson

Ástríður Alda Sigurðardóttir

Liederkreis Op. 39: X. Zwielicht

$2.30

Liederkreis Op. 39: XI. Im Walde

Composer(s)

Robert Schumann

Artist(s)

Andri Björn Róbertsson

Ástríður Alda Sigurðardóttir

Liederkreis Op. 39: XI. Im Walde

$2.30

Liederkreis Op. 39: XII. Frühlingsnacht

Composer(s)

Robert Schumann

Artist(s)

Andri Björn Róbertsson

Ástríður Alda Sigurðardóttir

Liederkreis Op. 39: XII. Frühlingsnacht

$2.30
Total running time: 72 minutes.
Album information

Icelandic baritone Andri Björn Róbertson has recorded Schumann's Liederkreise op. 24 and op. 39 paired with seven songs by his countryman Árni Thorsteinson (1870-1962), who is affectionately called the 'Icelandic Schumann'.

Thorsteinson is probably Iceland's most beloved song composer and this programme includes some of the nation's absolute favourites. In the early 1900s he started to compose songs for both solo voice and chorus to the words of well-known Icelandic poets. His twelve songs published in 1907 are a national treasure. Iceland's energy and landscape were key influences in making this record. Escaping into the wilderness and the surrounding mystery and natural poetry are ingredients as important as the two soloists. This is why a venue in Iceland was chosen for the recording sessions.

1840 is considered Robert Schumann's Liederjahr (Year of Song) in reference to his nearly exclusive devotion to song composition from 1840 to 1841. The two cycles op.24 and op.39 were composed and published in 1840.
Related Artists
Reviews