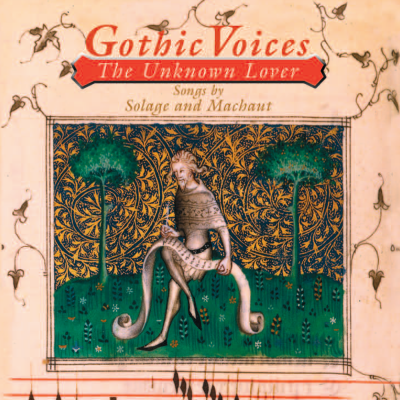 Inlay available for download
Booklet available for download
Mors sui, se je ne vous voy

Composer(s)

Guillaume de Machaut

Mors sui, se je ne vous voy

$1.70

En l'amoureux vergier

$1.70

Quant je sui mis au retour

Composer(s)

Guillaume de Machaut

Artist(s)

Stephen Charlesworth

Quant je sui mis au retour

$1.70

Fumeux fume par fumee

Artist(s)

Jonathan Arnold, Robert MacDonald

Gothic Voices

Fumeux fume par fumee

$1.70

Dame, se vous m'estes lonteinne

Composer(s)

Guillaume de Machaut

Dame, se vous m'estes lonteinne

$1.70

Adieu vous di

Artist(s)

Robert MacDonald

Gothic Voices

Adieu vous di

$1.70

Plus dure que un dyamant

Composer(s)

Guillaume de Machaut

Plus dure que un dyamant

$1.70

Douce dame, tant com vivray

Composer(s)

Guillaume de Machaut

Douce dame, tant com vivray

$1.70

Le mont Aön de Trace

$1.70

Se je souspir parfondement

Composer(s)

Guillaume de Machaut

Se je souspir parfondement

$1.70

Calextone, qui fut dame

Artist(s)

Robert MacDonald

Gothic Voices

Calextone, qui fut dame

$1.70

Dieus, Biaute, Douceur, Nature

Composer(s)

Guillaume de Machaut

Dieus, Biaute, Douceur, Nature

$1.70

Helas! je voy mon cuer

$3.40
Total running time: 71 minutes.
Album information

Gothic Voices presents the first recording of the complete works of Solage.

Originally released on Avie in 2006, The Unknown Lover has been re-issued as part of Linn's ECHO series which offers a second chance to enjoy the best recordings from Linn artists.