Filters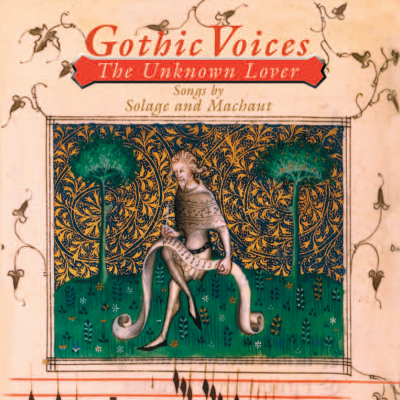 Inlay available for download
Booklet available for download
Mors sui, se je ne vous voy

Composer(s)

Guillaume de Machaut

Mors sui, se je ne vous voy

$1.80

En l'amoureux vergier

$1.80

Quant je sui mis au retour

Composer(s)

Guillaume de Machaut

Artist(s)

Stephen Charlesworth

Quant je sui mis au retour

$1.80

Fumeux fume par fumee

Artist(s)

Jonathan Arnold, Robert MacDonald

Gothic Voices

Fumeux fume par fumee

$1.80

Dame, se vous m'estes lonteinne

Composer(s)

Guillaume de Machaut

Dame, se vous m'estes lonteinne

$1.80

Adieu vous di

Artist(s)

Robert MacDonald

Gothic Voices

Adieu vous di

$1.80

Plus dure que un dyamant

Composer(s)

Guillaume de Machaut

Plus dure que un dyamant

$1.80

Douce dame, tant com vivray

Composer(s)

Guillaume de Machaut

Douce dame, tant com vivray

$1.80

Le mont Aön de Trace

$1.80

Se je souspir parfondement

Composer(s)

Guillaume de Machaut

Se je souspir parfondement

$1.80

Calextone, qui fut dame

Artist(s)

Robert MacDonald

Gothic Voices

Calextone, qui fut dame

$1.80

Dieus, Biaute, Douceur, Nature

Composer(s)

Guillaume de Machaut

Dieus, Biaute, Douceur, Nature

$1.80

Helas! je voy mon cuer

$1.80
Total running time: 71 minutes.
Album information

Gothic Voices presents the first recording of the complete works of Solage.

Solage was the leading composer of the ars subtilior in late 14th century France and yet one about whom virtually nothing is known - not even his first name.

The title, The Unknown Lover, reflects the composer's anonymity, together with the fact that all twelve of Solage's songs are love songs. They are perfectly paired with the seven ars nova style songs by his earlier French contemporary Guillaume de Machaut, which provide a welcome contrast and variety of texture to the richness and complexity of Solage's output. The extremes of Solage's rhythmic and chromatic experimentation, as in Fumeux fume par fumee, are some of the most challenging that Gothic Voices has ever encountered, making full use of the singers' considerable experience and expertise.
Related Artists
Reviews