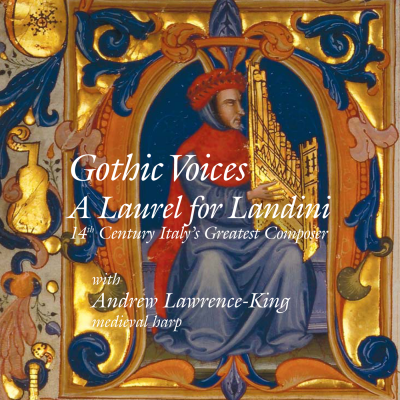 Inlay available for download
Booklet available for download
Sia laudato san Francesco

Sia laudato san Francesco

€1.40

O sommo specchio

Composer(s)

Niccolo da Perugia

Anonymous

O sommo specchio

€1.40

Creata fusti, o vergine Maria

Creata fusti, o vergine Maria

€1.40

Questa fanciull' Amor

Composer(s)

Francesco Landini

Artist(s)

Andrew Lawrence-King

Questa fanciull' Amor

€1.40

Batista da Dio amato

Artist(s)

Stephen Charlesworth

Batista da Dio amato

€1.40

Deh, dinmi tu

Composer(s)

Francesco Landini

Anonymous

Deh, dinmi tu

€1.40

De sospirar sovente

Composer(s)

Francesco Landini

Anonymous

De sospirar sovente

€1.40

Vaga fanciulla

Composer(s)

Francesco Landini

Anonymous

Vaga fanciulla

€1.40

Ave Maria, stella Diana

€1.40

Ne la piu cara parte

Composer(s)

Francesco Landini

Anonymous

Ne la piu cara parte

€1.40

Guarda una volta

Composer(s)

Francesco Landini

Anonymous

Guarda una volta

€1.40

Per l'allegrezza del nostro Signore

Per l'allegrezza del nostro Signore

€1.40

Così pensoso

Composer(s)

Francesco Landini

Anonymous

Così pensoso

€1.40

Donna, perche mi spregi

Composer(s)

Francesco Landini

Artist(s)

Andrew Lawrence-King

Donna, perche mi spregi

€1.40

Musica son / Gia furon / Ciascun vuol

Composer(s)

Francesco Landini

Anonymous

Musica son / Gia furon / Ciascun vuol

€1.40

Peccatrice nominata

€1.40

Conviens' a fede

Composer(s)

Francesco Landini

Anonymous

Conviens' a fede

€1.40

Lasso! di donna

Composer(s)

Francesco Landini

Anonymous

Lasso! di donna

€1.40

Mein herz das ist versert

Composer(s)

Oswald von Wolkenstein

Anonymous

Mein herz das ist versert

€1.40

Ne la mia vita

Composer(s)

Francesco Landini

Anonymous

Ne la mia vita

€1.40

Muort' oramai

Composer(s)

Francesco Landini

Anonymous

Muort' oramai

€1.40

Che pena e quest' al cor

Composer(s)

Francesco Landini

Anonymous

Che pena e quest' al cor

€1.40

Piu bella donn' al mondo

Composer(s)

Francesco Landini

Anonymous

Piu bella donn' al mondo

€1.40

Questa fanciull' Amor

Composer(s)

Francesco Landini

Artist(s)

Andrew Lawrence-King

Questa fanciull' Amor

€1.40

Vergine donzella imperadrice

Vergine donzella imperadrice

€1.40

Questa fanciull' Amor

Composer(s)

Francesco Landini

Anonymous

Questa fanciull' Amor

€1.40
Total running time: 67 minutes.
Album information

Gothic Voices travel to Italy to explore the origins of its impressive polyphonic music via the greatest composer of the age: Francesco Landini.

Originally released on Avie in 2008, A Laurel For Landini has been re-issued as part of Linn's ECHO series which offers a second chance to enjoy the best recordings from Linn artists.