Filters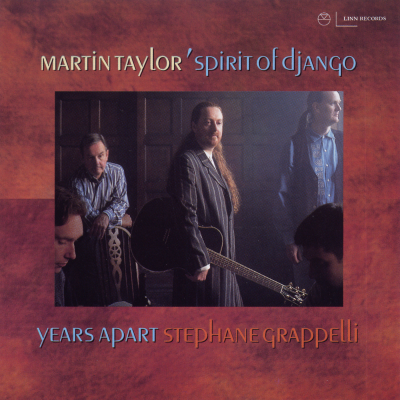 Inlay available for download
Booklet available for download

Album information

Martin Taylor's second recording with his Spirit of Django band features a star-studded guest list including the legendary violinist Stéphane Grappelli, plus Britain's leading jazz vocalist Claire Martin and pianist Brian Kellock.

Following the success of the band's debut, Réunion, Years Apart was also released to critical acclaim and public popularity; it won two British Jazz Award categories: 'Best Guitar' and 'Best Small Group'.

Taylor and Grappelli's mutual admiration was sparked when, aged 23, the youthful prodigy joined the jazz stalwart's regular touring band; their shared virtuosity and verve drew them together.

Inventive with a Gypsy flavour throughout, highlights include the easygoing ballad 'Going Home Again' and the well-crafted 'Hi Lily, Hi Lo', featuring Claire Martin - a piece rarely heard in a jazz setting. Grappelli sums up the appeal of Years Apart: "Martin has managed to capture the true spirit of Django, yet do it in his own style."
Related Artists
Reviews