Filters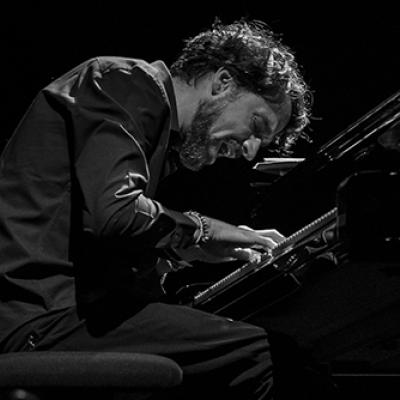 Baptiste Trotignon studied piano and classical music since the age of six and discovered jazz and improvisation as a teenager. He has won many awards: Prix Django Reinhardt, Best French Newcomer at 2003 Victoires du Jazz, Grand Prix at the 2002 Martial Solal International Piano Competition...
Biography

Baptiste Trotignon's first two trio albums in the early 2000's (followed by two solo piano albums which both received major public and critical acclaim) brought him to people's attention as one of the most spectacular member of a new generation of pianists, and brought him to perform at many major international venues.

Over the years that followed he developed a number of eclectic encounters, performing alongside with artists like Tom Harrell, Stefano Di Battista, Aldo Romano or Brad Mehldau. After his first "American" album recorded in New York in 2008 ("Share") , he received in 2011 the Sacem's Grand Prix for his work as a composer, and then released in 2012 a stunningly bold album, "Song Song Song", on which he celebrated his love of the vocalist's art and invited great artists like Melody Gardot. At the same time he created his first Piano Concerto "Different Spaces" with Nicholas Angelich.

In 2014, the 40-year-old musician Le Monde has described as "a lesson, a model, perfection from A to Z" continued to play resolutely openminded and imaginative music by returning to the trio format with "Hit", with special guest, master of groove Jeff Ballard.

In 2016, he released a gorgeous original project mixing jazz and classical music on Kurt Weill with Kate Lindsey ("Thousands of Miles", acclaimed by the New-York Times), he signed with the major label company Sony Music, and released the first of two co-lead albums showing his love for South-American musical traditions: "Chimichurri" with Argentinian percussionist Minino Garay and "Ancestral Memories" with Cuban saxophonist Yosvany Terry.

In 2018, he received the prestigious Echo Jazz award in Germany as Best Instrumentalist-Keyboards category, and created his first symphonic piece "Hiatus et turbulences" with Orchestre Philharmonique de Radio-France, and his second piece for Piano and Orchestra "L'air de rien", concert where he also played for the first time, Mozart's Piano Concerto No. 1.

His new album "You've changed" was released in 2019: acoustic come back to solo piano and an incredible series of intimate duets with guests like Joe Lovano, Avishai Cohen, Ibrahim Maalouf, Camélia Jordana...
Reviews