Filters
African American Voices II
African American Voices II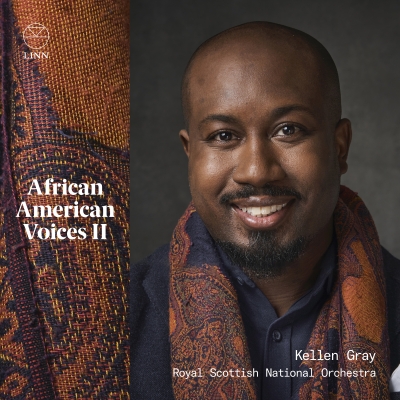 Inlay available for download
Booklet available for download
Montgomery Variations: I. Decision

Composer(s)

Margaret Bonds

Artist(s)

Kellen Gray

Royal Scottish National Orchestra

Montgomery Variations: I. Decision

$2.30

Montgomery Variations: II. Prayer Meeting

Composer(s)

Margaret Bonds

Artist(s)

Kellen Gray

Royal Scottish National Orchestra

Montgomery Variations: II. Prayer Meeting

$2.30

Montgomery Variations: III. March

Composer(s)

Margaret Bonds

Artist(s)

Kellen Gray

Royal Scottish National Orchestra

Montgomery Variations: III. March

$2.30

Montgomery Variations: IV. Dawn in Dixie

Composer(s)

Margaret Bonds

Artist(s)

Kellen Gray

Royal Scottish National Orchestra

Montgomery Variations: IV. Dawn in Dixie

$2.30

Montgomery Variations: V. One Sunday in the South

Composer(s)

Margaret Bonds

Artist(s)

Kellen Gray

Royal Scottish National Orchestra

Montgomery Variations: V. One Sunday in the South

$2.30

Montgomery Variations: VI. Lament

Composer(s)

Margaret Bonds

Artist(s)

Kellen Gray

Royal Scottish National Orchestra

Montgomery Variations: VI. Lament

$2.30

Montgomery Variations: VII. Benediction

Composer(s)

Margaret Bonds

Artist(s)

Kellen Gray

Royal Scottish National Orchestra

Montgomery Variations: VII. Benediction

$2.30

Concerto for Orchestra: I. Toccata. Allegro moderato

Artist(s)

Kellen Gray

Royal Scottish National Orchestra

Concerto for Orchestra: I. Toccata. Allegro moderato

$2.30

Concerto for Orchestra: II. Arioso. Adagio

Artist(s)

Kellen Gray

Royal Scottish National Orchestra

Concerto for Orchestra: II. Arioso. Adagio

$2.30

Concerto for Orchestra: III. Passacaglia. Andante

Artist(s)

Kellen Gray

Royal Scottish National Orchestra

Concerto for Orchestra: III. Passacaglia. Andante

$3.40

Worship: A Concert Overture

Composer(s)

Coleridge-Taylor Perkinson

Artist(s)

Kellen Gray

Royal Scottish National Orchestra

Worship: A Concert Overture

$2.30
Total running time: 47 minutes.

Album information

Kellen Gray has reunited with the Royal Scottish National Orchestra for a second instalment of African American Voices.

Though representing differing schools of thought regarding African American classical music, the composers here are united by their roots in black history, culture and its rich musical heritage. Drawing upon jazz and spirituals – 'I Want Jesus to Walk with Me' serving as the source material – Margaret Bonds' Montgomery Variations engages with African American history, namely the Montgomery bus boycott and the 1963 Birmingham church bombing. In this work, re-discovered in 2017, Bonds tackles the themes of strength, resistance, determination and faith. Bonds' contemporary, the prolific composer Ulysses Kay cultivated a neoclassical voice, as his Concerto for Orchestra exemplifies, very much in line with William Grant Still and his teacher Paul Hindemith. A versatile musician, Coleridge-Taylor Perkinson comes a generation later. In his Worship: A Concert Overture, we can hear a blend of Baroque counterpoint, elements of the blues, spirituals and black folk music.
Related Artists
Reviews