Filters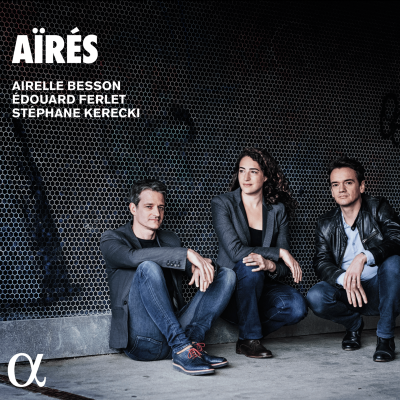 Inlay available for download
Booklet available for download
Es ist vollbracht

Composer(s)

Édouard Ferlet

Artist(s)

Airelle Besson

Stéphane Kerecki

Édouard Ferlet

Es ist vollbracht

$2.30

Infinité

Composer(s)

Airelle Besson

Artist(s)

Airelle Besson

Stéphane Kerecki

Édouard Ferlet

Infinité

$2.30

Pavane pour une infante défunte

Composer(s)

Maurice Ravel

Artist(s)

Airelle Besson

Stéphane Kerecki

Édouard Ferlet

Pavane pour une infante défunte

$2.30

Soon

Composer(s)

Stéphane Kerecki

Artist(s)

Airelle Besson

Stéphane Kerecki

Édouard Ferlet

Soon

$2.30

Manarola

Composer(s)

Stéphane Kerecki

Artist(s)

Airelle Besson

Stéphane Kerecki

Édouard Ferlet

Manarola

$2.30

L'histoire d'un enfant de Saint-Agil

Composer(s)

Édouard Ferlet

Artist(s)

Airelle Besson

Stéphane Kerecki

Édouard Ferlet

L'histoire d'un enfant de Saint-Agil

$2.30

Valse sentimentale, Op. 51 No. 6

Composer(s)

Pyotr Ilyich Tchaikovsky

Artist(s)

Airelle Besson

Stéphane Kerecki

Édouard Ferlet

Valse sentimentale, Op. 51 No. 6

$2.30

Windfall

Artist(s)

Airelle Besson

Stéphane Kerecki

Édouard Ferlet

Windfall

$2.30

Les stances du sabre

Composer(s)

Édouard Ferlet

Artist(s)

Airelle Besson

Stéphane Kerecki

Édouard Ferlet

Les stances du sabre

$2.30

Pavane, Op. 50

Composer(s)

Gabriel Fauré

Artist(s)

Airelle Besson

Stéphane Kerecki

Édouard Ferlet

Pavane, Op. 50

$2.30

Indemne

Composer(s)

Édouard Ferlet

Artist(s)

Airelle Besson

Stéphane Kerecki

Édouard Ferlet

Indemne

$2.30

Résonance

Composer(s)

Airelle Besson

Artist(s)

Airelle Besson

Stéphane Kerecki

Édouard Ferlet

Résonance

$2.30
Total running time: 61 minutes.

Album information

Three jazz musicians (Édouard Ferlet, Airelle Besson and Stéphane Kerecki) each present original compositions inspired by the great standards of the classical repertoire but reinterpreted in a jazz style.

Édouard Ferlet has already explored intriguing byways for the Alpha label: in 2015 he and Violaine Cochard recorded Plucked / Unplucked, an album combining piano and harpsichord – a successful venture that prompted the follow up Plucked' N Dance. The bassist Stéphane Kerecki has already made several recordings for Outhere, including Nouvelle vague, a prizewinner at the Victoires de la Musique. The career of the trumpet player Airelle Besson has been on a high since 2015, when she won both the Prix Django Reinhardt of the Académie du Jazz and the 'Révélation' Award at the Victoires du Jazz.

These three jazz musicians met and decided to form a trio in order to combine their universes and their ambitions. Here is the fruit of their first year of companionship, a programme presenting compositions by each of them, an album wearing the colours of jazz but featuring several tracks directly inspired by great standards of the classical repertoire, including 'Es ist vollbracht' from Bach's St John Passion, the Pavanes of Ravel and Fauré, the Valse sentimentale of Tchaikovsky, and Khachaturian's Sabre Dance, which can be recognised behind the 'Stances du sabre'.

The refinement of the compositions and the playing and the musicians' capacity for listening to each other are a source of endless pleasure and fulfilment.
Related Artists
Reviews