Filters
Anna Geniushene - The Royal Academy of Music Bicentenary Series
Anna Geniushene - The Royal Academy of Music Bicentenary Series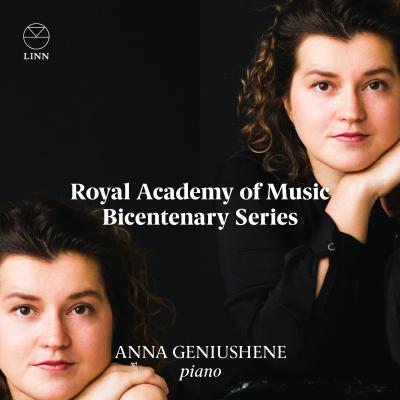 Inlay available for download
Booklet available for download
Piano Sonata No. 8 in B Flat Major, Op. 84: I. Andante dolce

Composer(s)

Sergei Prokofiev

Artist(s)

Anna Geniushene

Piano Sonata No. 8 in B Flat Major, Op. 84: I. Andante dolce

$4.60

Piano Sonata No. 8 in B Flat Major, Op. 84: II. Andante sognando

Composer(s)

Sergei Prokofiev

Artist(s)

Anna Geniushene

Piano Sonata No. 8 in B Flat Major, Op. 84: II. Andante sognando

$2.30

Piano Sonata No. 8 in B Flat Major, Op. 84: III. Vivace

Composer(s)

Sergei Prokofiev

Artist(s)

Anna Geniushene

Piano Sonata No. 8 in B Flat Major, Op. 84: III. Vivace

$3.40

Études-tableaux, Op. 33: I. No. 1 in F Minor: Allegro non troppo

Composer(s)

Sergei Rachmaninov

Artist(s)

Anna Geniushene

Études-tableaux, Op. 33: I. No. 1 in F Minor: Allegro non troppo

$2.30

Études-tableaux, Op. 33: II. No. 2 in C Major: Allegro

Composer(s)

Sergei Rachmaninov

Artist(s)

Anna Geniushene

Études-tableaux, Op. 33: II. No. 2 in C Major: Allegro

$2.30

Études-tableaux, Op. 33: III. No. 3 in C Minor: Grave

Composer(s)

Sergei Rachmaninov

Artist(s)

Anna Geniushene

Études-tableaux, Op. 33: III. No. 3 in C Minor: Grave

$2.30

Études-tableaux, Op. 33: IV. No. 4 in D Minor: Moderato

Composer(s)

Sergei Rachmaninov

Artist(s)

Anna Geniushene

Études-tableaux, Op. 33: IV. No. 4 in D Minor: Moderato

$2.30

Études-tableaux, Op. 33: V. No. 5 in E Flat Minor: Non allegro – Presto

Composer(s)

Sergei Rachmaninov

Artist(s)

Anna Geniushene

Études-tableaux, Op. 33: V. No. 5 in E Flat Minor: Non allegro – Presto

$2.30

Études-tableaux, Op. 33: VI. No. 6 in E Flat Major: Allegro con fuoco

Composer(s)

Sergei Rachmaninov

Artist(s)

Anna Geniushene

Études-tableaux, Op. 33: VI. No. 6 in E Flat Major: Allegro con fuoco

$2.30

Études-tableaux, Op. 33: VII. No. 7 in G Minor: Moderato

Composer(s)

Sergei Rachmaninov

Artist(s)

Anna Geniushene

Études-tableaux, Op. 33: VII. No. 7 in G Minor: Moderato

$2.30

Études-tableaux, Op. 33: VIII. No. 8 in C Sharp Minor: Grave

Composer(s)

Sergei Rachmaninov

Artist(s)

Anna Geniushene

Études-tableaux, Op. 33: VIII. No. 8 in C Sharp Minor: Grave

$2.30
Total running time: 53 minutes.
Album information

Anna Geniushene makes her recording debut, as part of the Royal Academy of Music Bicentenary Series, with a piano recital featuring works by two of her homeland's greatest composers: Sergei Prokofiev and Sergei Rachmaninov.

Having reached the final of the 2018 Leeds Piano Competition with Prokofiev's Third Piano Concerto, Geniushene has chosen the last of his Three War Sonatas to launch her recording career. Together with his Fifth Symphony, which was written at the same time, Piano Sonata No. 8 is a showcase for Prokofiev's creativity, demonstrating an expansive emotional range and surprising insights. Études-tableaux, Op. 33, is the first of two sets of piano études that Rachmaninov wrote, each designed with an individual mood and character in mind. The comparative simplicity of the first four études contrasts with the impressive virtuosity demonstrated by Geniushene in Nos. 5-8, which call for unconventional hand positions, wide leaps for the fingers and considerable technical strength from the performer.

The Royal Academy of Music Bicentenary Series also includes debut recordings by Claudia Lucia Lamanna (harp), Emily Nebel (violin) and Yoanna Prodanova (cello).
Related Artists