Filters
Ars longa: Old and new music for theorbo (Digital Deluxe Version)
Ars longa: Old and new music for theorbo (Digital Deluxe Version)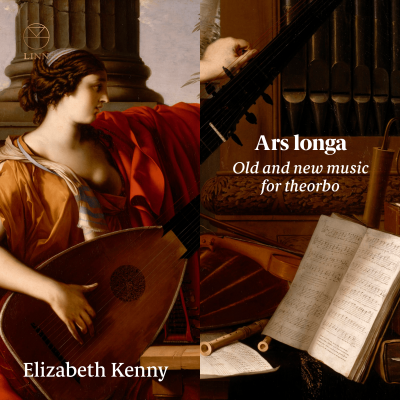 Booklet available for download
Intavolatura di liuto et di chitarrone, 1623: Toccata III

Composer(s)

Alessandro Piccinini

Artist(s)

Elizabeth Kenny

Intavolatura di liuto et di chitarrone, 1623: Toccata III

$2.30

Intavolatura di liuto et di chitarrone, 1623: Toccata X

Composer(s)

Alessandro Piccinini

Artist(s)

Elizabeth Kenny

Intavolatura di liuto et di chitarrone, 1623: Toccata X

$2.30

Intavolatura di liuto et di chitarrone, 1623: Ciaconna

Composer(s)

Alessandro Piccinini

Artist(s)

Elizabeth Kenny

Intavolatura di liuto et di chitarrone, 1623: Ciaconna

$2.30

Intavolatura di liuto et di chitarrone, 1623: Romanesca con partite variate

Composer(s)

Alessandro Piccinini

Artist(s)

Elizabeth Kenny

Intavolatura di liuto et di chitarrone, 1623: Romanesca con partite variate

$2.30

Since It Was the Day of Preparation …: I. Motet 1

Composer(s)

Sir James MacMillan

Artist(s)

Elizabeth Kenny

Since It Was the Day of Preparation …: I. Motet 1

$2.30

Intavolatura di liuto et di chitarrone, 1623: Corrente

Composer(s)

Alessandro Piccinini

Artist(s)

Elizabeth Kenny

Intavolatura di liuto et di chitarrone, 1623: Corrente

$2.30

Intavolatura di liuto et di chitarrone, 1623: Toccata XII

Composer(s)

Alessandro Piccinini

Artist(s)

Elizabeth Kenny

Intavolatura di liuto et di chitarrone, 1623: Toccata XII

$2.30

Intavolatura di liuto et di chitarrone, 1623: Romanesca folia con variate

Composer(s)

Alessandro Piccinini

Artist(s)

Elizabeth Kenny

Intavolatura di liuto et di chitarrone, 1623: Romanesca folia con variate

$2.30

Libro quarto d'intavolatura di chitarrone, 1640: Canario – Capona

Composer(s)

Giovanni Girolamo Kapsperger

Artist(s)

Elizabeth Kenny

Libro quarto d'intavolatura di chitarrone, 1640: Canario – Capona

$2.30

Libro quarto d'intavolatura di chitarrone, 1640: Toccata prima

Composer(s)

Giovanni Girolamo Kapsperger

Artist(s)

Elizabeth Kenny

Libro quarto d'intavolatura di chitarrone, 1640: Toccata prima

$2.30

Libro quarto d'intavolatura di chitarrone, 1640: Passacaglia

Composer(s)

Giovanni Girolamo Kapsperger

Artist(s)

Elizabeth Kenny

Libro quarto d'intavolatura di chitarrone, 1640: Passacaglia

$2.30

Extending from the inside

Composer(s)

Benjamin Oliver

Artist(s)

Elizabeth Kenny

Extending from the inside

$3.40

Suite in C Minor: I. Prélude en C sol ut mineur

Composer(s)

Robert de Visée

Artist(s)

Elizabeth Kenny

Suite in C Minor: I. Prélude en C sol ut mineur

$2.30

Suite in C Minor: II. La Plainte, ou Tombeau de Mesdemoiselles de Visée, Allemande de Mr. leur père

Composer(s)

Robert de Visée

Artist(s)

Elizabeth Kenny

Suite in C Minor: II. La Plainte, ou Tombeau de Mesdemoiselles de Visée, Allemande de Mr. leur père

$2.30

Suite in C Minor: III. Courante

Composer(s)

Robert de Visée

Artist(s)

Elizabeth Kenny

Suite in C Minor: III. Courante

$2.30

Suite in C Minor: IV. Sarabande

Composer(s)

Robert de Visée

Artist(s)

Elizabeth Kenny

Suite in C Minor: IV. Sarabande

$2.30

Suite in C Minor: V. Gigue

Composer(s)

Robert de Visée

Artist(s)

Elizabeth Kenny

Suite in C Minor: V. Gigue

$2.30

Prélude en G re sol majeur

Composer(s)

Robert de Visée

Artist(s)

Elizabeth Kenny

Prélude en G re sol majeur

$2.30

Les Sylvains de Mr. Couperin

Composer(s)

Robert de Visée

Artist(s)

Elizabeth Kenny

Les Sylvains de Mr. Couperin

$2.30

Berceuse with Seven Variations: I. Cycle

Artist(s)

Elizabeth Kenny

Berceuse with Seven Variations: I. Cycle

$2.30

Berceuse with Seven Variations: II. First Berceuse

Artist(s)

Elizabeth Kenny

Berceuse with Seven Variations: II. First Berceuse

$2.30

Berceuse with Seven Variations: III. Second Berceuse

Artist(s)

Elizabeth Kenny

Berceuse with Seven Variations: III. Second Berceuse

$2.30

Berceuse with Seven Variations: IV. Scattershot

Artist(s)

Elizabeth Kenny

Berceuse with Seven Variations: IV. Scattershot

$2.30

Berceuse with Seven Variations: V. Lilt

Artist(s)

Elizabeth Kenny

Berceuse with Seven Variations: V. Lilt

$2.30

Berceuse with Seven Variations: VI. Stutter

Artist(s)

Elizabeth Kenny

Berceuse with Seven Variations: VI. Stutter

$2.30

Berceuse with Seven Variations: VII. Coda

Artist(s)

Elizabeth Kenny

Berceuse with Seven Variations: VII. Coda

$2.30

Chaconne in G

Composer(s)

Robert de Visée

Artist(s)

Elizabeth Kenny

Chaconne in G

$0.00

Libro quarto d'intavolatura di chitarrone,1640: Colascione

Composer(s)

Giovanni Girolamo Kapsperger

Artist(s)

Elizabeth Kenny

Libro quarto d'intavolatura di chitarrone,1640: Colascione

$0.00
Total running time: 82 minutes.


Album information

Ars longa see theorbo specialist Elizabeth Kenny perform a typically inventive recital of diverse repertoire spanning five centuries. This album was nominated for a 2020 BBC Music Magazine Award.

The theorbo's eccentric appearance and tuning belies its expressive and delicate qualities; its versatility extends to beautiful melodies, experimental harmonies and a wonderfully resonant bass. The recital takes the listener from the early avant-garde repertoire for the instrument of Kapsperger and Piccinini to the new and imaginative sounds explored by today's composers. Taken from his 2011 work Since it was the day of preparation… James MacMillan's motet is a haunting and melancholy piece in which the theorbo acts as an emblem of human fragility and sadness. Benjamin Oliver wrote Extending from the inside specifically for Kenny, who relishes the unique challenge of combining elements of funk guitar with the Baroque tradition of ground bass. Kenny also inspired Nico Muhly's Berceuse, a piece which exploits the unconventional tuning system and expressive possibilities of the theorbo to powerful effect.
Related Artists
Reviews