Filters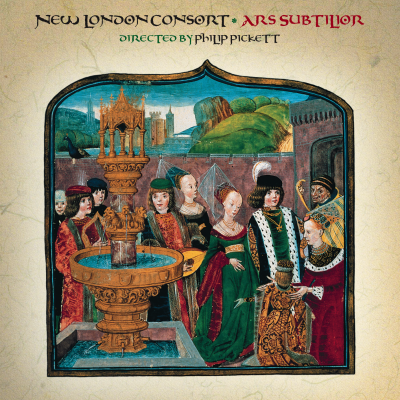 Alarme, Alarme

Artist(s)

Philip Pickett

Catherine Bott

Tom Finucane

Alarme, Alarme

$1.80

He Tres Doulz Rossignol

Artist(s)

Philip Pickett

Catherine Bott

Tom Finucane

He Tres Doulz Rossignol

$1.80

Or Sus, Vous Dormes Trop

Artist(s)

Philip Pickett

Catherine Bott

Tom Finucane

Or Sus, Vous Dormes Trop

$1.80

Par Maintes Foys

Composer(s)

Jehan Vaillant

Artist(s)

Philip Pickett

Catherine Bott

Tom Finucane

Par Maintes Foys

$1.80

Quan Je Voy Le Duc

Artist(s)

Philip Pickett

Catherine Bott

Tom Finucane

Quan Je Voy Le Duc

$1.80

La Douce Chiere

Composer(s)

Bartolino da Padova

Artist(s)

Philip Pickett

Catherine Bott

Tom Finucane

La Douce Chiere

$1.80

La Dolce Sere

Composer(s)

Anon. Faenza Codex

Artist(s)

Philip Pickett

Catherine Bott

Tom Finucane

La Dolce Sere

$1.80

Le Greygnour Bien

Composer(s)

Matheus de Perusio

Artist(s)

Philip Pickett

Catherine Bott

Tom Finucane

Le Greygnour Bien

$1.80

Helas Pitie

Artist(s)

Philip Pickett

Catherine Bott

Tom Finucane

Helas Pitie

$1.80

En Remirant

Composer(s)

Philipoctus de Caserta

Artist(s)

Philip Pickett

Catherine Bott

Tom Finucane

En Remirant

$2.70

Amis Tout Dous

Composer(s)

Philippe de Moulins

Artist(s)

Philip Pickett

Catherine Bott

Tom Finucane

Amis Tout Dous

$1.80

Ma Douce Amour

Composer(s)

Jehan Simon Hasprois

Artist(s)

Philip Pickett

Catherine Bott

Tom Finucane

Ma Douce Amour

$1.80

Lorques Arthus

Composer(s)

Johannes Cuvelier

Artist(s)

Philip Pickett

Catherine Bott

Tom Finucane

Lorques Arthus

$2.70

Je Prins Conget

Artist(s)

Philip Pickett

Catherine Bott

Tom Finucane

Je Prins Conget

$1.80

Laissies Ester Vostres Chans

Artist(s)

Philip Pickett

Catherine Bott

Tom Finucane

Laissies Ester Vostres Chans

$1.80

Je Ne Requier

Composer(s)

Nicolas Grenon

Artist(s)

Philip Pickett

Catherine Bott

Tom Finucane

Je Ne Requier

$2.70
Total running time: 66 minutes.
Album information

A collection of 14th century pieces which makes excellent use of Catherine Bott's heavenly voice. 

Ars Subtilor (The more subtle art) is a collection of 16 pieces from the 14th century that show the development of music in the interregnum between Machaut and Dufay. Matteus de Perusio's Le Greygnour Bien (The Greatest Good) on track eight shows the developing features of the music: conflicting time signatures, complex syncopation and unusual subdivisions of the beat. Philip Pickett and his New London Consort, with Catherine Bott's vocal line, recreate the sound beautifully.
Related Artists
Reviews