Filters
Music From The Time Of Columbus
Music From The Time Of Columbus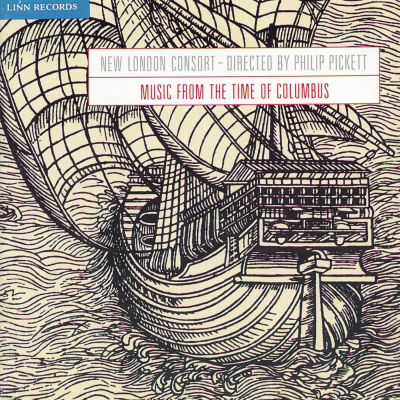 Historia Baetica (Rome 1492): Viva El Gran Re Don Fernando

Composer(s)

Carlos Verardi

Artist(s)

Philip Pickett

Catherine Bott

Tom Finucane, Frances Kelly, Pavlo Beznosiuk, Catherine Finnis, Joanna Levine, Mark Levy, Stephen Henderson

Pavlo Beznosiuk

Historia Baetica (Rome 1492): Viva El Gran Re Don Fernando

$1.80

Cancionero Musical Della Biblioteca Columbina: A Los Maytines Era

Artist(s)

Philip Pickett

Catherine Bott

Tom Finucane, Frances Kelly, Pavlo Beznosiuk, Catherine Finnis, Joanna Levine, Mark Levy, Stephen Henderson

Pavlo Beznosiuk

Cancionero Musical Della Biblioteca Columbina: A Los Maytines Era

$1.80

Muy Triste

Composer(s)

Johannes Urreda

Artist(s)

Philip Pickett

Catherine Bott

Tom Finucane, Frances Kelly, Pavlo Beznosiuk, Catherine Finnis, Joanna Levine, Mark Levy, Stephen Henderson

Pavlo Beznosiuk

Muy Triste

$1.80

Propinan De Melyor

Artist(s)

Philip Pickett

Catherine Bott

Tom Finucane, Frances Kelly, Pavlo Beznosiuk, Catherine Finnis, Joanna Levine, Mark Levy, Stephen Henderson

Pavlo Beznosiuk

Propinan De Melyor

$1.80

Como No Le Andare Yo

Artist(s)

Philip Pickett

Catherine Bott

Tom Finucane, Frances Kelly, Catherine Finnis, Joanna Levine, Mark Levy, Stephen Henderson

Pavlo Beznosiuk

Como No Le Andare Yo

$1.80

Nina Y Vina

Artist(s)

Philip Pickett

Catherine Bott

Tom Finucane, Frances Kelly, Pavlo Beznosiuk, Catherine Finnis, Joanna Levine, Mark Levy, Stephen Henderson

Pavlo Beznosiuk

Nina Y Vina

$1.80

Cancionero Musical De Palacio: Como Esta Sola Mi Vada

Artist(s)

Philip Pickett

Catherine Bott

Tom Finucane, Frances Kelly, Pavlo Beznosiuk, Catherine Finnis, Joanna Levine, Mark Levy, Stephen Henderson

Pavlo Beznosiuk

Cancionero Musical De Palacio: Como Esta Sola Mi Vada

$1.80

Con Amores Mi Madre

Composer(s)

Juan de Anchieta

Artist(s)

Philip Pickett

Catherine Bott

Tom Finucane, Frances Kelly, Pavlo Beznosiuk, Catherine Finnis, Joanna Levine, Mark Levy, Stephen Henderson

Pavlo Beznosiuk

Con Amores Mi Madre

$1.80

Triste Espana

Composer(s)

Juan del Encina

Artist(s)

Philip Pickett

Catherine Bott

Tom Finucane, Frances Kelly, Pavlo Beznosiuk, Catherine Finnis, Joanna Levine, Mark Levy, Stephen Henderson

Pavlo Beznosiuk

Triste Espana

$1.80

Calabaza, No Se, Buen Amor

Artist(s)

Philip Pickett

Catherine Bott

Tom Finucane, Frances Kelly, Pavlo Beznosiuk, Catherine Finnis, Joanna Levine, Mark Levy, Stephen Henderson

Pavlo Beznosiuk

Calabaza, No Se, Buen Amor

$1.80

Mortal Tristura/No Ay Plazer En Esta Vida

Composer(s)

Juan del Encina / Fernand de Medina

Artist(s)

Philip Pickett

Catherine Bott

Tom Finucane, Frances Kelly, Pavlo Beznosiuk, Catherine Finnis, Joanna Levine, Mark Levy, Stephen Henderson

Pavlo Beznosiuk

Mortal Tristura/No Ay Plazer En Esta Vida

$1.80

Perdi La Mi Rueca

Artist(s)

Philip Pickett

Catherine Bott

Tom Finucane, Frances Kelly, Pavlo Beznosiuk, Catherine Finnis, Joanna Levine, Mark Levy, Stephen Henderson

Pavlo Beznosiuk

Perdi La Mi Rueca

$1.80

Danza Alta

Composer(s)

Francisco de la Torre

Artist(s)

Philip Pickett

Catherine Bott

Tom Finucane, Frances Kelly, Pavlo Beznosiuk, Catherine Finnis, Joanna Levine, Mark Levy, Stephen Henderson

Pavlo Beznosiuk

Danza Alta

$1.80

Mas Vale Trocar/No So Yo Quiem La Descubre

Composer(s)

Juan del Encina

Artist(s)

Philip Pickett

Catherine Bott

Tom Finucane, Frances Kelly, Pavlo Beznosiuk, Catherine Finnis, Joanna Levine, Mark Levy, Stephen Henderson

Pavlo Beznosiuk

Mas Vale Trocar/No So Yo Quiem La Descubre

$1.80

Un Solo Fin Des Mis Males

Composer(s)

Alonso de Mondejar / Gabriel Mena

Artist(s)

Philip Pickett

Catherine Bott

Tom Finucane, Frances Kelly, Pavlo Beznosiuk, Catherine Finnis, Joanna Levine, Mark Levy, Stephen Henderson

Pavlo Beznosiuk

Un Solo Fin Des Mis Males

$1.80

Ay Triste Que Vengo

Composer(s)

Juan del Encina

Artist(s)

Philip Pickett

Catherine Bott

Tom Finucane, Frances Kelly, Pavlo Beznosiuk, Catherine Finnis, Joanna Levine, Mark Levy, Stephen Henderson

Pavlo Beznosiuk

Ay Triste Que Vengo

$1.80

Quedate, Carillo

Composer(s)

Juan del Encina

Artist(s)

Philip Pickett

Catherine Bott

Tom Finucane, Frances Kelly, Pavlo Beznosiuk, Catherine Finnis, Joanna Levine, Mark Levy, Stephen Henderson

Pavlo Beznosiuk

Quedate, Carillo

$1.80

Al Alva Venid Buen Amigo

Artist(s)

Philip Pickett

Catherine Bott

Tom Finucane, Frances Kelly, Pavlo Beznosiuk, Catherine Finnis, Joanna Levine, Mark Levy, Stephen Henderson

Pavlo Beznosiuk

Al Alva Venid Buen Amigo

$1.80

Dale Si Le Das

Artist(s)

Philip Pickett

Catherine Bott

Tom Finucane, Frances Kelly, Pavlo Beznosiuk, Catherine Finnis, Joanna Levine, Mark Levy, Stephen Henderson

Pavlo Beznosiuk

Dale Si Le Das

$1.80
Total running time: 56 minutes.
Album information

Entrancing period performances which are in turn romantic, vibrant, melancholic and humourous. Philip Pickett directs the New London Consort in a recording featuring soprano Catherine Bott.

Gramophone was one of many publications which found much to enjoy in this recording: "Philip Pickett and his New London Consort have always had a particular affinity for Spanish music. They offer a neat balance of deep emotion and controlled clarity that suits the music well. But it is primarily a monument to the ever-increasing musical range of Catherine Bott, who is the only singer here. It is a constant delight to hear how she modulates her lines, sometimes hard-edged, sometimes magically atmospheric, sometimes bending and sliding the pitches, often heavily romantic."
Reviews