Filters
Elizabethan & Jacobean Consort Music
Elizabethan & Jacobean Consort Music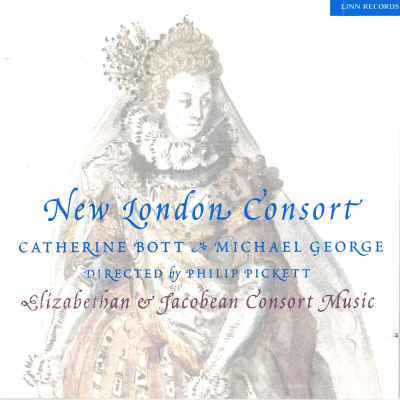 Now Is The Month Of Maying

Composer(s)

Thomas Morley / Philip Rosseter

Artist(s)

Philip Pickett

Catherine Bott

Michael George

Now Is The Month Of Maying

$1.80

Tarleton's Jig

Artist(s)

Philip Pickett

Catherine Bott

Michael George

Tarleton's Jig

$1.80

This Merry Pleasant Spring

Artist(s)

Philip Pickett

Catherine Bott

Michael George

This Merry Pleasant Spring

$1.80

My Lord Of Oxenford's Maske

Artist(s)

Philip Pickett

Catherine Bott

Michael George

My Lord Of Oxenford's Maske

$1.80

The Batchelar: How Many Things?

Artist(s)

Philip Pickett

Catherine Bott

Michael George

The Batchelar: How Many Things?

$1.80

Coral

Composer(s)

William Brade

Artist(s)

Philip Pickett

Catherine Bott

Michael George

Coral

$1.80

Why Sigh'st Thou, Shepherd?

Artist(s)

Philip Pickett

Catherine Bott

Michael George

Why Sigh'st Thou, Shepherd?

$1.80

My Lord Of Marche Pavan/Galliard

Composer(s)

James Lauder / Anon

Artist(s)

Philip Pickett

Catherine Bott

Michael George

My Lord Of Marche Pavan/Galliard

$1.80

O Mistris Myne

Composer(s)

Thomas Morley

Artist(s)

Philip Pickett

Catherine Bott

Michael George

O Mistris Myne

$1.80

Did Not You Once, Lucinda Vow?

Composer(s)

Charles Coleman

Artist(s)

Philip Pickett

Catherine Bott

Michael George

Did Not You Once, Lucinda Vow?

$1.80

Reade's Almain

Composer(s)

Anthony Holborne

Artist(s)

Philip Pickett

Catherine Bott

Michael George

Reade's Almain

$1.80

It Was A Lover And His Lasse

Composer(s)

Thomas Morley

Artist(s)

Philip Pickett

Catherine Bott

Michael George

It Was A Lover And His Lasse

$1.80

Masque Music II

Artist(s)

Philip Pickett

Catherine Bott

Michael George

Masque Music II

$1.80

Masque Music III

Artist(s)

Philip Pickett

Catherine Bott

Michael George

Masque Music III

$1.80

Faine Would I Wed

Composer(s)

Thomas Campion

Artist(s)

Philip Pickett

Catherine Bott

Michael George

Faine Would I Wed

$1.80

The Maide: I Marriage Would Forsweare

Artist(s)

Philip Pickett

Catherine Bott

Michael George

The Maide: I Marriage Would Forsweare

$1.80

A Devision: Barafostus' Dreame

Artist(s)

Philip Pickett

Catherine Bott

Michael George

A Devision: Barafostus' Dreame

$1.80

Mother Watkins' Ale

Artist(s)

Philip Pickett

Catherine Bott

Michael George

Mother Watkins' Ale

$1.80

Nutmeg And Ginger

Artist(s)

Philip Pickett

Catherine Bott

Michael George

Nutmeg And Ginger

$1.80

O Lusty May

Composer(s)

David Melvill

Artist(s)

Philip Pickett

Catherine Bott

Michael George

O Lusty May

$1.80
Total running time: 58 minutes.
Album information

A fresh and endlessly enjoyable selection of dances and songs with a 17th century party atmosphere. 

One of the world's leading early music ensembles, the versatile New London Consort explores a uniquely wide and colourful repertoire of Renaissance and Baroque music presented in carefully planned programmes designed to combine the very best in scholarship and entertainment.

The principal artists, all established soloists in their own right, share a rare unanimity of purpose and style, resulting in the New London Consort's undisputed reputation for artistry, flair and virtuosity.

Their concerts and recordings, while frequently including first modern performances of unpublished, undiscovered or reconstructed masterpieces, also shed unexpected and often controversial new light on more familiar works.
Related Artists
Reviews