Filters
Byrd: The Great Service & Anthems (Digital Deluxe Version)
Byrd: The Great Service & Anthems (Digital Deluxe Version)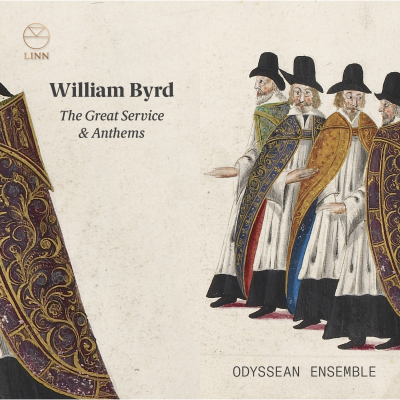 Booklet available for download
Sentence: I Will Goe to My Father

Sentence: I Will Goe to My Father

$0.00

The Great Service: I. Venite

Artist(s)

Colm Carey

Christian Wilson

Odyssean Ensemble

The Great Service: I. Venite

$2.30

Lesson: And David Spake the Words

Lesson: And David Spake the Words

$0.00

The Great Service: II. Te Deum

Artist(s)

Colm Carey

Christian Wilson

Odyssean Ensemble

The Great Service: II. Te Deum

$3.40

Lesson: And Paul Earnestly Beholding the Councell

Lesson: And Paul Earnestly Beholding the Councell

$0.00

The Great Service: III. Benedictus

Artist(s)

Colm Carey

Christian Wilson

Odyssean Ensemble

The Great Service: III. Benedictus

$3.40

Prayer and Thankesgiving for the Happy Deliverance of His Majestie

Prayer and Thankesgiving for the Happy Deliverance of His Majestie

$0.00

O God, the Proud Are Risen Against Me

Artist(s)

Colm Carey

Christian Wilson

Odyssean Ensemble

O God, the Proud Are Risen Against Me

$2.30

The Great Service: IV. Creed

Artist(s)

Colm Carey

Christian Wilson

Odyssean Ensemble

The Great Service: IV. Creed

$2.30

Fantasia, BK 62

Artist(s)

Christian Wilson

Fantasia, BK 62

$3.40

Sentence: I Exhort You Therefore

Sentence: I Exhort You Therefore

$0.00

Sing Joyfully

Artist(s)

Colm Carey

Christian Wilson

Odyssean Ensemble

Sing Joyfully

$2.30

Lesson: After the Death of Moses

Lesson: After the Death of Moses

$0.00

The Great Service: V. Magnificat

Artist(s)

Colm Carey

Christian Wilson

Odyssean Ensemble

The Great Service: V. Magnificat

$3.40

Lesson: Let Every Soule Be Subject Unto the Higher Powers

Lesson: Let Every Soule Be Subject Unto the Higher Powers

$0.00

The Great Service: VI. Nunc dimittis

Artist(s)

Colm Carey

Christian Wilson

Odyssean Ensemble

The Great Service: VI. Nunc dimittis

$2.30

Collect: Almighty God and Heavenly Father

Collect: Almighty God and Heavenly Father

$0.00

Exalt Thyself, O God

Artist(s)

Colm Carey

Christian Wilson

Odyssean Ensemble

Exalt Thyself, O God

$2.30
Total running time: 87 minutes.


Album information

The Odyssean Ensemble's impressive debut recording features the Great Service of William Byrd, a rather neglected work of genius interspersed with some contemporaneous anthems and readings by the actor David Suchet.

Uniquely the Odyssean Ensemble performs the piece in a new performing edition created by Byrd expert Andrew Johnstone, who also contributes fascinating booklet notes. Accompanied by a reconstructed Goetze & Gwynn Tudor organ (the St Teilo organ, expertly played by Christian Wilson), director Colm Carey leads listeners into Byrd's rich and colourful sound world. Contemporary readings from Cranmer's newly created Book of Common Prayer of 1549 give the performance a unique historical context and help transport the listener back to the period when this piece was written.

The music in the Great Service is of unparalleled proportions and inexhaustible variety; Byrd vividly represents the text at every opportunity stimulating the listener's imagination. The Great Service encapsulates the canticles that were sung during the services of Matins and Evensong, which made up an important part of the Book of Common Prayer.

This recording continues the Odyssean Ensemble's exploration of English music of the 16th century, perhaps one of the golden eras of musical composition.
Related Artists
Reviews