Filters
Claudia Lucia Lamanna - The Royal Academy of Music Bicentenary Series
Claudia Lucia Lamanna - The Royal Academy of Music Bicentenary Series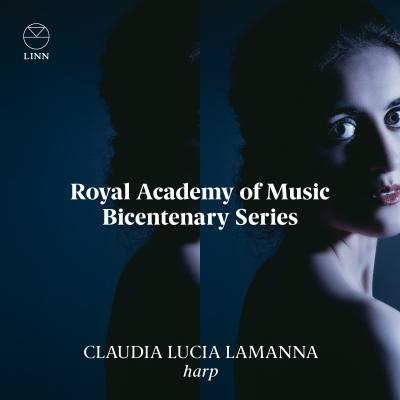 Inlay available for download
Booklet available for download
Carnaval de Venise, Op. 184

Composer(s)

Félix Godefroid

Artist(s)

Claudia Lucia Lamanna

Carnaval de Venise, Op. 184

$4.00

Variations sur un thème dans le style ancien, Op. 30

Composer(s)

Carlos Salzédo

Artist(s)

Claudia Lucia Lamanna

Variations sur un thème dans le style ancien, Op. 30

$5.85

Variations on a Theme of Paganini

Composer(s)

Mikhail Mchedelov

Artist(s)

Claudia Lucia Lamanna

Variations on a Theme of Paganini

$4.00

Variaciones del fandango español

Composer(s)

Félix Máximo López

arranged by Claudia Lucia Lamanna

Artist(s)

Claudia Lucia Lamanna

Variaciones del fandango español

$2.30

Partita No. 2 in D Minor, BWV 1004: V. Ciaccona

Composer(s)

Johann Sebastian Bach

arragned by Dewey Owens & Claudia Lucia Lamanna

Artist(s)

Claudia Lucia Lamanna

Partita No. 2 in D Minor, BWV 1004: V. Ciaccona

$5.85
Total running time: 56 minutes.
Album information

Claudia Lucia Lamanna makes her recording debut, as part of the Royal Academy of Music Bicentenary Series, with a harp recital built around the leitmotif of variation. 

The album opens with three masterpieces of the harp repertoire: the majestic Godefroid's Carnival of Venice, the virtuoso Mchedelov's Variations on a theme of Paganini and Salzedo's Variations on a theme in the ancient style, performed here in its full, original and seldom heard version. Lamanna has arranged a charming work by the eighteenth-century Spanish composer Félix Máximo López, the Variaciones del fandango español, which was originally written for fortepiano; this composition has only recently been rediscovered and this new arrangement represents a fresh new addition to the harp repertoire. The album closes with Bach's sublime Chaconne which Lamanna has adapted, from the harp transcription made by Dewey Owens, to create a version free from the more romantic elements and closer in style and intention to the original version for solo violin.

The Royal Academy of Music Bicentenary Series also includes debut recordings by Anna Geniushene (piano), Emily Nebel (violin) and Yoanna Prodanova (cello).
Related Artists