Filters
The dark night has vanished
The dark night has vanished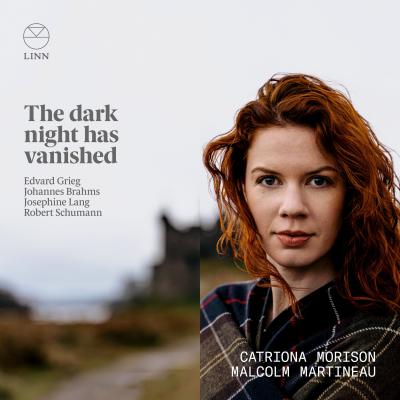 Inlay available for download
Booklet available for download
Sechs Lieder, Op. 48: I. Gruss

Artist(s)

Catriona Morison

Malcolm Martineau

Sechs Lieder, Op. 48: I. Gruss

$2.30

Sechs Lieder, Op. 48: II. Dereinst, Gedanke mein

Artist(s)

Catriona Morison

Malcolm Martineau

Sechs Lieder, Op. 48: II. Dereinst, Gedanke mein

$2.30

Sechs Lieder, Op. 48: III. Lauf der Welt

Artist(s)

Catriona Morison

Malcolm Martineau

Sechs Lieder, Op. 48: III. Lauf der Welt

$2.30

Sechs Lieder, Op. 48: IV. Die verschwiegene Nachtigall

Artist(s)

Catriona Morison

Malcolm Martineau

Sechs Lieder, Op. 48: IV. Die verschwiegene Nachtigall

$2.30

Sechs Lieder, Op. 48: V. Zur Rosenzeit

Artist(s)

Catriona Morison

Malcolm Martineau

Sechs Lieder, Op. 48: V. Zur Rosenzeit

$2.30

Sechs Lieder, Op. 48: VI. Ein Traum

Artist(s)

Catriona Morison

Malcolm Martineau

Sechs Lieder, Op. 48: VI. Ein Traum

$2.30

Dein blaues Auge, Op. 59 No. 8

Composer(s)

Johannes Brahms

Artist(s)

Catriona Morison

Malcolm Martineau

Dein blaues Auge, Op. 59 No. 8

$2.30

Immer leiser wird mein Schlummer, Op. 105 No. 2

Composer(s)

Johannes Brahms

Artist(s)

Catriona Morison

Malcolm Martineau

Immer leiser wird mein Schlummer, Op. 105 No. 2

$2.30

Mädchenlied, Op. 107 No. 5

Composer(s)

Johannes Brahms

Artist(s)

Catriona Morison

Malcolm Martineau

Mädchenlied, Op. 107 No. 5

$2.30

Sapphische Ode, Op. 94 No. 4

Composer(s)

Johannes Brahms

Artist(s)

Catriona Morison

Malcolm Martineau

Sapphische Ode, Op. 94 No. 4

$2.30

Alte Liebe, Op. 72 No. 1

Composer(s)

Johannes Brahms

Artist(s)

Catriona Morison

Malcolm Martineau

Alte Liebe, Op. 72 No. 1

$2.30

Junge Lieder I: Meine Liebe ist grün, Op. 63 No. 5

Composer(s)

Johannes Brahms

Artist(s)

Catriona Morison

Malcolm Martineau

Junge Lieder I: Meine Liebe ist grün, Op. 63 No. 5

$2.30

Scheideblick, Op. 10 No. 5

Composer(s)

Josephine Lang

Artist(s)

Catriona Morison

Malcolm Martineau

Scheideblick, Op. 10 No. 5

$2.30

Ob ich manchmal dein gedenke, Op. 27 No. 3

Composer(s)

Josephine Lang

Artist(s)

Catriona Morison

Malcolm Martineau

Ob ich manchmal dein gedenke, Op. 27 No. 3

$2.30

Die Schwalben, Op. 10 No. 3

Composer(s)

Josephine Lang

Artist(s)

Catriona Morison

Malcolm Martineau

Die Schwalben, Op. 10 No. 3

$2.30

Gestern und Heute

Composer(s)

Josephine Lang

Artist(s)

Catriona Morison

Malcolm Martineau

Gestern und Heute

$2.30

Mignons Klage, Op. 10 No. 2

Composer(s)

Josephine Lang

Artist(s)

Catriona Morison

Malcolm Martineau

Mignons Klage, Op. 10 No. 2

$2.30

Abschied, Op. 10 No. 6

Composer(s)

Josephine Lang

Artist(s)

Catriona Morison

Malcolm Martineau

Abschied, Op. 10 No. 6

$2.30

Sechs Gedichte von N. Lenau und Requiem, Op. 90: I. Lied eines Schmiedes

Composer(s)

Robert Schumann

Artist(s)

Catriona Morison

Malcolm Martineau

Sechs Gedichte von N. Lenau und Requiem, Op. 90: I. Lied eines Schmiedes

$2.30

Sechs Gedichte von N. Lenau und Requiem, Op. 90: II. Meine Rose

Composer(s)

Robert Schumann

Artist(s)

Catriona Morison

Malcolm Martineau

Sechs Gedichte von N. Lenau und Requiem, Op. 90: II. Meine Rose

$2.30

Sechs Gedichte von N. Lenau und Requiem, Op. 90: III. Kommen und Scheiden

Composer(s)

Robert Schumann

Artist(s)

Catriona Morison

Malcolm Martineau

Sechs Gedichte von N. Lenau und Requiem, Op. 90: III. Kommen und Scheiden

$2.30

Sechs Gedichte von N. Lenau und Requiem, Op. 90: IV. Die Sennin

Composer(s)

Robert Schumann

Artist(s)

Catriona Morison

Malcolm Martineau

Sechs Gedichte von N. Lenau und Requiem, Op. 90: IV. Die Sennin

$2.30

Sechs Gedichte von N. Lenau und Requiem, Op. 90: V. Einsamkeit

Composer(s)

Robert Schumann

Artist(s)

Catriona Morison

Malcolm Martineau

Sechs Gedichte von N. Lenau und Requiem, Op. 90: V. Einsamkeit

$2.30

Sechs Gedichte von N. Lenau und Requiem, Op. 90: VI. Der schwere Abend

Composer(s)

Robert Schumann

Artist(s)

Catriona Morison

Malcolm Martineau

Sechs Gedichte von N. Lenau und Requiem, Op. 90: VI. Der schwere Abend

$2.30

Sechs Gedichte von N. Lenau und Requiem, Op. 90: VII. Requiem

Composer(s)

Robert Schumann

Artist(s)

Catriona Morison

Malcolm Martineau

Sechs Gedichte von N. Lenau und Requiem, Op. 90: VII. Requiem

$2.30
Total running time: 62 minutes.


Album information

Catriona Morison makes her Linn debut with a spellbinding recital of lieder by Romantic heavyweights Brahms, Grieg and Schumann, alongside Josephine Lang, whose unpublished Gestern und Heute forms the centrepiece. It was nominated for a 2021 Edison Klassiek Award.

Scottish mezzo-soprano Catriona Morison, winner of the 2017 BBC Cardiff Singer of the World Main Prize and joint winner of the Song Prize, introduces us to the German composer Josephine Lang, whose prodigious songwriting talent was nurtured by none other than Felix Mendelssohn. Lang's unpublished setting of Gestern und Heute (Yesterday and Today) is given its world premiere performance on this recording. Her distinctive style reveals an imaginative composer with a rich harmonic palette whose significant contribution to nineteenth-century German song deserves greater recognition.

Morison, who is described by The Guardian as 'a singer of much character [and] real musical intelligence', joins luminaries such as Florian Boesch, Ann Murray and John Mark Ainsley, all of whom have also recorded with pianist Malcolm Martineau at Crear's 'Space to Create'. In addition to making her debut solo recording 2019 saw Morison make her BBC Proms debut (in Elgar's Sea Pictures) and marked the end of her appointment as a BBC Radio 3 New Generation Artist.
Related Artists
Reviews