Filters
An English Sett for Trumpet
An English Sett for Trumpet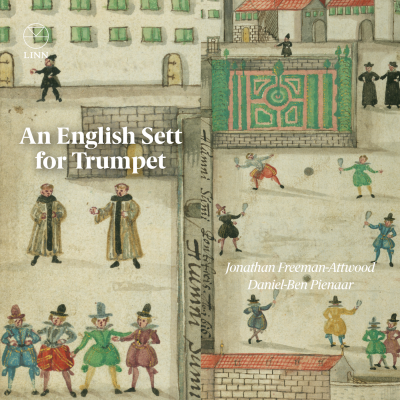 Inlay available for download
Booklet available for download
Fantasy No. 1 in G Major

Artist(s)

Jonathan Freeman-Attwood

Daniel-Ben Pienaar

Fantasy No. 1 in G Major

$2.30

La verginella

Artist(s)

Jonathan Freeman-Attwood

Daniel-Ben Pienaar

La verginella

$2.30

Oyez! Has Any Found a Lad

Composer(s)

Thomas Tomkins

Artist(s)

Jonathan Freeman-Attwood

Daniel-Ben Pienaar

Oyez! Has Any Found a Lad

$2.30

Go from My Window

Composer(s)

Orlando Gibbons

Artist(s)

Jonathan Freeman-Attwood

Daniel-Ben Pienaar

Go from My Window

$2.30

Harp Consort No. 8 in G Major: I. Pavan and Divisions

Composer(s)

William Lawes

Artist(s)

Jonathan Freeman-Attwood

Daniel-Ben Pienaar

Harp Consort No. 8 in G Major: I. Pavan and Divisions

$2.30

Consort Sett a 6 in G Minor: Fantasy

Composer(s)

William Lawes

Artist(s)

Jonathan Freeman-Attwood

Daniel-Ben Pienaar

Consort Sett a 6 in G Minor: Fantasy

$2.30

Consort Sett a 6 in B Flat Major: Fantasy

Composer(s)

William Lawes

Artist(s)

Jonathan Freeman-Attwood

Daniel-Ben Pienaar

Consort Sett a 6 in B Flat Major: Fantasy

$2.30

Sett No. 2 a 3 in G Major: Almaine

Composer(s)

William Lawes

Artist(s)

Jonathan Freeman-Attwood

Daniel-Ben Pienaar

Sett No. 2 a 3 in G Major: Almaine

$2.30

O That the Learned Poets

Composer(s)

Orlando Gibbons

Artist(s)

Jonathan Freeman-Attwood

Daniel-Ben Pienaar

O That the Learned Poets

$2.30

The Silver Swanne

Composer(s)

Orlando Gibbons

Artist(s)

Jonathan Freeman-Attwood

Daniel-Ben Pienaar

The Silver Swanne

$2.30

Adew, Sweet Amarillis

Artist(s)

Jonathan Freeman-Attwood

Daniel-Ben Pienaar

Adew, Sweet Amarillis

$2.30

The Triumphs of Oriana: All Creatures Now Are Merry-minded

Artist(s)

Jonathan Freeman-Attwood

Daniel-Ben Pienaar

The Triumphs of Oriana: All Creatures Now Are Merry-minded

$2.30

Though I Be Brown

Artist(s)

Jonathan Freeman-Attwood

Daniel-Ben Pienaar

Though I Be Brown

$2.30

Now Is the Month of Maying

Composer(s)

Thomas Morley

Artist(s)

Jonathan Freeman-Attwood

Daniel-Ben Pienaar

Now Is the Month of Maying

$2.30

Suite No. 2 in C Minor: I. Fantasy

Composer(s)

Matthew Locke

Artist(s)

Jonathan Freeman-Attwood

Daniel-Ben Pienaar

Suite No. 2 in C Minor: I. Fantasy

$2.30

Suite No. 2 in C Minor: II. Courante

Composer(s)

Matthew Locke

Artist(s)

Jonathan Freeman-Attwood

Daniel-Ben Pienaar

Suite No. 2 in C Minor: II. Courante

$2.30

Suite No. 2 in C Minor: III. Ayre

Composer(s)

Matthew Locke

Artist(s)

Jonathan Freeman-Attwood

Daniel-Ben Pienaar

Suite No. 2 in C Minor: III. Ayre

$2.30

Suite No. 2 in C Minor: IV. Sarabande

Composer(s)

Matthew Locke

Artist(s)

Jonathan Freeman-Attwood

Daniel-Ben Pienaar

Suite No. 2 in C Minor: IV. Sarabande

$2.30

Newark Siege: Pavan

Artist(s)

Jonathan Freeman-Attwood

Daniel-Ben Pienaar

Newark Siege: Pavan

$2.30

The Sixth Pavan and Galliard 'Kinbrugh Goodd': I. Pavan

Artist(s)

Jonathan Freeman-Attwood

Daniel-Ben Pienaar

The Sixth Pavan and Galliard 'Kinbrugh Goodd': I. Pavan

$2.30

The Sixth Pavan and Galliard 'Kinbrugh Goodd': II. Galliard

Artist(s)

Jonathan Freeman-Attwood

Daniel-Ben Pienaar

The Sixth Pavan and Galliard 'Kinbrugh Goodd': II. Galliard

$2.30

In nomine a 5 No. 2

Composer(s)

Orlando Gibbons

Artist(s)

Jonathan Freeman-Attwood

Daniel-Ben Pienaar

In nomine a 5 No. 2

$2.30

Fantasie No. 3 'Farewell': I. Farewell

Artist(s)

Jonathan Freeman-Attwood

Daniel-Ben Pienaar

Fantasie No. 3 'Farewell': I. Farewell

$2.30
Total running time: 57 minutes.
Album information

 Trumpeter Jonathan Freeman-Attwood and pianist Daniel-Ben Pienaar continue their 'ear-ticklingly imaginative' series of musical reinventions with a celebration of the golden era of English music.

Featuring heavyweights of the 16th and 17th centuries, such as Byrd, Gibbons, Tomkins, Lawes and Locke, the pair inspire arrangements by Timothy Jones which bring this music alive in a thrilling, entertaining and intimate chamber medium.

Performing on modern trumpet and Steinway piano, Freeman-Attwood and Pienaar relish the opportunity to challenge the established interpretation of these works. They succeed by drawing on interpretative instincts, inclinations, and inflections gleaned from their wide performance experience, whilst deliberately referencing their accumulated knowledge of performance practices of the period. Comprising mesmerizing dances, songs, fantasies and variations, this is a journey which re-ignites our appreciation and love for forgotten gems from the Elizabethan, Jacobean and Caroline worlds.

This is another must-have recording in Freeman-Attwood's critically acclaimed 'boundary-busting' series.
Related Artists
Reviews