Filters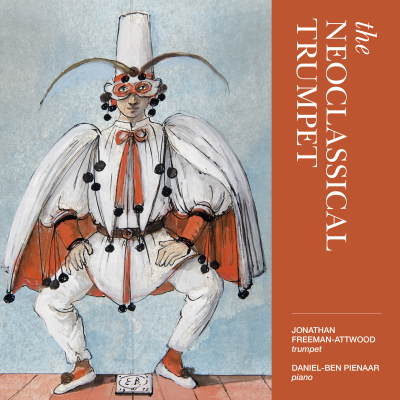 Inlay available for download
Booklet available for download
Pulcinella Suite: Sinfonia

Composer(s)

Igor Stravinsky

Artist(s)

Jonathan Freeman-Attwood

Daniel-Ben Pienaar - piano

Pulcinella Suite: Sinfonia

$2.30

Pulcinella Suite: Serenata

Composer(s)

Igor Stravinsky

Artist(s)

Jonathan Freeman-Attwood

Daniel-Ben Pienaar - piano

Pulcinella Suite: Serenata

$2.30

Pulcinella Suite: Scherzino - Allegretto – Andantino

Composer(s)

Igor Stravinsky

Artist(s)

Jonathan Freeman-Attwood

Daniel-Ben Pienaar - piano

Pulcinella Suite: Scherzino - Allegretto – Andantino

$2.30

Pulcinella Suite: Tarantella

Composer(s)

Igor Stravinsky

Artist(s)

Jonathan Freeman-Attwood

Daniel-Ben Pienaar - piano

Pulcinella Suite: Tarantella

$2.30

Pulcinella Suite: Toccata

Composer(s)

Igor Stravinsky

Artist(s)

Jonathan Freeman-Attwood

Daniel-Ben Pienaar - piano

Pulcinella Suite: Toccata

$2.30

Pulcinella Suite: Gavotta

Composer(s)

Igor Stravinsky

Artist(s)

Jonathan Freeman-Attwood

Daniel-Ben Pienaar - piano

Pulcinella Suite: Gavotta

$2.30

Pulcinella Suite: Vivo

Composer(s)

Igor Stravinsky

Artist(s)

Jonathan Freeman-Attwood

Daniel-Ben Pienaar - piano

Pulcinella Suite: Vivo

$2.30

Pulcinella Suite: Minuetto – Finale

Composer(s)

Igor Stravinsky

Artist(s)

Jonathan Freeman-Attwood

Daniel-Ben Pienaar - piano

Pulcinella Suite: Minuetto – Finale

$2.30

A Midsummer Night's Dream Suite: Introduction to Act II

Artist(s)

Jonathan Freeman-Attwood

Daniel-Ben Pienaar - piano

A Midsummer Night's Dream Suite: Introduction to Act II

$2.30

A Midsummer Night's Dream Suite: Intermezzo

Artist(s)

Jonathan Freeman-Attwood

Daniel-Ben Pienaar - piano

A Midsummer Night's Dream Suite: Intermezzo

$2.30

A Midsummer Night's Dream Suite: Fairies' Dance

Artist(s)

Jonathan Freeman-Attwood

Daniel-Ben Pienaar - piano

A Midsummer Night's Dream Suite: Fairies' Dance

$2.30

Masques et bergamasques, Op. 112: Overture. Allegro molto vivo

Composer(s)

Gabriel Faure

Artist(s)

Jonathan Freeman-Attwood

Daniel-Ben Pienaar - piano

Masques et bergamasques, Op. 112: Overture. Allegro molto vivo

$2.30

Masques et bergamasques, Op. 112: Menuet. Tempo di minuetto - Allegretto moderato

Composer(s)

Gabriel Faure

Artist(s)

Jonathan Freeman-Attwood

Daniel-Ben Pienaar - piano

Masques et bergamasques, Op. 112: Menuet. Tempo di minuetto - Allegretto moderato

$2.30

Masques et bergamasques, Op. 112: Gavotta. Allegro vivo

Composer(s)

Gabriel Faure

Artist(s)

Jonathan Freeman-Attwood

Daniel-Ben Pienaar - piano

Masques et bergamasques, Op. 112: Gavotta. Allegro vivo

$2.30

Masques et bergamasques, Op. 112: Pastorale. Andante tranquillo

Composer(s)

Gabriel Faure

Artist(s)

Jonathan Freeman-Attwood

Daniel-Ben Pienaar - piano

Masques et bergamasques, Op. 112: Pastorale. Andante tranquillo

$2.30

Sonatine

Composer(s)

Bohuslav Martinu

Artist(s)

Jonathan Freeman-Attwood

Daniel-Ben Pienaar - piano

Sonatine

$3.40

Gli Uccelli: Prelude

Composer(s)

Ottorino Respighi

Artist(s)

Jonathan Freeman-Attwood

Daniel-Ben Pienaar - piano

Gli Uccelli: Prelude

$2.30

Gli Uccelli: La columba

Composer(s)

Ottorino Respighi

Artist(s)

Jonathan Freeman-Attwood

Daniel-Ben Pienaar - piano

Gli Uccelli: La columba

$2.30

Gli Uccelli: La gallina

Composer(s)

Ottorino Respighi

Artist(s)

Jonathan Freeman-Attwood

Daniel-Ben Pienaar - piano

Gli Uccelli: La gallina

$2.30

Gli Uccelli: L'usignuolo

Composer(s)

Ottorino Respighi

Artist(s)

Jonathan Freeman-Attwood

Daniel-Ben Pienaar - piano

Gli Uccelli: L'usignuolo

$2.30

Gli Uccelli: Il cucu

Composer(s)

Ottorino Respighi

Artist(s)

Jonathan Freeman-Attwood

Daniel-Ben Pienaar - piano

Gli Uccelli: Il cucu

$2.30

Sangen, Op. 44: Mellanspel

Composer(s)

Wilhelm Stenhammar

Artist(s)

Jonathan Freeman-Attwood

Daniel-Ben Pienaar - piano

Sangen, Op. 44: Mellanspel

$2.30
Total running time: 66 minutes.
Album information

With new arrangements by pianist Daniel-Ben Pienaar, Jonathan Freeman-Attwood successfully re-imagines works by Stravinsky, Leigh, Fauré and Respighi. 

The Neoclassical Trumpet sees Jonathan Freeman-Attwood address the question: what if the chromatic trumpet and the modern Steinway Grand had existed a good century or so earlier and composers had recognised their duo potential?

Each of the composers represented here wrote significant parts for the trumpet in various chamber and orchestral contexts. The only original solo trumpet piece by any of these composers is Martinu's Sonatine.

Stravinsky's Pulcinella inspired a variety of duo solutions in the decade or so after its premiere, the most famous being the Suite italienne (initially for cello, but more famously for violin), but this is the first for trumpet. The main differences with this present version, is that all the movements from the Pulcinella Suite are incorporated to form a sizeable new recital piece.
Related Artists
Reviews