Filters
Galuppi: Forgotten Arias of a Venetian Master
Galuppi: Forgotten Arias of a Venetian Master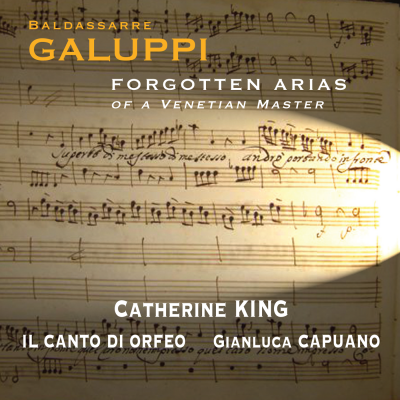 Inlay available for download
Booklet available for download
L'Olimpiade: Superbo di me stesso

Composer(s)

Baldassarre Galuppi

Artist(s)

Gianluca Capuano

Catherine King

Il canto di Orfeo

L'Olimpiade: Superbo di me stesso

$3.40

Scipione in Cartagine: Di madre ai cari amplessi

Composer(s)

Baldassarre Galuppi

Artist(s)

Gianluca Capuano

Catherine King

Il canto di Orfeo

Scipione in Cartagine: Di madre ai cari amplessi

$3.40

Concerto a quattro in G minor: I. Grave e Adagio

Composer(s)

Baldassarre Galuppi

Artist(s)

Gianluca Capuano

Il canto di Orfeo

Concerto a quattro in G minor: I. Grave e Adagio

$2.30

Concerto a quattro in G minor: II. Spiritoso

Composer(s)

Baldassarre Galuppi

Artist(s)

Gianluca Capuano

Il canto di Orfeo

Concerto a quattro in G minor: II. Spiritoso

$2.30

Concerto a quattro in G minor: III. Allegro

Composer(s)

Baldassarre Galuppi

Artist(s)

Gianluca Capuano

Il canto di Orfeo

Concerto a quattro in G minor: III. Allegro

$2.30

Il sagrifizio di Jephte: Ah, di Lete dall'onda profonda

Composer(s)

Baldassarre Galuppi

Artist(s)

Gianluca Capuano

Catherine King

Il canto di Orfeo

Il sagrifizio di Jephte: Ah, di Lete dall'onda profonda

$2.30

Voi che languite

Composer(s)

Baldassarre Galuppi

Artist(s)

Gianluca Capuano

Catherine King

Il canto di Orfeo

Voi che languite

$3.40

Il trionfo della continenza: Cedo alla sorte

Composer(s)

Baldassarre Galuppi

Artist(s)

Gianluca Capuano

Catherine King

Il canto di Orfeo

Il trionfo della continenza: Cedo alla sorte

$2.30

Concerto a quattro in B flat major: I. Grave e Sostenuto

Composer(s)

Baldassarre Galuppi

Artist(s)

Gianluca Capuano

Il canto di Orfeo

Concerto a quattro in B flat major: I. Grave e Sostenuto

$2.30

Concerto a quattro in B flat major: II. Allegro e Spiritoso

Composer(s)

Baldassarre Galuppi

Artist(s)

Gianluca Capuano

Il canto di Orfeo

Concerto a quattro in B flat major: II. Allegro e Spiritoso

$2.30

Concerto a quattro in B flat major: III. Allegro

Composer(s)

Baldassarre Galuppi

Artist(s)

Gianluca Capuano

Il canto di Orfeo

Concerto a quattro in B flat major: III. Allegro

$2.30

Antigono: È pena troppo barbara

Composer(s)

Baldassarre Galuppi

Artist(s)

Gianluca Capuano

Catherine King

Il canto di Orfeo

Antigono: È pena troppo barbara

$3.40

Antigono: Benché giusto a vendicarmi

Composer(s)

Baldassarre Galuppi

Artist(s)

Gianluca Capuano

Catherine King

Il canto di Orfeo

Antigono: Benché giusto a vendicarmi

$2.30
Total running time: 71 minutes.

Album information

Catherine King, together with the Italian musicians of Il Canto di Orfeo, has recorded the only known collection of arias by the 18th century opera composer Baldassarre Galuppi.

Forgotten Arias of a Venetian Master is an absorbing traversal of arias from Galuppi's little-known opere serie and oratorios alongside two string Concerti a Quattro. The operas chosen were written mainly in the first half of Galuppi's career in the golden age of the Italian dramma per musica; his virtuoso arias of powerfully moving melodies require vocal fireworks.

In order to bring this forgotten music to a modern audience for the very first time Catherine King sought out original and long overlooked manuscript sources. This fitting tribute was named a 'Choice' recording by Gramophone upon its release in Galuppi's 300th anniversary year.
Related Artists
Reviews