Filters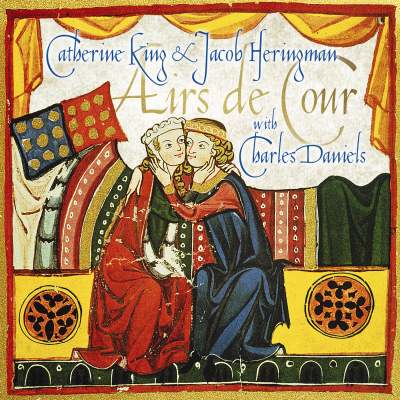 Inlay available for download
Booklet available for download
Airs de cour, Troisieme Livre: Objet le plus beau. Dialogue

Composer(s)

Etienne Moulinie

Artist(s)

Catherine King: mezzo soprano, Charles Daniels: tenor, Jacob Heringman: lute

Airs de cour, Troisieme Livre: Objet le plus beau. Dialogue

$1.80

Airs de cour, Troisieme Livre: Je suis ravi de mon Uranie

Composer(s)

Etienne Moulinie

Artist(s)

Catherine King: mezzo soprano, Jacob Heringman: lute

Airs de cour, Troisieme Livre: Je suis ravi de mon Uranie

$1.80

Airs de cour, Premier Livre: En fin la beaute que j'adore

Composer(s)

Etienne Moulinie

Artist(s)

Charles Daniels: tenor, Jacob Heringman: lute

Airs de cour, Premier Livre: En fin la beaute que j'adore

$2.70

Airs de cour, Quatrieme Livre: Si l'amour com'on dit. Dialogue

Composer(s)

Etienne Moulinie

Artist(s)

Catherine King: mezzo soprano, Charles Daniels: tenor, Jacob Heringman: lute

Airs de cour, Quatrieme Livre: Si l'amour com'on dit. Dialogue

$1.80

Branles De Village

Composer(s)

Robert Ballard

Artist(s)

Jacob Heringman: lute

Branles De Village

$1.80

Airs de cour et de differents auteurs, Cinquieme Livre: Un jour Amarille et Tircis

Composer(s)

Anthoine Boesset

Artist(s)

Catherine King: mezzo soprano, Jacob Heringman: lute

Airs de cour et de differents auteurs, Cinquieme Livre: Un jour Amarille et Tircis

$1.80

Airs de cour avec la tablature de luth, Neuvieme Livre: N'esperez plus, mes yeux

Composer(s)

Anthoine Boesset

Artist(s)

Catherine King: mezzo soprano, Jacob Heringman: lute

Airs de cour avec la tablature de luth, Neuvieme Livre: N'esperez plus, mes yeux

$1.80

Airs de cour avec la tablature de luth, Seizieme Livre: Objet dont les charmes si doux

Composer(s)

Anthoine Boesset

Artist(s)

Catherine King: mezzo soprano, Jacob Heringman: lute

Airs de cour avec la tablature de luth, Seizieme Livre: Objet dont les charmes si doux

$1.80

Airs de cour avec la tablature de luth, Cinquieme Livre: Mourons Tirsis, Vivons Silvie. Dialogue

Composer(s)

Anthoine Boesset

Artist(s)

Catherine King: mezzo soprano, Charles Daniels: tenor, Jacob Heringman: lute

Airs de cour avec la tablature de luth, Cinquieme Livre: Mourons Tirsis, Vivons Silvie. Dialogue

$1.80

Ma belle, si ton ame

Composer(s)

Anon., arr. Jeap-Baptiste Besard

Artist(s)

Catherine King: mezzo soprano, Jacob Heringman: lute

Ma belle, si ton ame

$1.80

Vous Me Juries

Composer(s)

Anon., arr. Jean Baptiste Besard

Artist(s)

Jacob Heringman: lute

Vous Me Juries

$1.80

Bergamasco

Composer(s)

Jean Baptiste Besard

Artist(s)

Jacob Heringman: lute

Bergamasco

$1.80

Adieu bergere pour jamais

Composer(s)

Pierre Guedron

Artist(s)

Charles Daniels: tenor, Jacob Heringman: lute

Adieu bergere pour jamais

$1.80

Si jamais mon ame blessee

Composer(s)

Pierre Guedron

Artist(s)

Charles Daniels: tenor, Jacob Heringman: lute

Si jamais mon ame blessee

$1.80

Heureux qui nuit et jour. Dialogue

Composer(s)

Pierre Guedron

Artist(s)

Catherine King: mezzo soprano, Charles Daniels: tenor, Jacob Heringman: lute

Heureux qui nuit et jour. Dialogue

$1.80

Si le parler et le silence

Composer(s)

Pierre Guedron

Artist(s)

Catherine King: mezzo soprano, Jacob Heringman: lute

Si le parler et le silence

$1.80

Soupirs mesles d'amour. Recit

Composer(s)

Pierre Guedron

Artist(s)

Charles Daniels: tenor, Jacob Heringman: lute

Soupirs mesles d'amour. Recit

$1.80

Tablature de luth, Premier Livre: Entree De Luth

Composer(s)

Robert Ballard

Artist(s)

Jacob Heringman: lute

Tablature de luth, Premier Livre: Entree De Luth

$1.80

Tablature de luth, Premier Livre: Courante

Composer(s)

Robert Ballard

Artist(s)

Jacob Heringman: lute

Tablature de luth, Premier Livre: Courante

$1.80

O dieux je ne scais pas

Composer(s)

Jean-Baptiste Boesset

Artist(s)

Catherine King: mezzo soprano, Jacob Heringman: lute

O dieux je ne scais pas

$1.80

Airs de cour, Quatrieme Livre: Que Philis a de perfections

Composer(s)

Etienne Moulinie

Artist(s)

Charles Daniels: tenor, Jacob Heringman: lute

Airs de cour, Quatrieme Livre: Que Philis a de perfections

$1.80

Airs de cour, Troisieme Livre: Jeune merveille. Dialogue

Composer(s)

Etienne Moulinie

Artist(s)

Catherine King: mezzo soprano, Charles Daniels: tenor, Jacob Heringman: lute

Airs de cour, Troisieme Livre: Jeune merveille. Dialogue

$1.80
Total running time: 77 minutes.

Album information

Mezzo-soprano Catherine King and lutenist Jacob Heringman create a beautiful sound in this early music delight. 

Named a 'Choice' recording by BBC Music Magazine upon release, this popular recording of seventeenth century vocal music features mezzo-soprano Catherine King and lutenist Jacob Heringman with tenor Charles Daniels.

The listener is transported to the French court in a programme of courtly airs and solo lute pieces, the latter a suitable complement to the airs and the lost ideals of the courtly society they reflect. Both the self-indulgent texts of these songs and their suave and rhythmically evasive melodies, reflect a society rich in excess, intrigue and dissembling, all the more fascinating for being so distant, no less impressive for being so introverted. Well schooled in period performance, all the performers pay due attention to the authenticity of pronunciation and ornamentation for which scant records remain. O dieux je ne sçais pas is a rare example where an ornamented variant of the melody is included in the manuscript revealing a further level of riches in these songs.
Related Artists
Reviews