Filters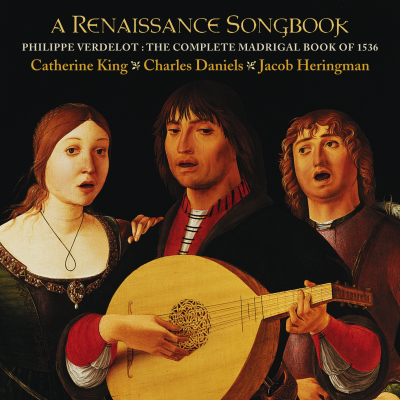 Quanto sia lieto il giorno

Composer(s)

Philippe Verdelot

Artist(s)

Charles Daniels & Catherine King

Quanto sia lieto il giorno

$1.80

Quando amor i begli occhi

Composer(s)

Philippe Verdelot

Quando amor i begli occhi

$1.80

Donna leggiadr' et bella

Composer(s)

Philippe Verdelot

Donna leggiadr' et bella

$2.70

Madonna, qual certezza (solo lute setting)

Composer(s)

Philippe Verdelot

Madonna, qual certezza (solo lute setting)

$1.80

Madonna, qual certezza

Composer(s)

Philippe Verdelot

Madonna, qual certezza

$1.80

Con lagrime et sospir

Composer(s)

Philippe Verdelot

Artist(s)

Charles Daniels

Con lagrime et sospir

$1.80

Fuggi, fuggi, cor mio

Composer(s)

Philippe Verdelot

Artist(s)

Charles Daniels

Brian Shelley

Fuggi, fuggi, cor mio

$1.80

Dormend'un giorno a Baia (solo lute setting)

Composer(s)

Philippe Verdelot

Dormend'un giorno a Baia (solo lute setting)

$1.80

Igno soave

Composer(s)

Philippe Verdelot

Artist(s)

Charles Daniels

Igno soave

$1.80

Amor se d'hor in hor

Composer(s)

Philippe Verdelot

Artist(s)

Charles Daniels

Brian Shelley

Amor se d'hor in hor

$1.80

Donna che sete tra le belle bella

Composer(s)

Philippe Verdelot

Artist(s)

Charles Daniels

Donna che sete tra le belle bella

$1.80

Se mai provasti donna

Composer(s)

Philippe Verdelot

Se mai provasti donna

$1.80

Con lagrime et sospir

Composer(s)

Philippe Verdelot

Con lagrime et sospir

$1.80

Afflitti spirti mei

Composer(s)

Philippe Verdelot

Artist(s)

Charles Daniels

Afflitti spirti mei

$1.80

Ben che'l misero cor

Composer(s)

Philippe Verdelot

Artist(s)

Charles Daniels

Ben che'l misero cor

$1.80

Madonna il tuo bel viso

Composer(s)

Philippe Verdelot

Artist(s)

Charles Daniels

Brian Shelley

Madonna il tuo bel viso

$1.80

Divini occhi sereni

Composer(s)

Philippe Verdelot

Divini occhi sereni

$1.80

Se lieta e grata morte

Composer(s)

Philippe Verdelot

Artist(s)

Charles Daniels

Brian Shelley

Se lieta e grata morte

$1.80

Vita de la mia vita (solo lute setting)

Composer(s)

Philippe Verdelot

Vita de la mia vita (solo lute setting)

$1.80

Vita de la mia vita

Composer(s)

Philippe Verdelot

Vita de la mia vita

$1.80

Gloriar mi poss'io donne

Composer(s)

Philippe Verdelot

Gloriar mi poss'io donne

$1.80

Gloriar mi poss'io donne (solo lute setting)

Composer(s)

Philippe Verdelot

Gloriar mi poss'io donne (solo lute setting)

$1.80

Piove da gli occhi della donna mia

Composer(s)

Philippe Verdelot

Artist(s)

Charles Daniels

Brian Shelley

Piove da gli occhi della donna mia

$1.80

Con l'angelico riso

Composer(s)

Philippe Verdelot

Artist(s)

Charles Daniels

Con l'angelico riso

$1.80

S'io pensasse madonna

Composer(s)

Philippe Verdelot

S'io pensasse madonna

$1.80

Madonna io sol vorrei

Composer(s)

Philippe Verdelot

Artist(s)

Charles Daniels

Madonna io sol vorrei

$1.80

Madonna per voi ardo (solo lute setting)

Composer(s)

Philippe Verdelot

Madonna per voi ardo (solo lute setting)

$1.80

Madonna per voi ardo

Composer(s)

Philippe Verdelot

Artist(s)

Charles Daniels

Brian Shelley

Madonna per voi ardo

$1.80
Total running time: 69 minutes.
Album information

16th century madrigals performed by early music specialists Catherine King and Jacob Heringman, with guest vocalists Charles Daniels, Brian Shelley and Robert Macdonald.

Catherine King and Charles Daniels perform the world premiere recording of the complete madrigal book of 1536 Intavolatura de Li madrigale di Verdelotto by Philippe Verdelot. It includes 4-part a cappella madrigals and a variety of solo songs with lute. The song texts, full of rich and suggestive imagery, feature a heady mix of ardent passion and unrequited love.

This is another ravishing album of songs from distinguished soloists King and Daniels, both leading exponents of early music, accompanied by Jacob Heringman, one of the world's foremost lutenists.

They are joined by Brian Shelley (tenor) and Robert Macdonald (bass).
Related Artists
Reviews