Filters
Handel: Coronation Anthems
Handel: Coronation Anthems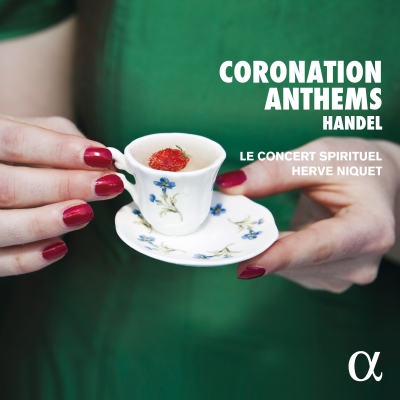 Inlay available for download
Booklet available for download
Zadok the Priest, HWV 258

Composer(s)

George Frideric Handel

Artist(s)

Hervé Niquet

Le Concert Spirituel

Zadok the Priest, HWV 258

$2.30

Let Thy Hand Be Strengthened, HWV 259: I. Let Thy Hand Be Strengthened

Composer(s)

George Frideric Handel

Artist(s)

Hervé Niquet

Le Concert Spirituel

Let Thy Hand Be Strengthened, HWV 259: I. Let Thy Hand Be Strengthened

$2.30

Let Thy Hand Be Strengthened, HWV 259: II. Let Justice and Judgment Be The Preparation Of Thy Seat

Composer(s)

George Frideric Handel

Artist(s)

Hervé Niquet

Le Concert Spirituel

Let Thy Hand Be Strengthened, HWV 259: II. Let Justice and Judgment Be The Preparation Of Thy Seat

$2.30

Let Thy Hand Be Strengthened, HWV 259: III. Alleluja

Composer(s)

George Frideric Handel

Artist(s)

Hervé Niquet

Le Concert Spirituel

Let Thy Hand Be Strengthened, HWV 259: III. Alleluja

$2.30

The King Shall Rejoice, HWV 260: I. The King Shall Rejoice

Composer(s)

George Frideric Handel

Artist(s)

Hervé Niquet

Le Concert Spirituel

The King Shall Rejoice, HWV 260: I. The King Shall Rejoice

$2.30

The King Shall Rejoice, HWV 260: II. Exceeding Glad Shall He Be

Composer(s)

George Frideric Handel

Artist(s)

Hervé Niquet

Le Concert Spirituel

The King Shall Rejoice, HWV 260: II. Exceeding Glad Shall He Be

$2.30

The King Shall Rejoice, HWV 260: III. Glory and Worship Hast Thou Laid Upon Him

Composer(s)

George Frideric Handel

Artist(s)

Hervé Niquet

Le Concert Spirituel

The King Shall Rejoice, HWV 260: III. Glory and Worship Hast Thou Laid Upon Him

$2.30

The King Shall Rejoice, HWV 260: IV. Alleluja

Composer(s)

George Frideric Handel

Artist(s)

Hervé Niquet

Le Concert Spirituel

The King Shall Rejoice, HWV 260: IV. Alleluja

$2.30

My Heart Is Inditing, HWV 261: I. My Heart Is Inditing

Composer(s)

George Frideric Handel

Artist(s)

Hervé Niquet

Le Concert Spirituel

My Heart Is Inditing, HWV 261: I. My Heart Is Inditing

$2.30

My Heart Is Inditing, HWV 261: II. Kings' Daughters Were Among thy Honourable Women

Composer(s)

George Frideric Handel

Artist(s)

Hervé Niquet

Le Concert Spirituel

My Heart Is Inditing, HWV 261: II. Kings' Daughters Were Among thy Honourable Women

$2.30

My Heart Is Inditing, HWV 261: III. Upon Thy Right Hand Did Stand The Queen in Vesture of Gold

Composer(s)

George Frideric Handel

Artist(s)

Hervé Niquet

Le Concert Spirituel

My Heart Is Inditing, HWV 261: III. Upon Thy Right Hand Did Stand The Queen in Vesture of Gold

$2.30

My Heart Is Inditing, HWV 261: IV. Kings Shall Be Thy Nursing Fathers

Composer(s)

George Frideric Handel

Artist(s)

Hervé Niquet

Le Concert Spirituel

My Heart Is Inditing, HWV 261: IV. Kings Shall Be Thy Nursing Fathers

$2.30

Te Deum in D Major, HWV 283: I. We Praise Thee, O God

Composer(s)

George Frideric Handel

Artist(s)

Hervé Niquet

Le Concert Spirituel

Te Deum in D Major, HWV 283: I. We Praise Thee, O God

$2.30

Te Deum in D Major, HWV 283: II. All the Earth Doth Worship Thee

Composer(s)

George Frideric Handel

Artist(s)

Hervé Niquet

Le Concert Spirituel

Te Deum in D Major, HWV 283: II. All the Earth Doth Worship Thee

$2.30

Te Deum in D Major, HWV 283: III. To Thee all Angels Cry Aloud

Composer(s)

George Frideric Handel

Artist(s)

Hervé Niquet

Le Concert Spirituel

Te Deum in D Major, HWV 283: III. To Thee all Angels Cry Aloud

$2.30

Te Deum in D Major, HWV 283: IV. To Thee Cherubin and Seraphin Continually Do Cry

Composer(s)

George Frideric Handel

Artist(s)

Hervé Niquet

Le Concert Spirituel

Te Deum in D Major, HWV 283: IV. To Thee Cherubin and Seraphin Continually Do Cry

$2.30

Te Deum in D Major, HWV 283: V. The Glorious Company of the Apostles Praise Thee

Composer(s)

George Frideric Handel

Artist(s)

Hervé Niquet

Le Concert Spirituel

Te Deum in D Major, HWV 283: V. The Glorious Company of the Apostles Praise Thee

$2.30

Te Deum in D Major, HWV 283: VI. Thou Art the King of Glory

Composer(s)

George Frideric Handel

Artist(s)

Hervé Niquet

Le Concert Spirituel

Te Deum in D Major, HWV 283: VI. Thou Art the King of Glory

$2.30

Te Deum in D Major, HWV 283: VII. When Thou Tookest Upon Thee to Deliver Man

Composer(s)

George Frideric Handel

Artist(s)

Hervé Niquet

Le Concert Spirituel

Te Deum in D Major, HWV 283: VII. When Thou Tookest Upon Thee to Deliver Man

$2.30

Te Deum in D Major, HWV 283: VIII. When Thou Hadst Overcome the Sharpness of Death

Composer(s)

George Frideric Handel

Artist(s)

Hervé Niquet

Le Concert Spirituel

Te Deum in D Major, HWV 283: VIII. When Thou Hadst Overcome the Sharpness of Death

$2.30

Te Deum in D Major, HWV 283: IX. Thou Sittest at the Tight Hand of God

Composer(s)

George Frideric Handel

Artist(s)

Hervé Niquet

Le Concert Spirituel

Te Deum in D Major, HWV 283: IX. Thou Sittest at the Tight Hand of God

$2.30

Te Deum in D Major, HWV 283: X. Sinfonia

Composer(s)

George Frideric Handel

Artist(s)

Hervé Niquet

Le Concert Spirituel

Te Deum in D Major, HWV 283: X. Sinfonia

$2.30

Te Deum in D Major, HWV 283: XI. We Therefore Pray Thee, Help Thy Servants

Composer(s)

George Frideric Handel

Artist(s)

Hervé Niquet

Le Concert Spirituel

Te Deum in D Major, HWV 283: XI. We Therefore Pray Thee, Help Thy Servants

$2.30

Te Deum in D Major, HWV 283: XII. Make Them to Be Numbered With Thy Saints

Composer(s)

George Frideric Handel

Artist(s)

Hervé Niquet

Le Concert Spirituel

Te Deum in D Major, HWV 283: XII. Make Them to Be Numbered With Thy Saints

$2.30

Te Deum in D Major, HWV 283: XIII. Day by Day We Magnify Thee

Composer(s)

George Frideric Handel

Artist(s)

Hervé Niquet

Le Concert Spirituel

Te Deum in D Major, HWV 283: XIII. Day by Day We Magnify Thee

$2.30

Te Deum in D Major, HWV 283: XIV. Vouchsafe, O Lord

Composer(s)

George Frideric Handel

Artist(s)

Hervé Niquet

Le Concert Spirituel

Te Deum in D Major, HWV 283: XIV. Vouchsafe, O Lord

$2.30

Te Deum in D Major, HWV 283: XV. O Lord, in Thee Have I Trusted

Composer(s)

George Frideric Handel

Artist(s)

Hervé Niquet

Le Concert Spirituel

Te Deum in D Major, HWV 283: XV. O Lord, in Thee Have I Trusted

$2.30
Total running time: 67 minutes.



Album information

'Well, what a surprise – a divine surprise! I have delighted in immersing myself in the world of Handel for more than forty years now. But I must admit that I experienced yet another lesson in strength and joy when I toured and recorded the Dettingen Te Deum and the Coronation Anthems', says Hervé Niquet.

As a lover of large orchestral formations, he has assembled a number of instrumentalists and singers close to the (gigantic) forces used at the premiere, with a large band of oboes, bassoons and trumpets, and assigned the solo arias to the entire 'chapel'. Niquet speaks of 'the glittering power of this ceremonial music concocted by a Handel conscious of placing the best of his genius at the service of the crown and of history', and he in turn invests all his enthusiasm and expressiveness in these works combining 'grace and strength'. Fans of Champions League football will recognise in Zadok the Priest the theme of that competition's anthem!
Related Artists
Reviews