Filters
Jose Serebrier Conducts Samuel Adler
Jose Serebrier Conducts Samuel Adler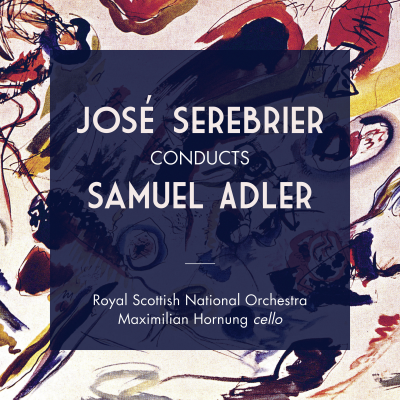 Inlay available for download
Booklet available for download
Symphony No. 6: I. Fast and with much excitement

Artist(s)

José Serebrier

Royal Scottish National Orchestra

Symphony No. 6: I. Fast and with much excitement

$3.40

Symphony No. 6: II. Slowly and very expressively

Artist(s)

José Serebrier

Royal Scottish National Orchestra

Symphony No. 6: II. Slowly and very expressively

$3.40

Symphony No. 6: III. Fast and rhythmic

Artist(s)

José Serebrier

Royal Scottish National Orchestra

Symphony No. 6: III. Fast and rhythmic

$3.40

Concerto for Cello & Orchestra: I. Slowly, quietly, and very expressively

Artist(s)

José Serebrier

Royal Scottish National Orchestra

Concerto for Cello & Orchestra: I. Slowly, quietly, and very expressively

$2.30

Concerto for Cello & Orchestra: II. Rhythmic, fast, and joyous

Artist(s)

José Serebrier

Royal Scottish National Orchestra

Concerto for Cello & Orchestra: II. Rhythmic, fast, and joyous

$2.30

Concerto for Cello & Orchestra: III. Slowly and declamatory, feeling very free

Artist(s)

José Serebrier

Royal Scottish National Orchestra

Concerto for Cello & Orchestra: III. Slowly and declamatory, feeling very free

$2.30

Concerto for Cello & Orchestra: IV. Fast and playful

Artist(s)

José Serebrier

Royal Scottish National Orchestra

Concerto for Cello & Orchestra: IV. Fast and playful

$2.30

Drifting On Winds And Currents

Artist(s)

José Serebrier

Royal Scottish National Orchestra

Drifting On Winds And Currents

$3.40
Total running time: 59 minutes.

Album information

Conducting legend José Serebrier, together with the RSNO, performs a programme of works by the hugely influential American composer Samuel Adler, including the world premiere of his Sixth Symphony.

For those unfamiliar with Samuel Adler's catalogue, this album is a great entrance point; for those who are, it adds a valuable first hearing of his Symphony No. 6 which is dynamic and full of energy.

These works are benchmarks of contemporary American composition: monumental in scale and embracing a wide expressive spectrum with ease and visceral power, Adler merges twenty-first century ebullience with an almost classical economy and balance.

In his Concerto for cello and orchestra, Adler celebrates all aspects of the instrument, creating a wide emotional and expressive palette for young cellist Maximilian Hornung, who excels as the soloist.

Drifting On Wind And Currents, a memorial tone-poem inspired by the poetry of Louise Glück, rounds off this album of classical music which, while challenging, is rewarding at every turn.
Related Artists
Reviews