Filters
J.S. Bach: John Passion, Reconstruction of Bach's Passion Liturgy
J.S. Bach: John Passion, Reconstruction of Bach's Passion Liturgy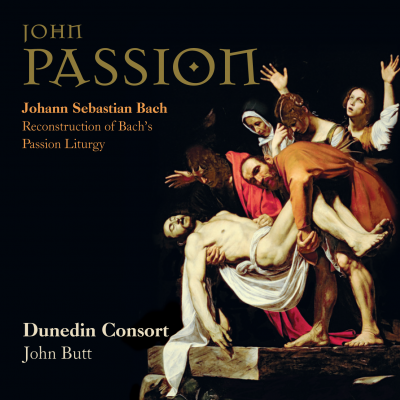 Inlay available for download
Booklet available for download
Organ Chorale - Da Jesus an dem Kreuze Stund, BWV 621

Composer(s)

Johann Sebastian Bach

Artist(s)

Dunedin Consort

Organ Chorale - Da Jesus an dem Kreuze Stund, BWV 621

$2.30

Congregational Chorale - Da Jesus an dem Kreuze Stund

Composer(s)

Johann Sebastian Bach

Artist(s)

Dunedin Consort

Congregational Chorale - Da Jesus an dem Kreuze Stund

$2.30

Organ Prelude: Praeludium in F-sharp minor, BuxWV

Composer(s)

Dietrich Buxtehude

Artist(s)

Dunedin Consort

Organ Prelude: Praeludium in F-sharp minor, BuxWV

$2.30

Johannes Passion, BWV 245 - Coro - Herr, unser Herrscher, dessen Ruhm in allen Landen herrlich ist!

Composer(s)

Johann Sebastian Bach

Artist(s)

Dunedin Consort

Johannes Passion, BWV 245 - Coro - Herr, unser Herrscher, dessen Ruhm in allen Landen herrlich ist!

$3.40

Johannes Passion, BWV 245 - Recitativo - Jesus ging mit seinen Jungern uber den Bach Kidron

Composer(s)

Johann Sebastian Bach

Artist(s)

Dunedin Consort

Johannes Passion, BWV 245 - Recitativo - Jesus ging mit seinen Jungern uber den Bach Kidron

$2.30

Johannes Passion, BWV 245 - Coro - Jesum von Nazareth

Composer(s)

Johann Sebastian Bach

Artist(s)

Dunedin Consort

Johannes Passion, BWV 245 - Coro - Jesum von Nazareth

$2.30

Johannes Passion, BWV 245 - Recitativo - Jesus spricht zu ihnen

Composer(s)

Johann Sebastian Bach

Artist(s)

Dunedin Consort

Johannes Passion, BWV 245 - Recitativo - Jesus spricht zu ihnen

$2.30

Johannes Passion, BWV 245 - Coro - Jesum von Nazareth

Composer(s)

Johann Sebastian Bach

Artist(s)

Dunedin Consort

Johannes Passion, BWV 245 - Coro - Jesum von Nazareth

$2.30

Johannes Passion, BWV 245 - Recitativo - Jesus antwortete: Ich hab's euch gesagt, dass ich's sei

Composer(s)

Johann Sebastian Bach

Artist(s)

Dunedin Consort

Johannes Passion, BWV 245 - Recitativo - Jesus antwortete: Ich hab's euch gesagt, dass ich's sei

$2.30

Johannes Passion, BWV 245 - Choral - O grosse Lieb, o Lieb ohn' alle Masse

Composer(s)

Johann Sebastian Bach

Artist(s)

Dunedin Consort

Johannes Passion, BWV 245 - Choral - O grosse Lieb, o Lieb ohn' alle Masse

$2.30

Johannes Passion, BWV 245 - Recitativo - Auf dass das Wort erfullet wurde

Composer(s)

Johann Sebastian Bach

Artist(s)

Dunedin Consort

Johannes Passion, BWV 245 - Recitativo - Auf dass das Wort erfullet wurde

$2.30

Johannes Passion, BWV 245 - Choral - Dein Will gescheh, Herr Gott, zugleich

Composer(s)

Johann Sebastian Bach

Artist(s)

Dunedin Consort

Johannes Passion, BWV 245 - Choral - Dein Will gescheh, Herr Gott, zugleich

$2.30

Johannes Passion, BWV 245 - Recitativo - Die Schar aber und der Oberhauptmann

Composer(s)

Johann Sebastian Bach

Artist(s)

Dunedin Consort

Johannes Passion, BWV 245 - Recitativo - Die Schar aber und der Oberhauptmann

$2.30

Johannes Passion, BWV 245 - Aria - Von den Stricken meiner Sunden

Composer(s)

Johann Sebastian Bach

Artist(s)

Dunedin Consort

Johannes Passion, BWV 245 - Aria - Von den Stricken meiner Sunden

$2.30

Johannes Passion, BWV 245 - Recitativo - Simon Petrus aber folgete Jesu nach

Composer(s)

Johann Sebastian Bach

Artist(s)

Dunedin Consort

Johannes Passion, BWV 245 - Recitativo - Simon Petrus aber folgete Jesu nach

$2.30

Johannes Passion, BWV 245 - Aria - Ich folge dir gleichfalls mit freudigen Schritten

Composer(s)

Johann Sebastian Bach

Artist(s)

Dunedin Consort

Johannes Passion, BWV 245 - Aria - Ich folge dir gleichfalls mit freudigen Schritten

$2.30

Johannes Passion, BWV 245 - Recitativo - Derselbige Junger war dem Hohenpriester bekannt

Composer(s)

Johann Sebastian Bach

Artist(s)

Dunedin Consort

Johannes Passion, BWV 245 - Recitativo - Derselbige Junger war dem Hohenpriester bekannt

$2.30

Johannes Passion, BWV 245 - Choral - Wer hat dich so geschlagen

Composer(s)

Johann Sebastian Bach

Artist(s)

Dunedin Consort

Johannes Passion, BWV 245 - Choral - Wer hat dich so geschlagen

$2.30

Johannes Passion, BWV 245 - Recitativo - Und Hannas sandte ihn gebunden zu dem Hohenpriester Kaiphas

Composer(s)

Johann Sebastian Bach

Artist(s)

Dunedin Consort

Johannes Passion, BWV 245 - Recitativo - Und Hannas sandte ihn gebunden zu dem Hohenpriester Kaiphas

$2.30

Johannes Passion, BWV 245 - Coro - Bist du nicht seiner Junger einer?

Composer(s)

Johann Sebastian Bach

Artist(s)

Dunedin Consort

Johannes Passion, BWV 245 - Coro - Bist du nicht seiner Junger einer?

$2.30

Johannes Passion, BWV 245 - Recitativo - Er leugnete aber

Composer(s)

Johann Sebastian Bach

Artist(s)

Dunedin Consort

Johannes Passion, BWV 245 - Recitativo - Er leugnete aber

$2.30

Johannes Passion, BWV 245 - Aria - Ach, mein Sinn

Composer(s)

Johann Sebastian Bach

Artist(s)

Dunedin Consort

Johannes Passion, BWV 245 - Aria - Ach, mein Sinn

$2.30

Johannes Passion, BWV 245 - Choral - Petrus, der nicht denkt zuruck

Composer(s)

Johann Sebastian Bach

Artist(s)

Dunedin Consort

Johannes Passion, BWV 245 - Choral - Petrus, der nicht denkt zuruck

$2.30

Organ Chorale - O Lamm Gottes unschuldig, BWV 618

Composer(s)

Johann Sebastian Bach

Artist(s)

Dunedin Consort

Organ Chorale - O Lamm Gottes unschuldig, BWV 618

$2.30

Congregational Chorale: O Lamm Gottes unschuldig*

Composer(s)

Johann Sebastian Bach

Artist(s)

Dunedin Consort

Congregational Chorale: O Lamm Gottes unschuldig*

$2.30

Organ Chorale: Christus, der uns selig macht, BWV 620

Composer(s)

Johann Sebastian Bach

Artist(s)

Dunedin Consort

Organ Chorale: Christus, der uns selig macht, BWV 620

$2.30

Johannes Passion, BWV 245 - Choral - Christus, der uns selig macht

Composer(s)

Johann Sebastian Bach

Artist(s)

Dunedin Consort

Johannes Passion, BWV 245 - Choral - Christus, der uns selig macht

$2.30

Johannes Passion, BWV 245 - Recitativo - Da fuhreten sie Jesum von Kaipha vor das Richthaus

Composer(s)

Johann Sebastian Bach

Artist(s)

Dunedin Consort

Johannes Passion, BWV 245 - Recitativo - Da fuhreten sie Jesum von Kaipha vor das Richthaus

$2.30

Johannes Passion, BWV 245 - Coro - Ware dieser nicht ein ubeltater

Composer(s)

Johann Sebastian Bach

Artist(s)

Dunedin Consort

Johannes Passion, BWV 245 - Coro - Ware dieser nicht ein ubeltater

$2.30

Johannes Passion, BWV 245 - Recitativo - Da sprach Pilatus zu ihnen

Composer(s)

Johann Sebastian Bach

Artist(s)

Dunedin Consort

Johannes Passion, BWV 245 - Recitativo - Da sprach Pilatus zu ihnen

$2.30

Johannes Passion, BWV 245 - Coro - Wir durfen niemand toten

Composer(s)

Johann Sebastian Bach

Artist(s)

Dunedin Consort

Johannes Passion, BWV 245 - Coro - Wir durfen niemand toten

$2.30

Johannes Passion, BWV 245 - Recitativo - Auf dass erfullet wurde das Wort Jesu

Composer(s)

Johann Sebastian Bach

Artist(s)

Dunedin Consort

Johannes Passion, BWV 245 - Recitativo - Auf dass erfullet wurde das Wort Jesu

$2.30

Johannes Passion, BWV 245 - Choral: Ach grosser Konig, gross zu allen Zeiten

Composer(s)

Johann Sebastian Bach

Artist(s)

Dunedin Consort

Johannes Passion, BWV 245 - Choral: Ach grosser Konig, gross zu allen Zeiten

$2.30

Johannes Passion, BWV 245 - Recitativo - Da sprach Pilatus zu ihm

Composer(s)

Johann Sebastian Bach

Artist(s)

Dunedin Consort

Johannes Passion, BWV 245 - Recitativo - Da sprach Pilatus zu ihm

$2.30

Johannes Passion, BWV 245 - Coro - Nicht diesen, sondern Barrabam!

Composer(s)

Johann Sebastian Bach

Artist(s)

Dunedin Consort

Johannes Passion, BWV 245 - Coro - Nicht diesen, sondern Barrabam!

$2.30

Johannes Passion, BWV 245 - Recitativo - Barrabas aber war ein Morder

Composer(s)

Johann Sebastian Bach

Artist(s)

Dunedin Consort

Johannes Passion, BWV 245 - Recitativo - Barrabas aber war ein Morder

$2.30

Johannes Passion, BWV 245 - Arioso - Betrachte, meine Seel, mit angstlichem Vergnugen

Composer(s)

Johann Sebastian Bach

Artist(s)

Dunedin Consort

Johannes Passion, BWV 245 - Arioso - Betrachte, meine Seel, mit angstlichem Vergnugen

$2.30

Johannes Passion, BWV 245 - Aria - Erwage, wie sein blutgefarbter Rucken

Composer(s)

Johann Sebastian Bach

Artist(s)

Dunedin Consort

Johannes Passion, BWV 245 - Aria - Erwage, wie sein blutgefarbter Rucken

$3.40

Johannes Passion, BWV 245 - Recitativo - Und die Kriegsknechte flochten eine Krone von Dornen

Composer(s)

Johann Sebastian Bach

Artist(s)

Dunedin Consort

Johannes Passion, BWV 245 - Recitativo - Und die Kriegsknechte flochten eine Krone von Dornen

$2.30

Johannes Passion, BWV 245 - Coro - Sei gegrusset, lieber Judenkonig!

Composer(s)

Johann Sebastian Bach

Artist(s)

Dunedin Consort

Johannes Passion, BWV 245 - Coro - Sei gegrusset, lieber Judenkonig!

$2.30

Johannes Passion, BWV 245 - Recitativo: Und gaben ihm Backenstreiche

Composer(s)

Johann Sebastian Bach

Artist(s)

Dunedin Consort

Johannes Passion, BWV 245 - Recitativo: Und gaben ihm Backenstreiche

$2.30

Johannes Passion, BWV 245 - Coro - Kreuzige, kreuzige!

Composer(s)

Johann Sebastian Bach

Artist(s)

Dunedin Consort

Johannes Passion, BWV 245 - Coro - Kreuzige, kreuzige!

$2.30

Johannes Passion, BWV 245 - Recitativo - Pilatus sprach zu ihnen

Composer(s)

Johann Sebastian Bach

Artist(s)

Dunedin Consort

Johannes Passion, BWV 245 - Recitativo - Pilatus sprach zu ihnen

$2.30

Johannes Passion, BWV 245 - Coro -Wir haben ein Gesetz, und nach dem Gesetz soll er sterben

Composer(s)

Johann Sebastian Bach

Artist(s)

Dunedin Consort

Johannes Passion, BWV 245 - Coro -Wir haben ein Gesetz, und nach dem Gesetz soll er sterben

$2.30

Johannes Passion, BWV 245 - Recitativo - Da Pilatus das Wort horete, furchtet' er sich noch mehr

Composer(s)

Johann Sebastian Bach

Artist(s)

Dunedin Consort

Johannes Passion, BWV 245 - Recitativo - Da Pilatus das Wort horete, furchtet' er sich noch mehr

$2.30

Johannes Passion, BWV 245 - Choral - Durch dein Gefangnis, Gottes Sohn

Composer(s)

Johann Sebastian Bach

Artist(s)

Dunedin Consort

Johannes Passion, BWV 245 - Choral - Durch dein Gefangnis, Gottes Sohn

$2.30

Johannes Passion, BWV 245 - Recitativo - Die Juden aber schrieen

Composer(s)

Johann Sebastian Bach

Artist(s)

Dunedin Consort

Johannes Passion, BWV 245 - Recitativo - Die Juden aber schrieen

$2.30

Johannes Passion, BWV 245 - Coro - Lassest du diesen los, so bist du des Kaisers Freund nicht

Composer(s)

Johann Sebastian Bach

Artist(s)

Dunedin Consort

Johannes Passion, BWV 245 - Coro - Lassest du diesen los, so bist du des Kaisers Freund nicht

$2.30

Johannes Passion, BWV 245 - Recitativo - Da Pilatus das Wort horete, fuhrete er Jesum heraus

Composer(s)

Johann Sebastian Bach

Artist(s)

Dunedin Consort

Johannes Passion, BWV 245 - Recitativo - Da Pilatus das Wort horete, fuhrete er Jesum heraus

$2.30

Johannes Passion, BWV 245 - Coro - Weg, weg mit dem, kreuzige ihn!

Composer(s)

Johann Sebastian Bach

Artist(s)

Dunedin Consort

Johannes Passion, BWV 245 - Coro - Weg, weg mit dem, kreuzige ihn!

$2.30

Johannes Passion, BWV 245 - Recitativo - Spricht Pilatus zu ihnen

Composer(s)

Johann Sebastian Bach

Artist(s)

Dunedin Consort

Johannes Passion, BWV 245 - Recitativo - Spricht Pilatus zu ihnen

$2.30

Johannes Passion, BWV 245 - Coro - Wir haben keinen Konig denn den Kaiser

Composer(s)

Johann Sebastian Bach

Artist(s)

Dunedin Consort

Johannes Passion, BWV 245 - Coro - Wir haben keinen Konig denn den Kaiser

$2.30

Johannes Passion, BWV 245 - Recitativo - Da uberantwortete er ihn dass er gekreuziget wurde

Composer(s)

Johann Sebastian Bach

Artist(s)

Dunedin Consort

Johannes Passion, BWV 245 - Recitativo - Da uberantwortete er ihn dass er gekreuziget wurde

$2.30

Johannes Passion, BWV 245 - Aria mit chor - Eilt, ihr angefochtnen Seelen

Composer(s)

Johann Sebastian Bach

Artist(s)

Dunedin Consort

Johannes Passion, BWV 245 - Aria mit chor - Eilt, ihr angefochtnen Seelen

$2.30

Johannes Passion, BWV 245 - Recitativo - Allda kreuzigten sie ihn

Composer(s)

Johann Sebastian Bach

Artist(s)

Dunedin Consort

Johannes Passion, BWV 245 - Recitativo - Allda kreuzigten sie ihn

$2.30

Johannes Passion, BWV 245 - Choral - Schreibe nicht - der Juden Konig

Composer(s)

Johann Sebastian Bach

Artist(s)

Dunedin Consort

Johannes Passion, BWV 245 - Choral - Schreibe nicht - der Juden Konig

$2.30

Johannes Passion, BWV 245 - Recitativo - Pilatus antwortet

Composer(s)

Johann Sebastian Bach

Artist(s)

Dunedin Consort

Johannes Passion, BWV 245 - Recitativo - Pilatus antwortet

$2.30

Johannes Passion, BWV 245 - Choral - In meines Herzens Grunde

Composer(s)

Johann Sebastian Bach

Artist(s)

Dunedin Consort

Johannes Passion, BWV 245 - Choral - In meines Herzens Grunde

$2.30

Johannes Passion, BWV 245 - Recitativo - Die Kriegsknechte aber, da sie Jesum gekreuziget hatten

Composer(s)

Johann Sebastian Bach

Artist(s)

Dunedin Consort

Johannes Passion, BWV 245 - Recitativo - Die Kriegsknechte aber, da sie Jesum gekreuziget hatten

$2.30

Johannes Passion, BWV 245 - Coro - Lasset uns den nicht zerteilen, sondern darum losen

Composer(s)

Johann Sebastian Bach

Artist(s)

Dunedin Consort

Johannes Passion, BWV 245 - Coro - Lasset uns den nicht zerteilen, sondern darum losen

$2.30

Johannes Passion, BWV 245 - Recitativo - Auf dass erfullet wurde die Schrift

Composer(s)

Johann Sebastian Bach

Artist(s)

Dunedin Consort

Johannes Passion, BWV 245 - Recitativo - Auf dass erfullet wurde die Schrift

$2.30

Johannes Passion, BWV 245 - Choral - Er nahm alles wohl in acht

Composer(s)

Johann Sebastian Bach

Artist(s)

Dunedin Consort

Johannes Passion, BWV 245 - Choral - Er nahm alles wohl in acht

$2.30

Johannes Passion, BWV 245 - Recitativo - Und von Stund an nahm sie der Junger zu sich

Composer(s)

Johann Sebastian Bach

Artist(s)

Dunedin Consort

Johannes Passion, BWV 245 - Recitativo - Und von Stund an nahm sie der Junger zu sich

$2.30

Johannes Passion, BWV 245 - Aria - Es ist vollbracht!

Composer(s)

Johann Sebastian Bach

Artist(s)

Dunedin Consort

Johannes Passion, BWV 245 - Aria - Es ist vollbracht!

$2.30

Johannes Passion, BWV 245 - Recitativo - Und neiget das Haupt und verschied

Composer(s)

Johann Sebastian Bach

Artist(s)

Dunedin Consort

Johannes Passion, BWV 245 - Recitativo - Und neiget das Haupt und verschied

$2.30

Johannes Passion, BWV 245 - Aria und choral - Mein teurer Heiland, lass dich fragen

Composer(s)

Johann Sebastian Bach

Artist(s)

Dunedin Consort

Johannes Passion, BWV 245 - Aria und choral - Mein teurer Heiland, lass dich fragen

$2.30

Johannes Passion, BWV 245 - Recitativo - Und siehe da, der Vorhang im Tempel zeriss in zwei Stuck

Composer(s)

Johann Sebastian Bach

Artist(s)

Dunedin Consort

Johannes Passion, BWV 245 - Recitativo - Und siehe da, der Vorhang im Tempel zeriss in zwei Stuck

$2.30

Johannes Passion, BWV 245 - Arioso - Mein Herz, indem die ganze Welt bei Jesu Leiden gleichfalls leidet

Composer(s)

Johann Sebastian Bach

Artist(s)

Dunedin Consort

Johannes Passion, BWV 245 - Arioso - Mein Herz, indem die ganze Welt bei Jesu Leiden gleichfalls leidet

$2.30

Johannes Passion, BWV 245 - Aria - Zerfliesse, mein Herze, in Fluten der Zahren

Composer(s)

Johann Sebastian Bach

Artist(s)

Dunedin Consort

Johannes Passion, BWV 245 - Aria - Zerfliesse, mein Herze, in Fluten der Zahren

$2.30

Johannes Passion, BWV 245 - Recitativo - Die Juden aber, dieweil es der Rusttag war

Composer(s)

Johann Sebastian Bach

Artist(s)

Dunedin Consort

Johannes Passion, BWV 245 - Recitativo - Die Juden aber, dieweil es der Rusttag war

$2.30

Johannes Passion, BWV 245 - Choral - O hilf, Christe, Gottes Sohn

Composer(s)

Johann Sebastian Bach

Artist(s)

Dunedin Consort

Johannes Passion, BWV 245 - Choral - O hilf, Christe, Gottes Sohn

$2.30

Johannes Passion, BWV 245 - Recitativo - Darnach bat Pilatum Joseph von Arimathia

Composer(s)

Johann Sebastian Bach

Artist(s)

Dunedin Consort

Johannes Passion, BWV 245 - Recitativo - Darnach bat Pilatum Joseph von Arimathia

$2.30

Johannes Passion, BWV 245 - Coro - Ruht wohl, ihr heiligen Gebeine

Composer(s)

Johann Sebastian Bach

Artist(s)

Dunedin Consort

Johannes Passion, BWV 245 - Coro - Ruht wohl, ihr heiligen Gebeine

$3.40

Johannes Passion, BWV 245 - Choral - Ach Herr, lass dein lieb Engelein

Composer(s)

Johann Sebastian Bach

Artist(s)

Dunedin Consort

Johannes Passion, BWV 245 - Choral - Ach Herr, lass dein lieb Engelein

$2.30

Ecce quomodo moritur*

Composer(s)

Jacob Handl Gallus

Artist(s)

Dunedin Consort

Ecce quomodo moritur*

$2.30

Responsory

Composer(s)

Jacob Handl Gallus

Artist(s)

Dunedin Consort

Responsory

$2.30

Collect

Composer(s)

Jacob Handl Gallus

Artist(s)

Dunedin Consort

Collect

$2.30

Blessing

Composer(s)

Jacob Handl Gallus

Artist(s)

Dunedin Consort

Blessing

$2.30

Response to blessing: Gott sei uns gnadig und barmherzig*

Composer(s)

Jacob Handl Gallus

Artist(s)

Dunedin Consort

Response to blessing: Gott sei uns gnadig und barmherzig*

$2.30

Organ Chorale: Nun danket alle Gott, BWV 657

Composer(s)

Johann Sebastian Bach

Artist(s)

Dunedin Consort

Organ Chorale: Nun danket alle Gott, BWV 657

$2.30

Congregational Chorale: Nun danket alle Gott

Composer(s)

Johann Sebastian Bach

Artist(s)

Dunedin Consort

Congregational Chorale: Nun danket alle Gott

$2.30
Total running time: 139 minutes.





Album information

For the first time on record, listeners can experience J.S. Bach's gripping John Passion within its original liturgical context. Featuring Nicholas Mulroy, Matthew Brook, Robert Davies, Joanne Lunn and Clare Wilkinson.

This recording of J.S. Bach's John Passion gives listeners a refreshing outlook, shining a new light into one of the best known pieces of the choral repertoire.

John Butt recreates the Good Friday vesper liturgy of a passion performance during Bach's time at Leipzig; in addition to the Dunedin Consort performance of Bach's composition, this recording features music from an original Leipzig hymn book with works by Jacob Händl, J. H. Schein and J. Crüger performed by a congregational choir and the University of Glasgow Chapel Choir.

John Butt takes centre stage to perform organ chorale preludes by Bach and Schütz on the Collins organ at Greyfriar's Kirk in Edinburgh, where the recording took place. This recording was chosen as a Critics' Choice 'Favourite Album of 2013' by two Gramophone reviewers:  Lindsay Kemp and Caroline Gill.

Listeners can download additional content, such as a sermon and intercession, for free.
Related Artists
Reviews