Filters
Leighton Earth, Sweet Earth…(laudes terrae) and Britten Winter Words
Leighton Earth, Sweet Earth…(laudes terrae) and Britten Winter Words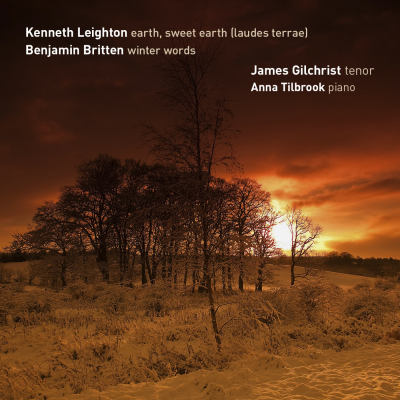 Booklet available for download
Earth, Sweet Earth (Laudes Terrae), Op. 94 - I. Prelude – There was no thought

Composer(s)

Kenneth Leighton

Artist(s)

James Gilchrist - tenorAnna Tilbrook - piano

Earth, Sweet Earth (Laudes Terrae), Op. 94 - I. Prelude – There was no thought

$4.60

Earth, Sweet Earth (Laudes Terrae), Op. 94 - II. Inversnaid

Composer(s)

Kenneth Leighton

Artist(s)

James Gilchrist - tenor

Anna Tilbrook - piano

Earth, Sweet Earth (Laudes Terrae), Op. 94 - II. Inversnaid

$2.30

Earth, Sweet Earth (Laudes Terrae), Op. 94 - III. Contemplation – In the snow

Composer(s)

Kenneth Leighton

Artist(s)

James Gilchrist - tenor

Anna Tilbrook - piano

Earth, Sweet Earth (Laudes Terrae), Op. 94 - III. Contemplation – In the snow

$2.30

Earth, Sweet Earth (Laudes Terrae), Op. 94 - IV. The Ashtree

Composer(s)

Kenneth Leighton

Artist(s)

James Gilchrist - tenorAnna Tilbrook - piano

Earth, Sweet Earth (Laudes Terrae), Op. 94 - IV. The Ashtree

$2.30

Earth, Sweet Earth (Laudes Terrae), Op. 94 - V. Binsey Poplars

Composer(s)

Kenneth Leighton

Artist(s)

James Gilchrist - tenorAnna Tilbrook - piano

Earth, Sweet Earth (Laudes Terrae), Op. 94 - V. Binsey Poplars

$2.30

Earth, Sweet Earth (Laudes Terrae), Op. 94 - VI. Hurrahing in Harvest

Composer(s)

Kenneth Leighton

Artist(s)

James Gilchrist - tenorAnna Tilbrook - piano

Earth, Sweet Earth (Laudes Terrae), Op. 94 - VI. Hurrahing in Harvest

$2.30

Earth, Sweet Earth (Laudes Terrae), Op. 94 - VII. Ribblesdale

Composer(s)

Kenneth Leighton

Artist(s)

James Gilchrist - tenorAnna Tilbrook - piano

Earth, Sweet Earth (Laudes Terrae), Op. 94 - VII. Ribblesdale

$3.40

Winter Words, Op. 52 - I. At Day-close in November

Composer(s)

Benjamin Britten

Artist(s)

James Gilchrist - tenorAnna Tilbrook - piano

Winter Words, Op. 52 - I. At Day-close in November

$2.30

Winter Words, Op. 52 - II. Midnight on the Great Western

Composer(s)

Benjamin Britten

Artist(s)

James Gilchrist - tenorAnna Tilbrook - piano

Winter Words, Op. 52 - II. Midnight on the Great Western

$2.30

Winter Words, Op. 52 - III. Wagtail and Baby

Composer(s)

Benjamin Britten

Artist(s)

James Gilchrist - tenorAnna Tilbrook - piano

Winter Words, Op. 52 - III. Wagtail and Baby

$2.30

Winter Words, Op. 52 - IV. The Little Old Table

Composer(s)

Benjamin Britten

Artist(s)

James Gilchrist - tenorAnna Tilbrook - piano

Winter Words, Op. 52 - IV. The Little Old Table

$2.30

Winter Words, Op. 52 - V. The Choirmaster's Burial

Composer(s)

Benjamin Britten

Artist(s)

James Gilchrist - tenorAnna Tilbrook - piano

Winter Words, Op. 52 - V. The Choirmaster's Burial

$2.30

Winter Words, Op. 52 - VI. Proud Songsters 'Thrushes, Finches and Nightingales'

Composer(s)

Benjamin Britten

Artist(s)

James Gilchrist - tenor

Anna Tilbrook - piano

Winter Words, Op. 52 - VI. Proud Songsters 'Thrushes, Finches and Nightingales'

$2.30

Winter Words, Op. 52 - VII. At the Railway Station, Upway

Composer(s)

Benjamin Britten

Artist(s)

James Gilchrist - tenorAnna Tilbrook - piano

Winter Words, Op. 52 - VII. At the Railway Station, Upway

$2.30

Winter Words, Op. 52 - VIII. Before Life and After

Composer(s)

Benjamin Britten

Artist(s)

James Gilchrist - tenor

Anna Tilbrook - piano

Winter Words, Op. 52 - VIII. Before Life and After

$2.30
Total running time: 63 minutes.
Album information

Alongside pianist Anna Tilbrook, tenor James Gilchrist excels in a programme that includes the first modern recording of Leighton's Earth, Sweet Earth and Britten's popular and touching song cycle Winter Words.

Leighton's Earth, Sweet Earth was commissioned in memory of Peter Pears - tenor and life-long partner of Benjamin Britten. This is the first modern recording of this work since the original recording by Neil Mackie for whom the work was written. Earth, Sweet Earth requires astonishing virtuosity from both vocalist and pianist; the piano taking on an almost orchestral role in settings of text by Ruskin and Hopkins.

Britten wrote Winter Words for Peter Pears. Set to eight poems by Thomas Hardy, this is the composer's most popular song set. James Gilchrist emotively conveys one of Britten's favourite themes: the conflict between innocence and experience.
Related Artists
Reviews