Filters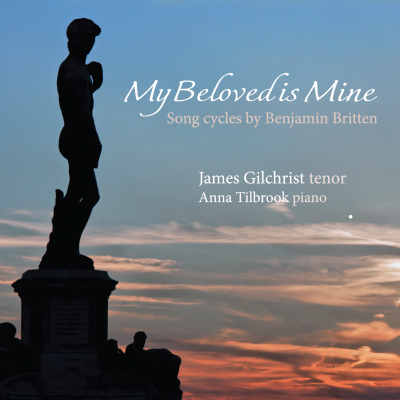 Inlay available for download
Booklet available for download
On This Island, Op. 11 - Let the florid music praise!

Composer(s)

Benjamin Britten

Artist(s)

James Gilchrist - tenorAnna Tilbrook - piano

On This Island, Op. 11 - Let the florid music praise!

$2.30

On This Island, Op. 11 - Now the leaves are falling fast

Composer(s)

Benjamin Britten

Artist(s)

James Gilchrist - tenorAnna Tilbrook - piano

On This Island, Op. 11 - Now the leaves are falling fast

$2.30

On This Island, Op. 11 - Seascape ('For Kit Welford')

Composer(s)

Benjamin Britten

Artist(s)

James Gilchrist - tenorAnna Tilbrook - piano

On This Island, Op. 11 - Seascape ('For Kit Welford')

$2.30

On This Island, Op. 11 - Nocturne

Composer(s)

Benjamin Britten

Artist(s)

James Gilchrist - tenorAnna Tilbrook - piano

On This Island, Op. 11 - Nocturne

$2.30

On This Island, Op. 11 - As it is, plenty

Composer(s)

Benjamin Britten

Artist(s)

James Gilchrist - tenorAnna Tilbrook - piano

On This Island, Op. 11 - As it is, plenty

$2.30

The Holy Sonnets of John Donne, Op. 35 - Oh my Black soule!

Composer(s)

Benjamin Britten

Artist(s)

James Gilchrist - tenorAnna Tilbrook - piano

The Holy Sonnets of John Donne, Op. 35 - Oh my Black soule!

$2.30

The Holy Sonnets of John Donne, Op. 35 - Batter my heart

Composer(s)

Benjamin Britten

Artist(s)

James Gilchrist - tenorAnna Tilbrook - piano

The Holy Sonnets of John Donne, Op. 35 - Batter my heart

$2.30

The Holy Sonnets of John Donne, Op. 35 - O might those sighes and teares

Composer(s)

Benjamin Britten

Artist(s)

James Gilchrist - tenorAnna Tilbrook - piano

The Holy Sonnets of John Donne, Op. 35 - O might those sighes and teares

$2.30

The Holy Sonnets of John Donne, Op. 35 - Oh, to vex me

Composer(s)

Benjamin Britten

Artist(s)

James Gilchrist - tenorAnna Tilbrook - piano

The Holy Sonnets of John Donne, Op. 35 - Oh, to vex me

$2.30

The Holy Sonnets of John Donne, Op. 35 - What if this present

Composer(s)

Benjamin Britten

Artist(s)

James Gilchrist - tenorAnna Tilbrook - piano

The Holy Sonnets of John Donne, Op. 35 - What if this present

$2.30

The Holy Sonnets of John Donne, Op. 35 - Since she whom I loved

Composer(s)

Benjamin Britten

Artist(s)

James Gilchrist - tenorAnna Tilbrook - piano

The Holy Sonnets of John Donne, Op. 35 - Since she whom I loved

$2.30

The Holy Sonnets of John Donne, Op. 35 - At the round earth's imagined corners

Composer(s)

Benjamin Britten

Artist(s)

James Gilchrist - tenorAnna Tilbrook - piano

The Holy Sonnets of John Donne, Op. 35 - At the round earth's imagined corners

$2.30

The Holy Sonnets of John Donne, Op. 35 - Thou hast made me

Composer(s)

Benjamin Britten

Artist(s)

James Gilchrist - tenorAnna Tilbrook - piano

The Holy Sonnets of John Donne, Op. 35 - Thou hast made me

$2.30

The Holy Sonnets of John Donne, Op. 35 - Death, be not proud

Composer(s)

Benjamin Britten

Artist(s)

James Gilchrist - tenorAnna Tilbrook - piano

The Holy Sonnets of John Donne, Op. 35 - Death, be not proud

$2.30

Seven Sonnets of Michelangelo, Op. 22 - Si come nella penna e nell'inchiostro

Composer(s)

Benjamin Britten

Artist(s)

James Gilchrist - tenorAnna Tilbrook - piano

Seven Sonnets of Michelangelo, Op. 22 - Si come nella penna e nell'inchiostro

$2.30

Seven Sonnets of Michelangelo, Op. 22 - A che piu debb'io mai l'intensa voglia

Composer(s)

Benjamin Britten

Artist(s)

James Gilchrist - tenorAnna Tilbrook - piano

Seven Sonnets of Michelangelo, Op. 22 - A che piu debb'io mai l'intensa voglia

$2.30

Seven Sonnets of Michelangelo, Op. 22 - Veggio co' bei vostri occhi un dolce lume

Composer(s)

Benjamin Britten

Artist(s)

James Gilchrist - tenorAnna Tilbrook - piano

Seven Sonnets of Michelangelo, Op. 22 - Veggio co' bei vostri occhi un dolce lume

$2.30

Seven Sonnets of Michelangelo, Op. 22 - Tu sa' ch'io so, signior mie, che tu sai

Composer(s)

Benjamin Britten

Artist(s)

James Gilchrist - tenorAnna Tilbrook - piano

Seven Sonnets of Michelangelo, Op. 22 - Tu sa' ch'io so, signior mie, che tu sai

$2.30

Seven Sonnets of Michelangelo, Op. 22 - Rendete a gli occhi miei, o fonte o fiume

Composer(s)

Benjamin Britten

Artist(s)

James Gilchrist - tenorAnna Tilbrook - piano

Seven Sonnets of Michelangelo, Op. 22 - Rendete a gli occhi miei, o fonte o fiume

$2.30

Seven Sonnets of Michelangelo, Op. 22 - S'un casto amor, s'una pieta superna

Composer(s)

Benjamin Britten

Artist(s)

James Gilchrist - tenorAnna Tilbrook - piano

Seven Sonnets of Michelangelo, Op. 22 - S'un casto amor, s'una pieta superna

$2.30

Seven Sonnets of Michelangelo, Op. 22 - Spirto ben nato, in cui si specchia e vede

Composer(s)

Benjamin Britten

Artist(s)

James Gilchrist - tenorAnna Tilbrook - piano

Seven Sonnets of Michelangelo, Op. 22 - Spirto ben nato, in cui si specchia e vede

$2.30

Canticle I 'My Beloved is Mine'. Op. 40

Composer(s)

Benjamin Britten

Artist(s)

James Gilchrist - tenorAnna Tilbrook - piano

Canticle I 'My Beloved is Mine'. Op. 40

$3.40
Total running time: 61 minutes.
Album information

The charismatic duo of James Gilchrist and Anna Tilbrook continue their exploration of English Song in My Beloved is Mine. This new recording explores the song cycles of Benjamin Britten, including 'On This Island', 'The Holy Sonnets of John Donne', 'Seven Sonnets of Michelangelo' and 'Canticle I 'My Beloved is Mine''. 

The greatly sought-after tenor, James Gilchrist, continues his highly acclaimed exploration of British song with his new recording of Benjamin Britten works. His 2010 recording of Leighton Earth, Sweet Earth...(laudes terrae) and Britten Winter Words was called "outstandingly accomplished" by Gramophone.

This is the fifth recording in a collection which has embraced works by Gerald Finzi, Kenneth Leighton, Ralph Vaughan Williams, Ivor Gurney, Arthur Bliss and Peter Warlock and has uncovered the beautiful songs of Muriel Herbert.

As The Times stated: "As an interpreter of English song, Gilchrist is often in a class by himself".

 
Related Artists
Reviews