Filters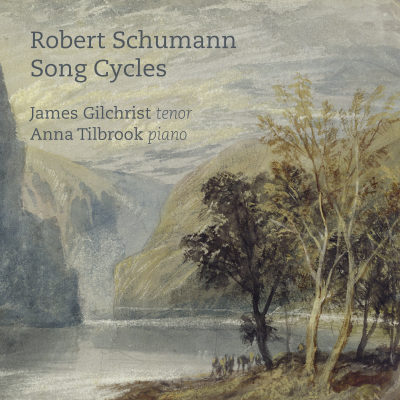 Inlay available for download
Booklet available for download
Liederkreis, Op. 24: No. 1, Morgens steh' ich auf

Composer(s)

Robert Schumann

Artist(s)

James Gilchrist - Tenor, Anna Tilbrook - Piano

Liederkreis, Op. 24: No. 1, Morgens steh' ich auf

$2.30

Liederkreis, Op. 24: No. 2, Es treibt mich hin

Composer(s)

Robert Schumann

Artist(s)

James Gilchrist - Tenor, Anna Tilbrook - Piano

Liederkreis, Op. 24: No. 2, Es treibt mich hin

$2.30

Liederkreis, Op. 24: No. 3, Ich wandelte unter den Baumen

Composer(s)

Robert Schumann

Artist(s)

James Gilchrist - Tenor, Anna Tilbrook - Piano

Liederkreis, Op. 24: No. 3, Ich wandelte unter den Baumen

$2.30

Liederkreis, Op. 24: No. 4, Lieb' Liebchen

Composer(s)

Robert Schumann

Artist(s)

James Gilchrist - Tenor, Anna Tilbrook - Piano

Liederkreis, Op. 24: No. 4, Lieb' Liebchen

$2.30

Liederkreis, Op. 24: No. 5, Schone Wiege meine Leiden

Composer(s)

Robert Schumann

Artist(s)

James Gilchrist - Tenor, Anna Tilbrook - Piano

Liederkreis, Op. 24: No. 5, Schone Wiege meine Leiden

$2.30

Liederkreis, Op. 24: No. 6, Warte, warte, wilder Schiffmann

Composer(s)

Robert Schumann

Artist(s)

James Gilchrist - Tenor, Anna Tilbrook - Piano

Liederkreis, Op. 24: No. 6, Warte, warte, wilder Schiffmann

$2.30

Liederkreis, Op. 24: No. 7, Berg' und Burgen schau'n herunter

Composer(s)

Robert Schumann

Artist(s)

James Gilchrist - Tenor, Anna Tilbrook - Piano

Liederkreis, Op. 24: No. 7, Berg' und Burgen schau'n herunter

$2.30

Liederkreis, Op. 24: No. 8, Anfangs wollt' ich fast verzagen

Composer(s)

Robert Schumann

Artist(s)

James Gilchrist - Tenor, Anna Tilbrook - Piano

Liederkreis, Op. 24: No. 8, Anfangs wollt' ich fast verzagen

$2.30

Liederkreis, Op. 24: No. 9, Mit Myrthen und Rosen

Composer(s)

Robert Schumann

Artist(s)

James Gilchrist - Tenor, Anna Tilbrook - Piano

Liederkreis, Op. 24: No. 9, Mit Myrthen und Rosen

$2.30

Liederkreis, Op. 39: No. 1, In der Fremde

Composer(s)

Robert Schumann

Artist(s)

James Gilchrist - Tenor, Anna Tilbrook - Piano

Liederkreis, Op. 39: No. 1, In der Fremde

$2.30

Liederkreis, Op. 39: No. 2, Intermezzo

Composer(s)

Robert Schumann

Artist(s)

James Gilchrist - Tenor, Anna Tilbrook - Piano

Liederkreis, Op. 39: No. 2, Intermezzo

$2.30

Liederkreis, Op. 39: No. 3, Waldesgesprach

Composer(s)

Robert Schumann

Artist(s)

James Gilchrist - Tenor, Anna Tilbrook - Piano

Liederkreis, Op. 39: No. 3, Waldesgesprach

$2.30

Liederkreis, Op. 39: No. 4, Die Stille

Composer(s)

Robert Schumann

Artist(s)

James Gilchrist - Tenor, Anna Tilbrook - Piano

Liederkreis, Op. 39: No. 4, Die Stille

$2.30

Liederkreis, Op. 39: No. 5, Mondnacht

Composer(s)

Robert Schumann

Artist(s)

James Gilchrist - Tenor, Anna Tilbrook - Piano

Liederkreis, Op. 39: No. 5, Mondnacht

$2.30

Liederkreis, Op. 39: No. 6, Schone Fremde

Composer(s)

Robert Schumann

Artist(s)

James Gilchrist - Tenor, Anna Tilbrook - Piano

Liederkreis, Op. 39: No. 6, Schone Fremde

$2.30

Liederkreis, Op. 39: No. 7, Auf einer Burg

Composer(s)

Robert Schumann

Artist(s)

James Gilchrist - Tenor, Anna Tilbrook - Piano

Liederkreis, Op. 39: No. 7, Auf einer Burg

$2.30

Liederkreis, Op. 39: No. 8, In der Fremde

Composer(s)

Robert Schumann

Artist(s)

James Gilchrist - Tenor, Anna Tilbrook - Piano

Liederkreis, Op. 39: No. 8, In der Fremde

$2.30

Liederkreis, Op. 39: No. 9, Wehmut

Composer(s)

Robert Schumann

Artist(s)

James Gilchrist - Tenor, Anna Tilbrook - Piano

Liederkreis, Op. 39: No. 9, Wehmut

$2.30

Liederkreis, Op. 39: No. 10, Zwielicht

Composer(s)

Robert Schumann

Artist(s)

James Gilchrist - Tenor, Anna Tilbrook - Piano

Liederkreis, Op. 39: No. 10, Zwielicht

$2.30

Liederkreis, Op. 39: No. 11, Im Walde

Composer(s)

Robert Schumann

Artist(s)

James Gilchrist - Tenor, Anna Tilbrook - Piano

Liederkreis, Op. 39: No. 11, Im Walde

$2.30

Liederkreis, Op. 39: No. 12, Fruhlingsnacht

Composer(s)

Robert Schumann

Artist(s)

James Gilchrist - Tenor, Anna Tilbrook - Piano

Liederkreis, Op. 39: No. 12, Fruhlingsnacht

$2.30

Dichterliebe, Op. 48: No. 1, Im wunderschonen Monat Mai

Composer(s)

Robert Schumann

Artist(s)

James Gilchrist - Tenor, Anna Tilbrook - Piano

Dichterliebe, Op. 48: No. 1, Im wunderschonen Monat Mai

$2.30

Dichterliebe, Op. 48: No. 2, Aus meinen Tranen spriessen

Composer(s)

Robert Schumann

Artist(s)

James Gilchrist - Tenor, Anna Tilbrook - Piano

Dichterliebe, Op. 48: No. 2, Aus meinen Tranen spriessen

$2.30

Dichterliebe, Op. 48: No. 3, Die Rose, die Lilie

Composer(s)

Robert Schumann

Artist(s)

James Gilchrist - Tenor, Anna Tilbrook - Piano

Dichterliebe, Op. 48: No. 3, Die Rose, die Lilie

$2.30

Dichterliebe, Op. 48: No. 4, Wenn ich in deine Augen seh'

Composer(s)

Robert Schumann

Artist(s)

James Gilchrist - Tenor, Anna Tilbrook - Piano

Dichterliebe, Op. 48: No. 4, Wenn ich in deine Augen seh'

$2.30

Dichterliebe, Op. 48: No. 5, Ich will meine Seele tauchen

Composer(s)

Robert Schumann

Artist(s)

James Gilchrist - Tenor, Anna Tilbrook - Piano

Dichterliebe, Op. 48: No. 5, Ich will meine Seele tauchen

$2.30

Dichterliebe, Op. 48: No. 6, Im Rhein, im heiligen Strome

Composer(s)

Robert Schumann

Artist(s)

James Gilchrist - Tenor, Anna Tilbrook - Piano

Dichterliebe, Op. 48: No. 6, Im Rhein, im heiligen Strome

$2.30

Dichterliebe, Op. 48: No. 7, Ich grolle nicht

Composer(s)

Robert Schumann

Artist(s)

James Gilchrist - Tenor, Anna Tilbrook - Piano

Dichterliebe, Op. 48: No. 7, Ich grolle nicht

$2.30

Dichterliebe, Op. 48: No. 8, Und wussten's die Blumen

Composer(s)

Robert Schumann

Artist(s)

James Gilchrist - Tenor, Anna Tilbrook - Piano

Dichterliebe, Op. 48: No. 8, Und wussten's die Blumen

$2.30

Dichterliebe, Op. 48: No. 9, Das ist ein Floten und Geigen

Composer(s)

Robert Schumann

Artist(s)

James Gilchrist - Tenor, Anna Tilbrook - Piano

Dichterliebe, Op. 48: No. 9, Das ist ein Floten und Geigen

$2.30

Dichterliebe, Op. 48: No. 10, Hor' ich das Liedchen klingen

Composer(s)

Robert Schumann

Artist(s)

James Gilchrist - Tenor, Anna Tilbrook - Piano

Dichterliebe, Op. 48: No. 10, Hor' ich das Liedchen klingen

$2.30

Dichterliebe, Op. 48: No. 11, Ein Jungling liebt ein Madchen

Composer(s)

Robert Schumann

Artist(s)

James Gilchrist - Tenor, Anna Tilbrook - Piano

Dichterliebe, Op. 48: No. 11, Ein Jungling liebt ein Madchen

$2.30

Dichterliebe, Op. 48: No. 12, Am leuchtenden Sommermorgen

Composer(s)

Robert Schumann

Artist(s)

James Gilchrist - Tenor, Anna Tilbrook - Piano

Dichterliebe, Op. 48: No. 12, Am leuchtenden Sommermorgen

$2.30

Dichterliebe, Op. 48: No. 13, Ich hab' im Traum geweinet

Composer(s)

Robert Schumann

Artist(s)

James Gilchrist - Tenor, Anna Tilbrook - Piano

Dichterliebe, Op. 48: No. 13, Ich hab' im Traum geweinet

$2.30

Dichterliebe, Op. 48: No. 14, Allnachtlich im Traume

Composer(s)

Robert Schumann

Artist(s)

James Gilchrist - Tenor, Anna Tilbrook - Piano

Dichterliebe, Op. 48: No. 14, Allnachtlich im Traume

$2.30

Dichterliebe, Op. 48: No. 15, Aus alten Marchen winkt es

Composer(s)

Robert Schumann

Artist(s)

James Gilchrist - Tenor, Anna Tilbrook - Piano

Dichterliebe, Op. 48: No. 15, Aus alten Marchen winkt es

$2.30

Dichterliebe, Op. 48: No. 16, Die alten, bosen Lieder

Composer(s)

Robert Schumann

Artist(s)

James Gilchrist - Tenor, Anna Tilbrook - Piano

Dichterliebe, Op. 48: No. 16, Die alten, bosen Lieder

$2.30

6 Gedichte von N. Lenau und Requiem, Op. 90: No. 2, Meine Rose

Composer(s)

Robert Schumann

Artist(s)

James Gilchrist - Tenor, Anna Tilbrook - Piano

6 Gedichte von N. Lenau und Requiem, Op. 90: No. 2, Meine Rose

$0.00
Total running time: 80 minutes.
Album information

James Gilchrist's latest recording for Linn encompasses three of the greatest examples of the song cycle genre, plus a free bonus track, Meine Rose (track 38). 

Moving away from English song into the core Germanic Lieder repertoire, James's expressive tenor voice is ideally suited to showcase the emotional nuances of Schumann's vocal writing. Liederkreis shows Schumann at his most lyrical and deeply romantic; incredibly Op. 24 was his first published vocal composition. Dichterliebe, Schumann's best-known song cycle, is regarded as one of the finest in the German language, notable for its perfect pairing of Heinrich Heine's poetry with Schumann's music.
Related Artists
Reviews