Filters
Mahler: Das Lied von der Erde
Mahler: Das Lied von der Erde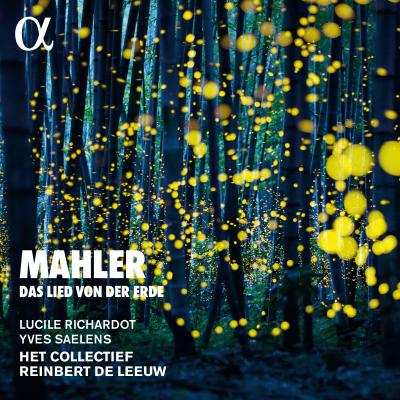 Inlay available for download
Booklet available for download
Das Lied von der Erde: I. Das Trinklied vom Jammer der Erde (Arr. by Reinbert de Leeuw)

Composer(s)

Gustav Mahler

Artist(s)

Yves Saelens

Het Collectief

Das Lied von der Erde: I. Das Trinklied vom Jammer der Erde (Arr. by Reinbert de Leeuw)

$3.40

Das Lied von der Erde: II. Der Einsame im Herbst (Arr. by Reinbert de Leeuw)

Composer(s)

Gustav Mahler

Artist(s)

Het Collectief

Lucile Richardot

Das Lied von der Erde: II. Der Einsame im Herbst (Arr. by Reinbert de Leeuw)

$3.40

Das Lied von der Erde: III. Von der Jugend (Arr. by Reinbert de Leeuw)

Composer(s)

Gustav Mahler

Artist(s)

Yves Saelens

Het Collectief

Das Lied von der Erde: III. Von der Jugend (Arr. by Reinbert de Leeuw)

$2.30

Das Lied von der Erde: IV. Von der Schönheit (Arr. by Reinbert de Leeuw)

Composer(s)

Gustav Mahler

Artist(s)

Het Collectief

Lucile Richardot

Das Lied von der Erde: IV. Von der Schönheit (Arr. by Reinbert de Leeuw)

$3.40

Das Lied von der Erde: V. Der Trunkene im Frühling (Arr. by Reinbert de Leeuw)

Composer(s)

Gustav Mahler

Artist(s)

Yves Saelens

Het Collectief

Das Lied von der Erde: V. Der Trunkene im Frühling (Arr. by Reinbert de Leeuw)

$2.30

Das Lied von der Erde: VI. Der Abschied (Arr. by Reinbert de Leeuw)

Composer(s)

Gustav Mahler

Artist(s)

Yves Saelens

Het Collectief

Lucile Richardot

Das Lied von der Erde: VI. Der Abschied (Arr. by Reinbert de Leeuw)

$9.20
Total running time: 63 minutes.
Album information

This recording was made under the direction of Reinbert de Leeuw in December 2019, two months before his death.

A few weeks before that, he had called Thomas Dieltjens, artistic director of Het Collectief, to tell him: 'Since our concert in mid-July 2019 at the Saintes Festival, I've been haunted by Das Lied von der Erde. I'm totally under its spell, and every day I discover new things in this masterpiece by Mahler. Wouldn't it be a dream if we could record this music with the outstanding group of instrumentalists and soloists we had in Saintes? And preferably as soon as possible?'

Reinbert himself made the arrangement for fifteen instrumentalists and two soloists and invested all his remaining strength in the recording of this music, which encompasses the whole of life, from the freshness of birth to the moment of farewell... A testamentary album, with the moving mezzo-soprano Lucile Richardot, which gives us an opportunity to pay tribute to one of the key ambassadors of twentieth-century music.
Related Artists
Reviews