Filters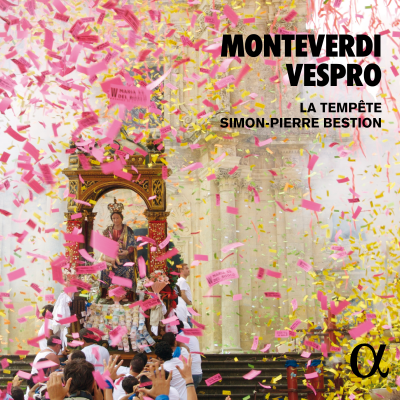 Inlay available for download
Booklet available for download
Vespro della beata vergine, SV 206: Faux-bourdon Domine ad adjuvandum me

Composer(s)

Claudio Monteverdi

Artist(s)

Simon-Pierre Bestion

La Tempête

Vespro della beata vergine, SV 206: Faux-bourdon Domine ad adjuvandum me

$2.30

Vespro della beata vergine, SV 206: Toccata et Domine ad adjuvandum me

Composer(s)

Claudio Monteverdi

Artist(s)

Simon-Pierre Bestion

La Tempête

Vespro della beata vergine, SV 206: Toccata et Domine ad adjuvandum me

$2.30

Vespro della beata vergine, SV 206: Antienne Gaudeamus omnes

Composer(s)

Claudio Monteverdi

Artist(s)

Simon-Pierre Bestion

La Tempête

Vespro della beata vergine, SV 206: Antienne Gaudeamus omnes

$2.30

Vespro della beata vergine, SV 206: Faux-bourdon Dixit Dominus

Composer(s)

Claudio Monteverdi

Artist(s)

Simon-Pierre Bestion

La Tempête

Vespro della beata vergine, SV 206: Faux-bourdon Dixit Dominus

$2.30

Vespro della beata vergine, SV 206: Dixit Dominus

Composer(s)

Claudio Monteverdi

Artist(s)

Simon-Pierre Bestion

La Tempête

Vespro della beata vergine, SV 206: Dixit Dominus

$3.40

Vespro della beata vergine, SV 206: Nigra sum

Composer(s)

Claudio Monteverdi

Artist(s)

Simon-Pierre Bestion

La Tempête

Vespro della beata vergine, SV 206: Nigra sum

$2.30

Vespro della beata vergine, SV 206: Antienne Diffusa est gratia

Composer(s)

Claudio Monteverdi

Artist(s)

Simon-Pierre Bestion

La Tempête

Vespro della beata vergine, SV 206: Antienne Diffusa est gratia

$2.30

Vespro della beata vergine, SV 206: Faux-bourdon Laudate pueri

Composer(s)

Claudio Monteverdi

Artist(s)

Simon-Pierre Bestion

La Tempête

Vespro della beata vergine, SV 206: Faux-bourdon Laudate pueri

$2.30

Vespro della beata vergine, SV 206: Laudate pueri

Composer(s)

Claudio Monteverdi

Artist(s)

Simon-Pierre Bestion

La Tempête

Vespro della beata vergine, SV 206: Laudate pueri

$3.40

Vespro della beata vergine, SV 206: Pulchra es

Composer(s)

Claudio Monteverdi

Artist(s)

Simon-Pierre Bestion

La Tempête

Vespro della beata vergine, SV 206: Pulchra es

$2.30

Vespro della beata vergine, SV 206: Antienne Tota pulchra es

Composer(s)

Claudio Monteverdi

Artist(s)

Simon-Pierre Bestion

La Tempête

Vespro della beata vergine, SV 206: Antienne Tota pulchra es

$2.30

Vespro della beata vergine, SV 206: Faux-bourdon Laetatus sum

Composer(s)

Claudio Monteverdi

Artist(s)

Simon-Pierre Bestion

La Tempête

Vespro della beata vergine, SV 206: Faux-bourdon Laetatus sum

$2.30

Vespro della beata vergine, SV 206: Laetatus sum

Composer(s)

Claudio Monteverdi

Artist(s)

Simon-Pierre Bestion

La Tempête

Vespro della beata vergine, SV 206: Laetatus sum

$3.40

Vespro della beata vergine, SV 206: Duo Seraphim

Composer(s)

Claudio Monteverdi

Artist(s)

Simon-Pierre Bestion

La Tempête

Vespro della beata vergine, SV 206: Duo Seraphim

$3.40

Vespro della beata vergine, SV 206: Antienne Recordare Virgo Mater

Composer(s)

Claudio Monteverdi

Artist(s)

Simon-Pierre Bestion

La Tempête

Vespro della beata vergine, SV 206: Antienne Recordare Virgo Mater

$2.30

Vespro della beata vergine, SV 206: Faux-bourdon Nisi Dominus

Composer(s)

Claudio Monteverdi

Artist(s)

Simon-Pierre Bestion

La Tempête

Vespro della beata vergine, SV 206: Faux-bourdon Nisi Dominus

$2.30

Vespro della beata vergine, SV 206: Nisi Dominus

Composer(s)

Claudio Monteverdi

Artist(s)

Simon-Pierre Bestion

La Tempête

Vespro della beata vergine, SV 206: Nisi Dominus

$2.30

Vespro della beata vergine, SV 206: Ricercar sopra Sancta Maria (Frescobaldi)

Composer(s)

Claudio Monteverdi

Artist(s)

Simon-Pierre Bestion

La Tempête

Vespro della beata vergine, SV 206: Ricercar sopra Sancta Maria (Frescobaldi)

$2.30

Vespro della beata vergine, SV 206: Audi caelum

Composer(s)

Claudio Monteverdi

Artist(s)

Simon-Pierre Bestion

La Tempête

Vespro della beata vergine, SV 206: Audi caelum

$3.40

Vespro della beata vergine, SV 206: Antienne Felix es sacra Virgo

Composer(s)

Claudio Monteverdi

Artist(s)

Simon-Pierre Bestion

La Tempête

Vespro della beata vergine, SV 206: Antienne Felix es sacra Virgo

$2.30

Vespro della beata vergine, SV 206: Faux-bourdon Lauda Jerusalem

Composer(s)

Claudio Monteverdi

Artist(s)

Simon-Pierre Bestion

La Tempête

Vespro della beata vergine, SV 206: Faux-bourdon Lauda Jerusalem

$2.30

Vespro della beata vergine, SV 206: Lauda Jerusalem

Composer(s)

Claudio Monteverdi

Artist(s)

Simon-Pierre Bestion

La Tempête

Vespro della beata vergine, SV 206: Lauda Jerusalem

$2.30

Vespro della beata vergine, SV 206: Antienne Assumpta est Maria

Composer(s)

Claudio Monteverdi

Artist(s)

Simon-Pierre Bestion

La Tempête

Vespro della beata vergine, SV 206: Antienne Assumpta est Maria

$2.30

Vespro della beata vergine, SV 206: Sonata sopra Sancta Maria

Composer(s)

Claudio Monteverdi

Artist(s)

Simon-Pierre Bestion

La Tempête

Vespro della beata vergine, SV 206: Sonata sopra Sancta Maria

$2.30

Vespro della beata vergine, SV 206: Ave maris stella

Composer(s)

Claudio Monteverdi

Artist(s)

Simon-Pierre Bestion

La Tempête

Vespro della beata vergine, SV 206: Ave maris stella

$3.40

Vespro della beata vergine, SV 206: Magnificat

Composer(s)

Claudio Monteverdi

Artist(s)

Simon-Pierre Bestion

La Tempête

Vespro della beata vergine, SV 206: Magnificat

$2.30

Vespro della beata vergine, SV 206: Magnificat 'Et exultavit'

Composer(s)

Claudio Monteverdi

Artist(s)

Simon-Pierre Bestion

La Tempête

Vespro della beata vergine, SV 206: Magnificat 'Et exultavit'

$2.30

Vespro della beata vergine, SV 206: Magnificat 'Quia respexit'

Composer(s)

Claudio Monteverdi

Artist(s)

Simon-Pierre Bestion

La Tempête

Vespro della beata vergine, SV 206: Magnificat 'Quia respexit'

$2.30

Vespro della beata vergine, SV 206: Magnificat 'Quia fecit'

Composer(s)

Claudio Monteverdi

Artist(s)

Simon-Pierre Bestion

La Tempête

Vespro della beata vergine, SV 206: Magnificat 'Quia fecit'

$2.30

Vespro della beata vergine, SV 206: Magnificat 'Et misericordia'

Composer(s)

Claudio Monteverdi

Artist(s)

Simon-Pierre Bestion

La Tempête

Vespro della beata vergine, SV 206: Magnificat 'Et misericordia'

$2.30

Vespro della beata vergine, SV 206: Magnificat 'Fecit potentiam'

Composer(s)

Claudio Monteverdi

Artist(s)

Simon-Pierre Bestion

La Tempête

Vespro della beata vergine, SV 206: Magnificat 'Fecit potentiam'

$2.30

Vespro della beata vergine, SV 206: Magnificat 'Deposuit'

Composer(s)

Claudio Monteverdi

Artist(s)

Simon-Pierre Bestion

La Tempête

Vespro della beata vergine, SV 206: Magnificat 'Deposuit'

$2.30

Vespro della beata vergine, SV 206: Magnificat 'Esurientes'

Composer(s)

Claudio Monteverdi

Artist(s)

Simon-Pierre Bestion

La Tempête

Vespro della beata vergine, SV 206: Magnificat 'Esurientes'

$2.30

Vespro della beata vergine, SV 206: Magnificat 'Suscepit Israel'

Composer(s)

Claudio Monteverdi

Artist(s)

Simon-Pierre Bestion

La Tempête

Vespro della beata vergine, SV 206: Magnificat 'Suscepit Israel'

$2.30

Vespro della beata vergine, SV 206: Magnificat 'Sicut locutus'

Composer(s)

Claudio Monteverdi

Artist(s)

Simon-Pierre Bestion

La Tempête

Vespro della beata vergine, SV 206: Magnificat 'Sicut locutus'

$2.30

Vespro della beata vergine, SV 206: Magnificat 'Gloria Patri'

Composer(s)

Claudio Monteverdi

Artist(s)

Simon-Pierre Bestion

La Tempête

Vespro della beata vergine, SV 206: Magnificat 'Gloria Patri'

$2.30

Vespro della beata vergine, SV 206: Magnificat 'Sicut erat'

Composer(s)

Claudio Monteverdi

Artist(s)

Simon-Pierre Bestion

La Tempête

Vespro della beata vergine, SV 206: Magnificat 'Sicut erat'

$2.30
Total running time: 141 minutes.

Album information

Here are the Monteverdi Vespers as you've never heard them before! 

'I see these Vespers as a great incantatory ritual that connects the sacred with the pagan, the intimate with the collective. I experienced this powerful sensation many times in my childhood, in the choir of an abbey: the intense, warm light of a late summer day, filtering in from the west and reflected all the way up to the choir', says Simon-Pierre Bestion.

The founder of La Tempête has made very personal choices for this recording, notably concerning the composition of the orchestra, which he has enriched with instruments from different cultures, including the serpent and the chitarrone. He has added 'fauxbourdons', simple improvised chants deriving from folk tradition. The colours of the voices in these Vespers are also very unusual: Bestion follows in the tradition of oral polyphony as it still exists in Corsica, Sardinia and Georgia.
Related Artists
Reviews