Filters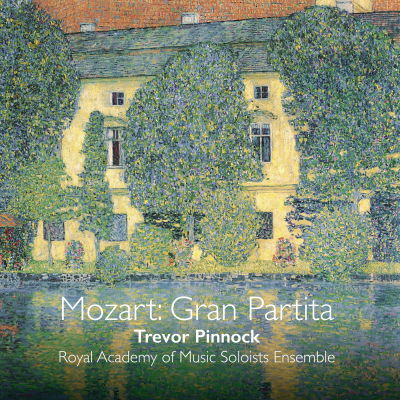 Inlay available for download
Booklet available for download
Serenade in B-Flat Major, K. 361 "Gran Partita": I. Largo - Allegro molto

Composer(s)

Wolfgang Amadeus Mozart

Artist(s)

Trevor Pinnock

Royal Academy of Music Soloists Ensemble

Serenade in B-Flat Major, K. 361 "Gran Partita": I. Largo - Allegro molto

$3.40

Serenade in B-Flat Major, K. 361 "Gran Partita": II. Menuetto

Composer(s)

Wolfgang Amadeus Mozart

Artist(s)

Trevor Pinnock

Royal Academy of Music Soloists Ensemble

Serenade in B-Flat Major, K. 361 "Gran Partita": II. Menuetto

$3.40

Serenade in B-Flat Major, K. 361 "Gran Partita": III. Adagio

Composer(s)

Wolfgang Amadeus Mozart

Artist(s)

Trevor Pinnock

Royal Academy of Music Soloists Ensemble

Serenade in B-Flat Major, K. 361 "Gran Partita": III. Adagio

$2.30

Serenade in B-Flat Major, K. 361 "Gran Partita": IV. Menuetto. Allegretto

Composer(s)

Wolfgang Amadeus Mozart

Artist(s)

Trevor Pinnock

Royal Academy of Music Soloists Ensemble

Serenade in B-Flat Major, K. 361 "Gran Partita": IV. Menuetto. Allegretto

$2.30

Serenade in B-Flat Major, K. 361 "Gran Partita": V. Romance. Adagio

Composer(s)

Wolfgang Amadeus Mozart

Artist(s)

Trevor Pinnock

Royal Academy of Music Soloists Ensemble

Serenade in B-Flat Major, K. 361 "Gran Partita": V. Romance. Adagio

$2.30

Serenade in B-Flat Major, K. 361 "Gran Partita": VI. Tema con variazioni

Composer(s)

Wolfgang Amadeus Mozart

Artist(s)

Trevor Pinnock

Royal Academy of Music Soloists Ensemble

Serenade in B-Flat Major, K. 361 "Gran Partita": VI. Tema con variazioni

$3.40

Serenade in B-Flat Major, K. 361 "Gran Partita": VII. Finale. Allegro molto

Composer(s)

Wolfgang Amadeus Mozart

Artist(s)

Trevor Pinnock

Royal Academy of Music Soloists Ensemble

Serenade in B-Flat Major, K. 361 "Gran Partita": VII. Finale. Allegro molto

$2.30

Notturno No. 8 in G Major, Hob. II:27: I. Largo - Allegro

Artist(s)

Trevor Pinnock

Royal Academy of Music Soloists Ensemble

Notturno No. 8 in G Major, Hob. II:27: I. Largo - Allegro

$2.30

Notturno No. 8 in G Major, Hob. II:27: II. Adagio

Artist(s)

Trevor Pinnock

Royal Academy of Music Soloists Ensemble

Notturno No. 8 in G Major, Hob. II:27: II. Adagio

$2.30

Notturno No. 8 in G Major, Hob. II:27: III. Finale. Vivace assai

Artist(s)

Trevor Pinnock

Royal Academy of Music Soloists Ensemble

Notturno No. 8 in G Major, Hob. II:27: III. Finale. Vivace assai

$2.30
Total running time: 60 minutes.
Album information

Trevor Pinnock adds to his hugely impressive Mozart discography with his first recording of the composer's great wind masterpiece. It is performed here on modern instruments with the very best of the next generation of wind players: the Royal Academy of Music Soloists Ensemble. 

For over four decades Pinnock's name has been virtually synonymous with the early-music movement and, with a critically acclaimed Deutsche Grammophon discography of almost all the composer's orchestral works, Mozart.

Pinnock brings his wealth of experience to inspire fantastically insightful performances of two favourites by two Classical masters: Mozart and Haydn.

The 'Gran Partita' is Mozart's largest and arguably his most innovative instrumental work; it demonstrates the sensitivity of the colours of wind instruments in a score of unsurpassed variety. The driving principles are sonority, colour, texture, concertante effects, the juxtaposition of contrasting styles, and the mutability of musical ideas.

The nocturnes of Mozart's mentor Haydn magnificently blend the timbres of strings and woodwind with unerring dramatic instinct. The work has all the scintillating argumentativeness and wit that one might expect of mature Haydn, whilst the central Adagio is sublime in its fragility.
Related Artists
Reviews