Filters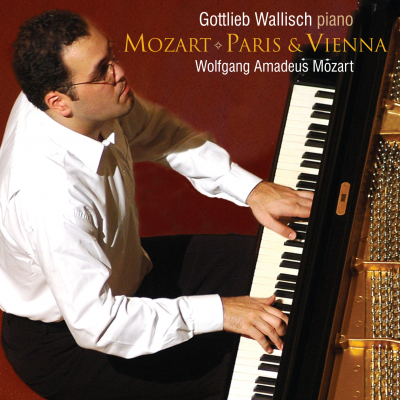 Inlay available for download
Booklet available for download
Andante in F Major, K. 616 for mechanical organ

Composer(s)

Wolfgang Amadeus Mozart

Artist(s)

Gottlieb Wallisch

Andante in F Major, K. 616 for mechanical organ

$2.30

Piano Sonata No. 10 in C Major, K. 330: I. Allegro moderato

Composer(s)

Wolfgang Amadeus Mozart

Artist(s)

Gottlieb Wallisch

Piano Sonata No. 10 in C Major, K. 330: I. Allegro moderato

$2.30

Piano Sonata No. 10 in C Major, K. 330: II. Andante cantabile

Composer(s)

Wolfgang Amadeus Mozart

Artist(s)

Gottlieb Wallisch

Piano Sonata No. 10 in C Major, K. 330: II. Andante cantabile

$2.30

Piano Sonata No. 10 in C Major, K. 330: III. Allegretto

Composer(s)

Wolfgang Amadeus Mozart

Artist(s)

Gottlieb Wallisch

Piano Sonata No. 10 in C Major, K. 330: III. Allegretto

$2.30

Allegro in B Flat Major, K. 400 (completed by Abbe Stadler)

Composer(s)

Wolfgang Amadeus Mozart

Artist(s)

Gottlieb Wallisch

Allegro in B Flat Major, K. 400 (completed by Abbe Stadler)

$2.30

Adagio in B minor, K. 540

Composer(s)

Wolfgang Amadeus Mozart

Artist(s)

Gottlieb Wallisch

Adagio in B minor, K. 540

$3.40

Piano Sonata No. 12 in F Major, K. 332: I. Allegro

Composer(s)

Wolfgang Amadeus Mozart

Artist(s)

Gottlieb Wallisch

Piano Sonata No. 12 in F Major, K. 332: I. Allegro

$2.30

Piano Sonata No. 12 in F Major, K. 332: II. Adagio

Composer(s)

Wolfgang Amadeus Mozart

Artist(s)

Gottlieb Wallisch

Piano Sonata No. 12 in F Major, K. 332: II. Adagio

$2.30

Piano Sonata No. 12 in F Major, K. 332: III. Allegro assai

Composer(s)

Wolfgang Amadeus Mozart

Artist(s)

Gottlieb Wallisch

Piano Sonata No. 12 in F Major, K. 332: III. Allegro assai

$2.30

Fantasy in C minor, K. 396 (completed by Abbe Stadler)

Composer(s)

Wolfgang Amadeus Mozart

Artist(s)

Gottlieb Wallisch

Fantasy in C minor, K. 396 (completed by Abbe Stadler)

$3.40

Six Variations in F Major: Tema

Composer(s)

Wolfgang Amadeus Mozart

Artist(s)

Gottlieb Wallisch

Six Variations in F Major: Tema

$2.30

Six Variations in F Major: Variation I

Composer(s)

Wolfgang Amadeus Mozart

Artist(s)

Gottlieb Wallisch

Six Variations in F Major: Variation I

$2.30

Six Variations in F Major: Variation II

Composer(s)

Wolfgang Amadeus Mozart

Artist(s)

Gottlieb Wallisch

Six Variations in F Major: Variation II

$2.30

Six Variations in F Major: Variation III

Composer(s)

Wolfgang Amadeus Mozart

Artist(s)

Gottlieb Wallisch

Six Variations in F Major: Variation III

$2.30

Six Variations in F Major: Variation IV minore

Composer(s)

Wolfgang Amadeus Mozart

Artist(s)

Gottlieb Wallisch

Six Variations in F Major: Variation IV minore

$2.30

Six Variations in F Major: Variation V Maggiore

Composer(s)

Wolfgang Amadeus Mozart

Artist(s)

Gottlieb Wallisch

Six Variations in F Major: Variation V Maggiore

$2.30

Six Variations in F Major: Variation VI

Composer(s)

Wolfgang Amadeus Mozart

Artist(s)

Gottlieb Wallisch

Six Variations in F Major: Variation VI

$2.30
Total running time: 74 minutes.
Album information

Gottlieb Wallisch's second solo album on Linn further explores Mozart's rich piano repertoire of works associated with Paris and Vienna.

Gottlieb Wallisch, who has captivated audiences from many of the world's major concert platforms, impressed the critics with his superb interpretations of Mozart's Viennese repertoire. 

On his second solo album on Linn Gottlieb displays a profound understanding of the music of his fellow Austrian, as well as his impressive technical and interpretative skills. This recording was named one of the 'Top Ten Classical CDs of 2012' by Manchester Evening News.
Related Artists
Reviews