Filters
The Nightingale and the Butterfly
The Nightingale and the Butterfly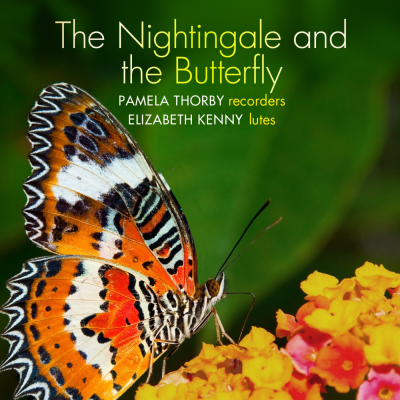 Inlay available for download
Booklet available for download
Deuxiéme Suite in G major - Prelude Tendrement

Composer(s)

Louis Caix d'Hervelois

Artist(s)

Pamela Thorby - recorder

Elizabeth Kenny - lute

Deuxiéme Suite in G major - Prelude Tendrement

$2.30

Deuxiéme Suite in G major - Allemande

Composer(s)

Louis Caix d'Hervelois

Artist(s)

Pamela Thorby - recorder

Elizabeth Kenny - lute

Deuxiéme Suite in G major - Allemande

$2.30

Deuxiéme Suite in G major - Musette

Composer(s)

Louis Caix d'Hervelois

Artist(s)

Pamela Thorby - recorder

Elizabeth Kenny - lute

Deuxiéme Suite in G major - Musette

$2.30

Deuxiéme Suite in G major - Papillon Vite

Composer(s)

Louis Caix d'Hervelois

Artist(s)

Pamela Thorby - recorder

Elizabeth Kenny - lute

Deuxiéme Suite in G major - Papillon Vite

$2.30

Deuxiéme Suite in G major - La Lionoise Gravement

Composer(s)

Louis Caix d'Hervelois

Artist(s)

Pamela Thorby - recorder

Elizabeth Kenny - lute

Deuxiéme Suite in G major - La Lionoise Gravement

$2.30

Deuxiéme Suite in G major - La Fanatique Vivement

Composer(s)

Louis Caix d'Hervelois

Artist(s)

Pamela Thorby - recorder

Elizabeth Kenny - lute

Deuxiéme Suite in G major - La Fanatique Vivement

$2.30

Deuxiéme Suite in G major - Air tendre

Composer(s)

Louis Caix d'Hervelois

Artist(s)

Pamela Thorby - recorder

Elizabeth Kenny - lute

Deuxiéme Suite in G major - Air tendre

$2.30

Passacaille (ms Vaudry de Saizenay: late 17th century)

Composer(s)

Robert de Visée

Artist(s)

Elizabeth Kenny - lute

Passacaille (ms Vaudry de Saizenay: late 17th century)

$2.30

Sonate pour la flute a bec in d minor - Lentement

Composer(s)

Anne-Danican Philidor

Artist(s)

Pamela Thorby - recorder

Elizabeth Kenny - lute

Sonate pour la flute a bec in d minor - Lentement

$2.30

Sonate pour la flute a bec in d minor - Fugue

Composer(s)

Anne-Danican Philidor

Artist(s)

Pamela Thorby - recorder

Elizabeth Kenny - lute

Sonate pour la flute a bec in d minor - Fugue

$2.30

Sonate pour la flute a bec in d minor - Courante

Composer(s)

Anne-Danican Philidor

Artist(s)

Pamela Thorby - recorder

Elizabeth Kenny - lute

Sonate pour la flute a bec in d minor - Courante

$2.30

Sonate pour la flute a bec in d minor - Les notes élgales et détachez

Composer(s)

Anne-Danican Philidor

Artist(s)

Pamela Thorby - recorder

Elizabeth Kenny - lute

Sonate pour la flute a bec in d minor - Les notes élgales et détachez

$2.30

Sonate pour la flute a bec in d minor - Fugue

Composer(s)

Anne-Danican Philidor

Artist(s)

Pamela Thorby - recorder

Elizabeth Kenny - lute

Sonate pour la flute a bec in d minor - Fugue

$2.30

Suite No.1 in A major pour une flute de voix - Ouverture

Composer(s)

Charles Dieupart

Artist(s)

Pamela Thorby - recorder

Elizabeth Kenny - lute

Suite No.1 in A major pour une flute de voix - Ouverture

$2.30

Suite No.1 in A major pour une flute de voix - Allemande

Composer(s)

Charles Dieupart

Artist(s)

Pamela Thorby - recorder

Elizabeth Kenny - lute

Suite No.1 in A major pour une flute de voix - Allemande

$2.30

Suite No.1 in A major pour une flute de voix - Courante

Composer(s)

Charles Dieupart

Artist(s)

Pamela Thorby - recorder

Elizabeth Kenny - lute

Suite No.1 in A major pour une flute de voix - Courante

$2.30

Suite No.1 in A major pour une flute de voix - Sarabande

Composer(s)

Charles Dieupart

Artist(s)

Pamela Thorby - recorder

Elizabeth Kenny - lute

Suite No.1 in A major pour une flute de voix - Sarabande

$2.30

Suite No.1 in A major pour une flute de voix - Gavotte

Composer(s)

Charles Dieupart

Artist(s)

Pamela Thorby - recorder

Elizabeth Kenny - lute

Suite No.1 in A major pour une flute de voix - Gavotte

$2.30

Suite No.1 in A major pour une flute de voix- Menuet

Composer(s)

Charles Dieupart

Artist(s)

Pamela Thorby - recorder

Elizabeth Kenny - lute

Suite No.1 in A major pour une flute de voix- Menuet

$2.30

Suite No.1 in A major pour une flute de voix - Gigue

Composer(s)

Charles Dieupart

Artist(s)

Pamela Thorby - recorder

Elizabeth Kenny - lute

Suite No.1 in A major pour une flute de voix - Gigue

$2.30

Suite in d minor (ms Vaudry de Saizenay: late 17th century) - Prélude

Composer(s)

Robert de Visée

Artist(s)

Elizabeth Kenny - lute

Suite in d minor (ms Vaudry de Saizenay: late 17th century) - Prélude

$2.30

Suite in d minor (ms Vaudry de Saizenay: late 17th century) - Ouverture de la Grotte de Versailles

Composer(s)

Robert de Visée

Artist(s)

Elizabeth Kenny - lute

Suite in d minor (ms Vaudry de Saizenay: late 17th century) - Ouverture de la Grotte de Versailles

$2.30

Suite in d minor (ms Vaudry de Saizenay: late 17th century) - Courante

Composer(s)

Robert de Visée

Artist(s)

Elizabeth Kenny - lute

Suite in d minor (ms Vaudry de Saizenay: late 17th century) - Courante

$2.30

Suite in d minor (ms Vaudry de Saizenay: late 17th century) - Sarabande

Composer(s)

Robert de Visée

Artist(s)

Elizabeth Kenny - lute

Suite in d minor (ms Vaudry de Saizenay: late 17th century) - Sarabande

$2.30

Suite in d minor (ms Vaudry de Saizenay: late 17th century) - Gigue

Composer(s)

Robert de Visée

Artist(s)

Elizabeth Kenny - lute

Suite in d minor (ms Vaudry de Saizenay: late 17th century) - Gigue

$2.30

Suite in d minor (ms Vaudry de Saizenay: late 17th century) - Contredanse

Composer(s)

Robert de Visée

Artist(s)

Elizabeth Kenny - lute

Suite in d minor (ms Vaudry de Saizenay: late 17th century) - Contredanse

$2.30

Le Rossignol-en-amour Lentement, et très tendrement, quoy que mesuré (Troisième Livre de pièces de clavecin Quatorzième Ordre)

Composer(s)

Fran�ois Couperin

Artist(s)

Pamela Thorby - recorder

Elizabeth Kenny - lute

Le Rossignol-en-amour Lentement, et très tendrement, quoy que mesuré (Troisième Livre de pièces de clavecin Quatorzième Ordre)

$2.30

Suite No 6 in F minor pour une flute du quatre - Ouverture

Composer(s)

Charles Dieupart

Artist(s)

Pamela Thorby - recorder

Elizabeth Kenny - lute

Suite No 6 in F minor pour une flute du quatre - Ouverture

$2.30

Suite No 6 in F minor pour une flute du quatre - Allemande

Composer(s)

Charles Dieupart

Artist(s)

Pamela Thorby - recorder

Elizabeth Kenny - lute

Suite No 6 in F minor pour une flute du quatre - Allemande

$2.30

Suite No 6 in F minor pour une flute du quatre - Courante

Composer(s)

Charles Dieupart

Artist(s)

Pamela Thorby - recorder

Elizabeth Kenny - lute

Suite No 6 in F minor pour une flute du quatre - Courante

$2.30

Suite No 6 in F minor pour une flute du quatre - Sarabande

Composer(s)

Charles Dieupart

Artist(s)

Pamela Thorby - recorder

Elizabeth Kenny - lute

Suite No 6 in F minor pour une flute du quatre - Sarabande

$2.30

Suite No 6 in F minor pour une flute du quatre - Gavotte

Composer(s)

Charles Dieupart

Artist(s)

Pamela Thorby - recorder

Elizabeth Kenny - lute

Suite No 6 in F minor pour une flute du quatre - Gavotte

$2.30

Suite No 6 in F minor pour une flute du quatre - Menuet

Composer(s)

Charles Dieupart

Artist(s)

Pamela Thorby - recorder

Elizabeth Kenny - lute

Suite No 6 in F minor pour une flute du quatre - Menuet

$2.30

Suite No 6 in F minor pour une flute du quatre - Gigue

Composer(s)

Charles Dieupart

Artist(s)

Pamela Thorby - recorder

Elizabeth Kenny - lute

Suite No 6 in F minor pour une flute du quatre - Gigue

$2.30

Le Rossignol Vainqueur Très

Composer(s)

Fran�ois Couperin

Artist(s)

Pamela Thorby - recorder

Elizabeth Kenny - lute

Le Rossignol Vainqueur Très

$2.30

Double du Rossignol

Composer(s)

Fran�ois Couperin

Artist(s)

Pamela Thorby - recorder

Elizabeth Kenny - lute

Double du Rossignol

$2.30
Total running time: 76 minutes.
Album information

Pamela Thorby teams up with renowned lutenist Elizabeth Kenny for her fourth solo album on Linn, a sparkling exploration of French Baroque music.

The Nightingale and the Butterfly presents a fine example of Pamela Thorby's award-winning trademark sound: soaring and graceful melodies played impeccably. Elizabeth Kenny weaves the lute melodies seamlessly amongst Pamela's recorders - the two players complementing each other effortlessly.

Thorby and Kenny, both specialists in Baroque repertoire, give a unique interpretation of these appealing works whilst uncovering the beauty of some lesser-known gems.
Related Artists
Reviews