Filters
Saint-Saëns: Cello Concerto No. 1 & Other Works (The Royal Academy of Music Bicentenary Series)
Saint-Saëns: Cello Concerto No. 1 & Other Works (The Royal Academy of Music Bicentenary Series)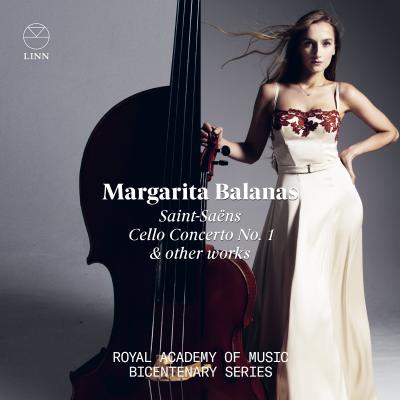 Inlay available for download
Booklet available for download
Cello Concerto No. 1 in A Minor, Op. 33

Composer(s)

Camille Saint-Saëns

Artist(s)

Margarita Balanas

Ben Palmer

Hiroki Kasai

Mio Takahashi

Jack Greed

Cello Concerto No. 1 in A Minor, Op. 33

$7.00

Le carnaval des animaux: XIII. Le cygne

Composer(s)

Camille Saint-Saëns

Artist(s)

Margarita Balanas

Elizabete Gulbe

Le carnaval des animaux: XIII. Le cygne

$2.50

Cello Sonata No. 2 in F Major, Op. 123: III. Romanza

Composer(s)

Camille Saint-Saëns

Artist(s)

Margarita Balanas

Ke Ma

Cello Sonata No. 2 in F Major, Op. 123: III. Romanza

$2.50

Prière, Op. 158

Composer(s)

Camille Saint-Saëns

Artist(s)

Margarita Balanas

Ke Ma

Prière, Op. 158

$2.50

Lola, scène dramatique, Op. 116: Tango

Composer(s)

Camille Saint-Saëns

Artist(s)

Margarita Balanas

Ke Ma

Lola, scène dramatique, Op. 116: Tango

$2.50
Total running time: 36 minutes.
Album information

Known for her distinguished artistry and mesmerizing stage presence, cellist Margarita Balanas makes her recording debut as part of the Royal Academy of Music Bicentenary Series with a programme perfect for Saint-Saëns's anniversary year.

Margarita made her solo debut at Wigmore Hall at age seventeen and since then, she has performed to audiences world-wide at venues including Royal Festival Hall and Southbank Centre, London, Berliner Philharmonie and Walt Disney Concert Hall, Los Angeles.

Playing on the Charles Adolphe Gand 'Auguste Tolbecque' 1849 cello, which was used for the premiere of Camille Saint-Saëns's Cello Concerto No. 1 in 1873, Margarita has recorded the very same concerto in an arrangement for cello and string nonet by Ilan Rechtman, conducted by Ben Palmer. Her Saint-Saëns recital also includes the simple, meditative Prière written in 1919, Romanza from the second cello sonata and the all-time favourite Le Cygne. Drawn from Lola, and arranged here by Mats Lidström, the haunting rhythms of Tango round off the programme.
Related Artists