Filters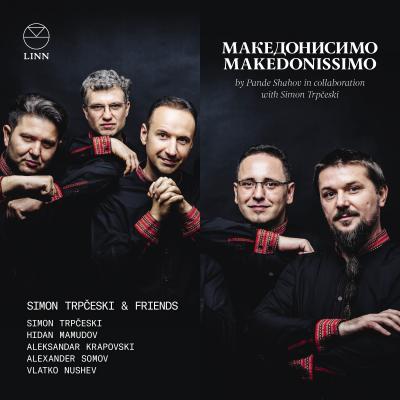 Inlay available for download
Booklet available for download
Plait 1: I. Pembe

Artist(s)

Simon Trpčeski

Hidan Mamudov

Aleksandar Krapovski

Vlatko Nushev

Alexander Somov

Plait 1: I. Pembe

$2.30

Plait 1: II. Buvčansko

Artist(s)

Simon Trpčeski

Hidan Mamudov

Aleksandar Krapovski

Vlatko Nushev

Alexander Somov

Plait 1: II. Buvčansko

$2.30

Plait 1: III. Berovka

Artist(s)

Simon Trpčeski

Hidan Mamudov

Aleksandar Krapovski

Vlatko Nushev

Alexander Somov

Plait 1: III. Berovka

$2.30

Plait 1: IV. Maleševka

Artist(s)

Simon Trpčeski

Hidan Mamudov

Aleksandar Krapovski

Vlatko Nushev

Alexander Somov

Plait 1: IV. Maleševka

$2.30

Plait 1: V. Crnogorka

Artist(s)

Simon Trpčeski

Hidan Mamudov

Aleksandar Krapovski

Vlatko Nushev

Alexander Somov

Plait 1: V. Crnogorka

$2.30

Plait 2: I. Čije je ona devojče

Artist(s)

Simon Trpčeski

Hidan Mamudov

Aleksandar Krapovski

Vlatko Nushev

Alexander Somov

Plait 2: I. Čije je ona devojče

$2.30

Plait 2: II. Ibrahim odža

Artist(s)

Simon Trpčeski

Hidan Mamudov

Aleksandar Krapovski

Vlatko Nushev

Alexander Somov

Plait 2: II. Ibrahim odža

$2.30

Plait 2: III. Beranče

Artist(s)

Simon Trpčeski

Hidan Mamudov

Aleksandar Krapovski

Vlatko Nushev

Alexander Somov

Plait 2: III. Beranče

$2.30

Plait 3: I. Filka, moma

Artist(s)

Simon Trpčeski

Hidan Mamudov

Aleksandar Krapovski

Vlatko Nushev

Alexander Somov

Plait 3: I. Filka, moma

$2.30

Plait 3: II. Sitna lisa

Artist(s)

Simon Trpčeski

Hidan Mamudov

Aleksandar Krapovski

Vlatko Nushev

Alexander Somov

Plait 3: II. Sitna lisa

$2.30

Plait 3: III. Staro Čunovo

Artist(s)

Simon Trpčeski

Hidan Mamudov

Aleksandar Krapovski

Vlatko Nushev

Alexander Somov

Plait 3: III. Staro Čunovo

$2.30

Plait 3: IV. Ratevka

Artist(s)

Simon Trpčeski

Hidan Mamudov

Aleksandar Krapovski

Vlatko Nushev

Alexander Somov

Plait 3: IV. Ratevka

$2.30

Plait 3: V. Dračevka

Artist(s)

Simon Trpčeski

Hidan Mamudov

Aleksandar Krapovski

Vlatko Nushev

Alexander Somov

Plait 3: V. Dračevka

$2.30

Plait 4: I. Ne si go prodavaj, Koljo, čiflikot

Artist(s)

Simon Trpčeski

Hidan Mamudov

Aleksandar Krapovski

Vlatko Nushev

Alexander Somov

Plait 4: I. Ne si go prodavaj, Koljo, čiflikot

$2.30

Plait 4: II. Žetvarki

Artist(s)

Simon Trpčeski

Hidan Mamudov

Aleksandar Krapovski

Vlatko Nushev

Alexander Somov

Plait 4: II. Žetvarki

$2.30

Plait 4: III. Čučuk

Artist(s)

Simon Trpčeski

Hidan Mamudov

Aleksandar Krapovski

Vlatko Nushev

Alexander Somov

Plait 4: III. Čučuk

$2.30

Plait 5: I. Veligdensko

Artist(s)

Simon Trpčeski

Hidan Mamudov

Aleksandar Krapovski

Vlatko Nushev

Alexander Somov

Plait 5: I. Veligdensko

$2.30

Plait 5: II. Piperkovo

Artist(s)

Simon Trpčeski

Hidan Mamudov

Aleksandar Krapovski

Vlatko Nushev

Alexander Somov

Plait 5: II. Piperkovo

$2.30

Plait 5: III. Pomniš li libe, Todoro

Artist(s)

Simon Trpčeski

Hidan Mamudov

Aleksandar Krapovski

Vlatko Nushev

Alexander Somov

Plait 5: III. Pomniš li libe, Todoro

$2.30

Plait 5: IV. Janino

Artist(s)

Simon Trpčeski

Hidan Mamudov

Aleksandar Krapovski

Vlatko Nushev

Alexander Somov

Plait 5: IV. Janino

$2.30

Plait 6: I. Metovo

Artist(s)

Simon Trpčeski

Hidan Mamudov

Aleksandar Krapovski

Vlatko Nushev

Alexander Somov

Plait 6: I. Metovo

$2.30

Plait 6: II. Pelistersko

Artist(s)

Simon Trpčeski

Hidan Mamudov

Aleksandar Krapovski

Vlatko Nushev

Alexander Somov

Plait 6: II. Pelistersko

$2.30

Plait 6: III. Postupano

Artist(s)

Simon Trpčeski

Hidan Mamudov

Aleksandar Krapovski

Vlatko Nushev

Alexander Somov

Plait 6: III. Postupano

$2.30
Total running time: 83 minutes.

Album information

'Makedonissimo', meaning 'very Macedonian', sees pianist Simon Trpčeski take a detour from Beethoven and Brahms to celebrate the music of his homeland. 

Trpčeski takes listeners on a joyous tour through the incredible rhythms and haunting melodies of the Macedonian folk music tradition in which highly intricate, jazz-influenced riffs and harmonies are seamlessly interwoven. Inspired by Trpčeski's passion for the folk traditions of his homeland Macedonian composer Pande Shahov (b. 1973) created a six movement cycle he called Pletenki (Plaits). In these new arrangements Shahov merges his own sound world – one which is influenced by impressionist attitudes to resonance and jazz harmony – with Macedonia's traditional music.

This project had its world premiere in May 2017 at the Ludwigsburg Festival, Germany, and went on to wow audiences in the UK (London, Liverpool, Birmingham), Slovenia (Ljubljana), France (Lille), Poland (Warsaw, Szczecin, Gdansk, Katowice), the Netherlands (Amsterdam), Serbia (Belgrade), Montenegro (Bar), Romania (Cluj) and South Korea (Jeongseon, Wonju, Chuncheon).

Led by Trpčeski on piano the quintet of virtuosi musicians comprises Aleksandar Krapovski violin, Alexander Somov cello, Hidan Mamudov clarinet, saxophone, kaval and Vlatko Nushev percussion.
Related Artists
Reviews