Filters
Shostakovich: Last Three String Quartets; 50th Anniversary Recording
Shostakovich: Last Three String Quartets; 50th Anniversary Recording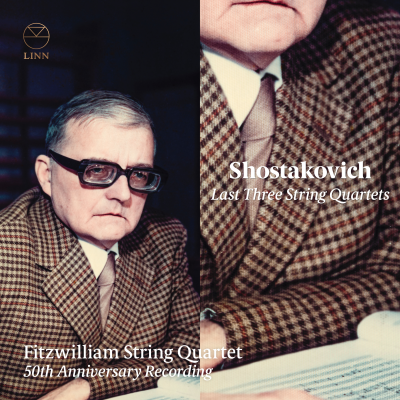 Inlay available for download
Booklet available for download
String Quartet No. 13 in B Flat Minor, Op. 138

Composer(s)

Dmitri Shostakovich

Artist(s)

Fitzwilliam String Quartet

String Quartet No. 13 in B Flat Minor, Op. 138

$7.00

String Quartet No. 14 in F Sharp Major, Op. 142: I. Allegretto

Composer(s)

Dmitri Shostakovich

Artist(s)

Fitzwilliam String Quartet

String Quartet No. 14 in F Sharp Major, Op. 142: I. Allegretto

$3.40

String Quartet No. 14 in F Sharp Major, Op. 142: II. Adagio –

Composer(s)

Dmitri Shostakovich

Artist(s)

Fitzwilliam String Quartet

String Quartet No. 14 in F Sharp Major, Op. 142: II. Adagio –

$3.40

String Quartet No. 14 in F Sharp Major, Op. 142: III. Allegretto – Adagio

Composer(s)

Dmitri Shostakovich

Artist(s)

Fitzwilliam String Quartet

String Quartet No. 14 in F Sharp Major, Op. 142: III. Allegretto – Adagio

$3.40

String Quartet No. 15 in E Flat Minor, Op. 144: I. Elegy: Adagio –

Composer(s)

Dmitri Shostakovich

Artist(s)

Fitzwilliam String Quartet

String Quartet No. 15 in E Flat Minor, Op. 144: I. Elegy: Adagio –

$4.60

String Quartet No. 15 in E Flat Minor, Op. 144: II. Serenade: Adagio –

Composer(s)

Dmitri Shostakovich

Artist(s)

Fitzwilliam String Quartet

String Quartet No. 15 in E Flat Minor, Op. 144: II. Serenade: Adagio –

$2.30

String Quartet No. 15 in E Flat Minor, Op. 144: III. Intermezzo: Adagio –

Composer(s)

Dmitri Shostakovich

Artist(s)

Fitzwilliam String Quartet

String Quartet No. 15 in E Flat Minor, Op. 144: III. Intermezzo: Adagio –

$2.30

String Quartet No. 15 in E Flat Minor, Op. 144: IV. Nocturne: Adagio –

Composer(s)

Dmitri Shostakovich

Artist(s)

Fitzwilliam String Quartet

String Quartet No. 15 in E Flat Minor, Op. 144: IV. Nocturne: Adagio –

$2.30

String Quartet No. 15 in E Flat Minor, Op. 144: V. Funeral March: Adagio molto –

Composer(s)

Dmitri Shostakovich

Artist(s)

Fitzwilliam String Quartet

String Quartet No. 15 in E Flat Minor, Op. 144: V. Funeral March: Adagio molto –

$2.30

String Quartet No. 15 in E Flat Minor, Op. 144: VI. Epilogue: Adagio

Composer(s)

Dmitri Shostakovich

Artist(s)

Fitzwilliam String Quartet

String Quartet No. 15 in E Flat Minor, Op. 144: VI. Epilogue: Adagio

$2.30
Total running time: 85 minutes.
Album information

The Fitzwilliam String Quartet celebrates a remarkable milestone with this special fiftieth anniversary recording of Shostakovich's last three string quartets.

Fittingly, this landmark recording will look back to the music which first propelled the Fitzwilliam to international prominence. Shostakovich entrusted the Fitzwilliam with the western premieres of his last three quartets (Nos.13, 14, 15), and before long they had become the first ever group to perform and record all fifteen, winning many international awards along the way.

The highly innovative String Quartet No.13 is notable for its unique single-movement form and the virtuosic viola writing, which shines a spotlight on founding member Alan George. No.14, despite its twelve-tone structure, is perhaps the most accessible of Shostakovich's late quartets with a wealth of identifiable melodies. The six movements of No.15 are profoundly melancholic and intimate, with the composer's obsession with death a clear influence.

The Fitzwilliam's pre-eminence in the interpretation of these works has persisted: Benjamin Britten reported after Shostakovich's death in 1975 that the composer had told him the Fitzwilliam were his 'preferred performers of my quartets'.
Related Artists
Reviews