Filters
Shostakovich: Symphony No. 11
Shostakovich: Symphony No. 11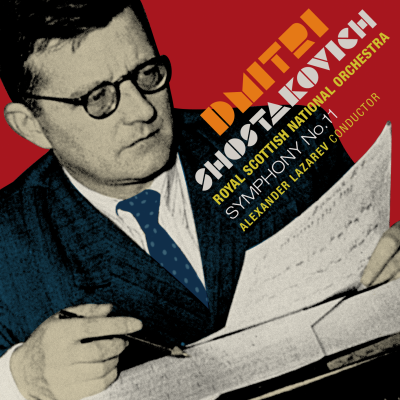 Booklet available for download
Symphony No. 11, Op. 103, 'The Year 1905' The Palace Square: Adagio

Composer(s)

Dmitri Shostakovich

Artist(s)

Alexander Lazarev

Symphony No. 11, Op. 103, 'The Year 1905' The Palace Square: Adagio

$5.75

Symphony No. 11, Op. 103, 'The Year 1905' <i>The Ninth of January</i>: Allegro - Adagio - Allegro - Adagio

Composer(s)

Dmitri Shostakovich

Artist(s)

Alexander Lazarev

Symphony No. 11, Op. 103, 'The Year 1905' The Ninth of January: Allegro - Adagio - Allegro - Adagio

$7.25

Symphony No. 11, Op. 103, 'The Year 1905' <i>In Memoriam</i>: Adagio

Composer(s)

Dmitri Shostakovich

Artist(s)

Alexander Lazarev

Symphony No. 11, Op. 103, 'The Year 1905' In Memoriam: Adagio

$3.25

Symphony No. 11, Op. 103, 'The Year 1905' <i>The Tocsin</i>: Allegro non troppo - Allegro -- Adagio - Moderato - Allegro

Composer(s)

Dmitri Shostakovich

Artist(s)

Alexander Lazarev

Symphony No. 11, Op. 103, 'The Year 1905' The Tocsin: Allegro non troppo - Allegro -- Adagio - Moderato - Allegro

$5.75
Total running time: 60 minutes.
Album information

Russia's foremost conductor, Alexander Lazarev, conducts Shostakovich's nationalistic Symphony No. 11, the RSNO's debut on Linn Records.

The driving force behind this major new recording is the RSNO's principal conductor, Alexander Lazarev. Having been born and educated in Russia, and witness to some of the concerts given by the composer himself, Lazarev is in a unique position to present these symphonies with empathy and authenticity.

Alexander Lazarev clearly knows his Shostakovich and is absolutely dedicated to the cause of laying out a definitive chronicle of the composer's symphonic development. While giving full vent to the lighter whirlwind movements, the conductor aims to bring a serious and empassioned expression to the complex and sometimes contradictory messages that the composer displays (or perhaps hides) in these works.

This is indeed a symphonist from the midst of the 20th century, displaying all the complexities and contradictions of life, and allowing his art to be approached in a number of different ways. The interpretation is very much in the ear of the listener.
Related Artists
Reviews