Filters
Yoanna Prodanova - The Royal Academy of Music Bicentenary Series
Yoanna Prodanova - The Royal Academy of Music Bicentenary Series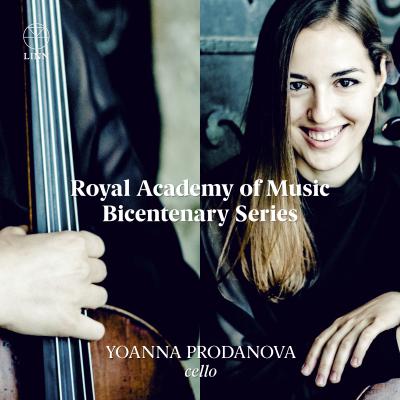 Inlay available for download
Booklet available for download
Pohádka "A Tale": I. Con moto

Artist(s)

Yoanna Prodanova

Mihai Ritivoiu

Pohádka "A Tale": I. Con moto

$2.40

Pohádka "A Tale": II. Con moto

Artist(s)

Yoanna Prodanova

Mihai Ritivoiu

Pohádka "A Tale": II. Con moto

$2.40

Pohádka "A Tale": III. Allegro

Artist(s)

Yoanna Prodanova

Mihai Ritivoiu

Pohádka "A Tale": III. Allegro

$2.40

Romance, Op. 69

Composer(s)

Gabriel Fauré

Artist(s)

Yoanna Prodanova

Mihai Ritivoiu

Romance, Op. 69

$2.40

Élégie, Op. 24

Composer(s)

Gabriel Fauré

Artist(s)

Yoanna Prodanova

Mihai Ritivoiu

Élégie, Op. 24

$4.80

Papillon, Op. 77

Composer(s)

Gabriel Fauré

Artist(s)

Yoanna Prodanova

Mihai Ritivoiu

Papillon, Op. 77

$2.40

Cello Sonata in G Minor, Op. 65: I. Allegro moderato

Composer(s)

Frédéric Chopin

Artist(s)

Yoanna Prodanova

Mihai Ritivoiu

Cello Sonata in G Minor, Op. 65: I. Allegro moderato

$9.60

Cello Sonata in G Minor, Op. 65: II. Scherzo

Composer(s)

Frédéric Chopin

Artist(s)

Yoanna Prodanova

Mihai Ritivoiu

Cello Sonata in G Minor, Op. 65: II. Scherzo

$2.40

Cello Sonata in G Minor, Op. 65: III. Largo

Composer(s)

Frédéric Chopin

Artist(s)

Yoanna Prodanova

Mihai Ritivoiu

Cello Sonata in G Minor, Op. 65: III. Largo

$2.40

Cello Sonata in G Minor, Op. 65: IV. Finale (Allegro)

Composer(s)

Frédéric Chopin

Artist(s)

Yoanna Prodanova

Mihai Ritivoiu

Cello Sonata in G Minor, Op. 65: IV. Finale (Allegro)

$4.80
Total running time: 56 minutes.
Album information

Yoanna Prodanova's recording debut, part of the Royal Academy of Music Bicentenary Series, focuses on music that is of personal significance to the young cellist and linked by two common themes: storytelling and the human voice. 

The Cello Sonata in G minor is one of the first pieces Prodanova performed in concert; its lyrical melodic lines find a perfect partner in the cello, one of the few instruments, other than voice and piano, that inspired Chopin. Fauré's Élégie was the first piece that Prodanova played with an orchestra, aged 13. Her approach to this selection of early works is to treat each one like a short story with their own miniature world of colourfulness and simplicity. Two further works by Fauré, Romance, Op. 69, and the fast and palpitating Papillon, are both abundantly lyrical with poetic phrasing. Janáček's Pohádka is based on the epic poem by Vasily Zhukovsky and tells the tale of Tsar Berendyey. The wealth of colours and variety of expression made this work an instant coup de coeur for Prodanova.

The Royal Academy of Music Bicentenary Series also includes debut recordings by Anna Geniushene (piano), Claudia Lucia Lamanna (harp) and Emily Nebel (violin).
Related Artists