Filters
Biber: The Mystery Sonatas
Biber: The Mystery Sonatas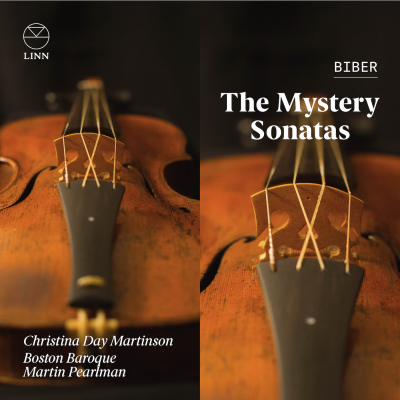 Inlay available for download
Booklet available for download
Sonata I in D minor 'The Annunciation': Praeludium – Aria and 2 variations – Finale

Composer(s)

Heinrich Ignaz Franz von Biber

Artist(s)

Martin Pearlman

Christina Day Martinson

Boston Baroque

Sonata I in D minor 'The Annunciation': Praeludium – Aria and 2 variations – Finale

$2.30

Sonata II in A major 'The Visitation': [Sonata] / Presto – Allamanda – Presto

Composer(s)

Heinrich Ignaz Franz von Biber

Artist(s)

Martin Pearlman

Christina Day Martinson

Boston Baroque

Sonata II in A major 'The Visitation': [Sonata] / Presto – Allamanda – Presto

$2.30

Sonata III in B minor 'The Nativity': [Sonata] / Presto – Courente and double – Adagio

Composer(s)

Heinrich Ignaz Franz von Biber

Artist(s)

Martin Pearlman

Christina Day Martinson

Boston Baroque

Sonata III in B minor 'The Nativity': [Sonata] / Presto – Courente and double – Adagio

$2.30

Sonata IV in D minor 'The Presentation of Jesus in the Temple': Ciacona with 12 variations

Composer(s)

Heinrich Ignaz Franz von Biber

Artist(s)

Martin Pearlman

Christina Day Martinson

Boston Baroque

Sonata IV in D minor 'The Presentation of Jesus in the Temple': Ciacona with 12 variations

$3.40

Sonata V in A major 'The Finding of Jesus in the Temple': Praeludium – Allamanda – Gigue – Sarabande and double

Composer(s)

Heinrich Ignaz Franz von Biber

Artist(s)

Martin Pearlman

Christina Day Martinson

Boston Baroque

Sonata V in A major 'The Finding of Jesus in the Temple': Praeludium – Allamanda – Gigue – Sarabande and double

$3.40

Sonata VI in C minor 'The Agony in the Garden': Lamento

Composer(s)

Heinrich Ignaz Franz von Biber

Artist(s)

Martin Pearlman

Christina Day Martinson

Boston Baroque

Sonata VI in C minor 'The Agony in the Garden': Lamento

$3.40

Sonata VII in F major 'The Scourging of Jesus': Allamanda and variation – Sarabanda and 3 variations

Composer(s)

Heinrich Ignaz Franz von Biber

Artist(s)

Martin Pearlman

Christina Day Martinson

Boston Baroque

Sonata VII in F major 'The Scourging of Jesus': Allamanda and variation – Sarabanda and 3 variations

$3.40

Sonata VIII in B flat major 'The Crowning with Thorns': Sonata: Adagio / Presto – Gigue and 2 doubles

Composer(s)

Heinrich Ignaz Franz von Biber

Artist(s)

Martin Pearlman

Christina Day Martinson

Boston Baroque

Sonata VIII in B flat major 'The Crowning with Thorns': Sonata: Adagio / Presto – Gigue and 2 doubles

$2.30

Sonata IX in A minor 'The Carrying of the Cross': Sonata – Courente and 2 doubles – Final

Composer(s)

Heinrich Ignaz Franz von Biber

Artist(s)

Martin Pearlman

Christina Day Martinson

Boston Baroque

Sonata IX in A minor 'The Carrying of the Cross': Sonata – Courente and 2 doubles – Final

$3.40

Sonata X in G minor 'The Crucifixion': Praeludium – Aria and 5 variations

Composer(s)

Heinrich Ignaz Franz von Biber

Artist(s)

Martin Pearlman

Christina Day Martinson

Boston Baroque

Sonata X in G minor 'The Crucifixion': Praeludium – Aria and 5 variations

$3.40

Sonata XI in G major 'The Resurrection': Sonata – Hymn 'Surrexit Christus hodie' and variations

Composer(s)

Heinrich Ignaz Franz von Biber

Artist(s)

Martin Pearlman

Christina Day Martinson

Boston Baroque

Sonata XI in G major 'The Resurrection': Sonata – Hymn 'Surrexit Christus hodie' and variations

$3.40

Sonata XII in C major 'The Ascension': Intrada – Aria tubicinum – Allemanda – Courante and double

Composer(s)

Heinrich Ignaz Franz von Biber

Artist(s)

Martin Pearlman

Christina Day Martinson

Boston Baroque

Sonata XII in C major 'The Ascension': Intrada – Aria tubicinum – Allemanda – Courante and double

$3.40

Sonata XIII in D minor 'The Descent of the Holy Ghost': Sonata – Gavotte – Gigue – Sarabanda

Composer(s)

Heinrich Ignaz Franz von Biber

Artist(s)

Martin Pearlman

Christina Day Martinson

Boston Baroque

Sonata XIII in D minor 'The Descent of the Holy Ghost': Sonata – Gavotte – Gigue – Sarabanda

$3.40

Sonata XIV in D major 'The Assumption of the Virgin': [Sonata] – Arias 1 and 2 – Gigue

Composer(s)

Heinrich Ignaz Franz von Biber

Artist(s)

Martin Pearlman

Christina Day Martinson

Boston Baroque

Sonata XIV in D major 'The Assumption of the Virgin': [Sonata] – Arias 1 and 2 – Gigue

$3.40

Sonata XV in C major 'The Coronation of the Virgin': Sonata – Aria with 3 doubles – Canzona – Sarabanda and double

Composer(s)

Heinrich Ignaz Franz von Biber

Artist(s)

Martin Pearlman

Christina Day Martinson

Boston Baroque

Sonata XV in C major 'The Coronation of the Virgin': Sonata – Aria with 3 doubles – Canzona – Sarabanda and double

$3.40

Passacaglia in G minor for solo violin

Composer(s)

Heinrich Ignaz Franz von Biber

Artist(s)

Christina Day Martinson

Passacaglia in G minor for solo violin

$3.40
Total running time: 119 minutes.
Album information

Boston Baroque's Christina Day Martinson delivers a technical tour de force, as she navigates the virtuosic challenges presented by the fiendishly demanding changing scordatura.

Heinrich Biber's astonishingly powerful and deeply emotional Mystery Sonatas represent a triumph of Baroque invention. Boston Classical Review described Christina Day Martinson's live performance as "a flourish of technical complexity and musical wizardry", whilst the Boston Globe wrote,"Day Martinson…didn't just survive, she triumphed."

The adventurous use of six baroque violins in fifteen different tunings creates otherworldly soundscapes that result in a deeply moving and glorious listening experience. This highly disorientating practice reaches its pinnacle in Sonata XI (The Resurrection) where the middle two strings are crossed over each other both in the peg box and behind the bridge, so that one can literally see a cross on the violin. The fifteen sonatas have been traditionally grouped into three sets of five: five joyful mysteries, five sorrowful mysteries, and five glorious mysteries.

Boston Baroque's founder Martin Pearlman plays organ and harpsichord, with Michael Leopold on theorbo and guitar and Michael Unterman on cello.
Related Artists
Reviews